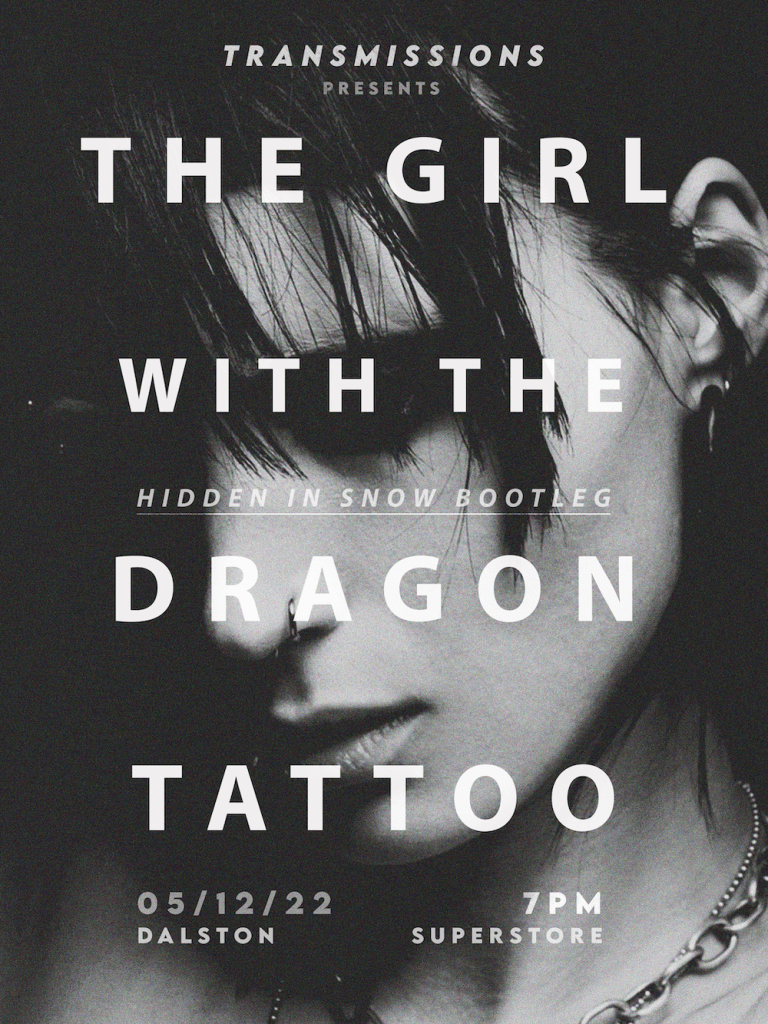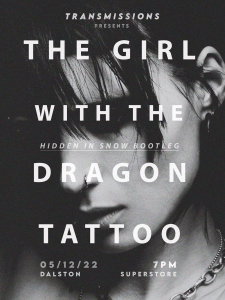 Transmissions presents The Girl with the Dragon Tattoo: Hidden in Snow Bootleg
Transmissions is an institution of the East London trans community, and current host and programmer Rue Lumbroso will be welcoming you back for another month of exquisite cinema and unrivalled vibe curation.
It's the most wonderful time of the year, and we invite you to take shelter from any festive cheer with a film that was marketed as "The feel-bad movie of Christmas".
December belongs to Lisbeth Salander and for our first seasonal event we'll be honouring her by screening a black and white bootleg edit of David Fincher's masterful Stieg Larsson adaptation that features her best incarnation as played by the brilliant Rooney Mara.
Her performance opposite a career-best Daniel Craig is unforgettable and as embodied a turn as you could ever hope to see, and all that in a film that fuelled the Scandi Noir phenomena and permanently altered the fabric of Crime Thrillers, fashion, and the culture at large.
As well as presenting this essential in stark monochrome, artistic license has thoroughly but carefully been taken by programmer Rue Lumbroso to swap out two key music cues, and – perhaps most importantly – significantly scale back two scenes of sexual assault so a wider range of viewers can enjoy the film without being asked to stomach the kind of content we usually avoid showing at Transmissions.
Because as always, Transmissions is a collective, a space created by our majority-trans attendance and staff.
We like to push boundaries with the art we showcase, and always will, but we aim to do it in the safest, warmest environment possible.
That being said, come catch a chill this winter on the first Monday in December, downstairs at Dalston Superstore where secrets are hidden in snow, and the crimes of men can only come back to haunt them.
"Evil shall with evil be expelled"
Subtitles will be displayed throughout.
Seating is a mixture of benches, chairs, and floor space.
FREE ENTRY
Transmissions presents The Girl with the Dragon Tattoo: Hidden in Snow Bootleg
tribe_events-template-default single single-tribe_events postid-30071 tribe-events-page-template tribe-no-js tribe-filter-live loading

Transmissions presents The Girl with the Dragon Tattoo: Hidden in Snow Bootleg

https://dalstonsuperstore.com

https://dalstonsuperstore.com/wp-content/themes/dalston-superstore