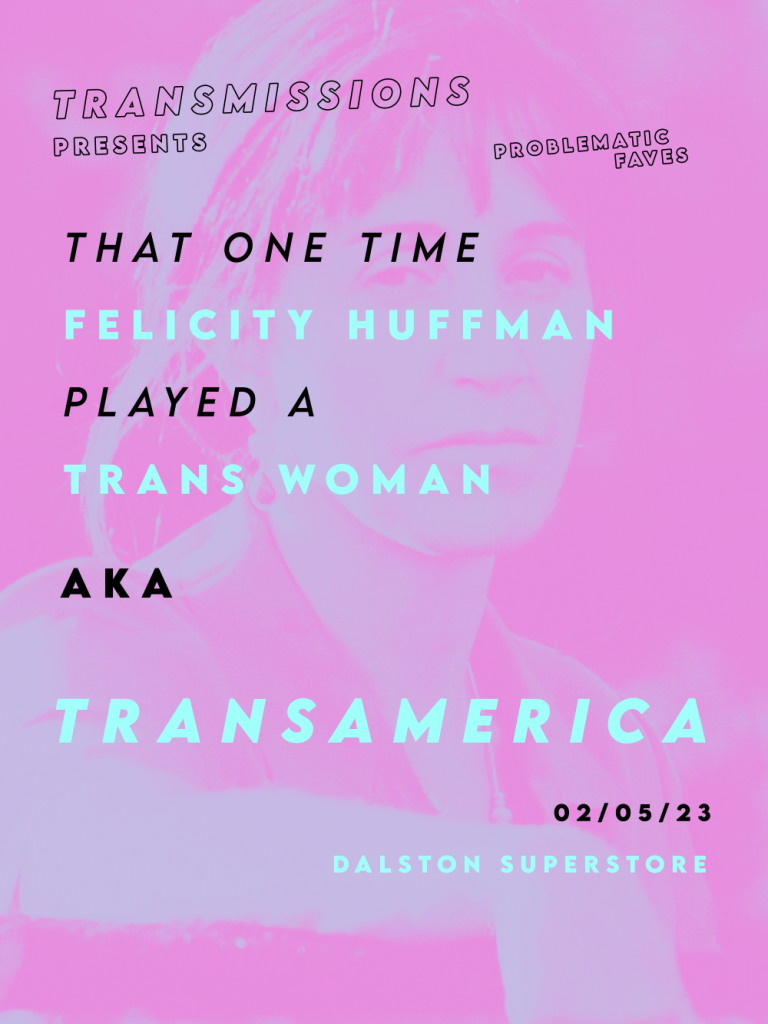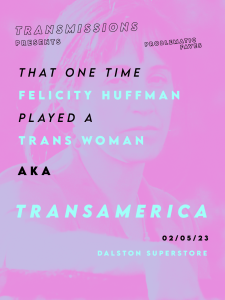 Transmissions presents TRANSAMERICA (2005)
In May we're pushing the limits of our uncancellableness with a season of Problematic Faves that we're hoping you'll help us get away with, and in the spirit of this kind of recklessness we thought we'd start as we mean to go on with a film so poorly conceived, and so poorly aged, that it really does have to be seen to be believed.
Transamerica (2005) sees fraudulent icon Felicity Huffman braving the role of a transgender woman whose sadistic doctor won't approve her gender affirming surgeries until she…drives across America to reconnect with her son (Kevin Zegers) who just got out of prison and doesn't know she's trans….?
If this doesn't sound bad enough, we promise it gets worse, just wait till you hear the voice Huffman chose to use for this peak moment of her career.
Come find us downstairs at Dalston Superstore to cackle at the stupidity of a film that feels like a hate crime but plays like a broad comedy for all the same reasons.
We believe it to be a dubious kind of essential that is funny if you're trans in the way that only something so dire can be.
For this one we recommend all cis attendees have an appropriate trans companion with them to keep them in check.
"Jesus made me this way so I could suffer and be reborn the way he wanted me!"
Subtitles will be displayed throughout.
Seating is a mixture of benches, backed chairs, bar stools and floor space, and is first come first served.
Transmissions presents TRANSAMERICA (2005)