Amy Hall Balearic Knitwear
Amy Hall Balearic Knitwear
16-09-14
Dalston based knitwear designer Amy Hall has just launched her latest ss15 collection inspired by acid house and balearic raves. She's also commissioned this mixtape from Homoelectric resident Jamie Bull based on the pieces in the collection and Amy's love of old house records! 
We sat down with Amy for a chat to find out more about the inspiration behind the collection and her own personal acid house experiences...
What are your earliest acid house memories?
One of my earliest memories is probably the first time I heard Voodoo Ray on pirate radio. I thought it was the best thing I'd ever heard. Imagine my joy when you guys opened Voodoo Ray's in Dalston!
You've woven British threads with British textile history- why is this so important to you personally?
The British textile industry is slowly making a comeback, thanks to demand from British brands and designers breathing new life (and money) into it. It's a shame it ever had to die out in the first place – apart from a few places dotted across Scotland and the north, for a long while it almost ceased to exist. But now it is beginning to thrive again and this really excites me. Consumers in the UK are becoming increasingly concerned with provenance (especially after what happened in Bangladesh last year) and they're realising they have significant power to make a difference. The reason it's important to me, is because I don't see why good quality clothing needs to impact on a person's quality of life. It IS possible to produce beautiful clothing that's made to last without paying someone a pitiful wage and making them work in dangerous conditions. Our knitwear is made by hand, using (mainly) British fibres and should, if you take care of it, last you a lifetime.
What drew you initially to knitwear?
I have knitted for as long as I can remember. My grandmother and my mum taught me when I was a child and I've carried on ever since. I graduated with a degree in photography and worked as a photographer for a few years but I lost my passion for it. After that the knitting took over. I realised there was a distinct lack of good quality knitwear available in shops at the time, so I decided to set up my own label, with a strong focus on quality and sustainability.
What's the best industrial warehouse rave you've ever been to? 
The best one actually wasn't in a warehouse, it was on the side of a cliff on the Isle of Wight on a particularly warm and beautiful night, a VERY long time ago…
Which artists soundtracked the design process and were specifically played to inspire?
I actually have Jamie Bull's mixes on in the studio a lot (more of that in a minute). But specific tracks from that era that I love are Voodoo Ray, LFO, Papua New Guinea, Break of Dawn and a lot of the early Prodigy stuff.
Were you aiming for a more sun-kissed Ibiza beachwear Balearic vibe or a '90s English summer free-party fashion look?
My plan for the collection started out with a very British rave-y vibe, but as the pieces developed I felt some of them had quite a beachy, summery feel to them, which made me think of Ibiza and the sort of wardrobe you might want while partying there.
Why did you ask Jamie Bull to make your accompanying mixtape?
I have been a big fan of Jamie ever since a friend introduced me to his HomoAerobic mix about four years ago. I have most of his mixes on my iPhone and basically alternate between those and BBC 6music while I'm working. So when I decided to approach someone about a musical collaboration for this collection, he was an obvious choice. I was honoured when he said yes!!
What's your favourite piece from the collection? And what, for you, is the most wearable piece?
My favourite piece (which is probably the most wearable, too) is the 'Space' striped t-shirt dress. It'd look awesome with heels on a night out but works equally well thrown over leather trousers with flats for day. But I actually can't stop wearing the 'Halcyon' wrap cardigan at the moment.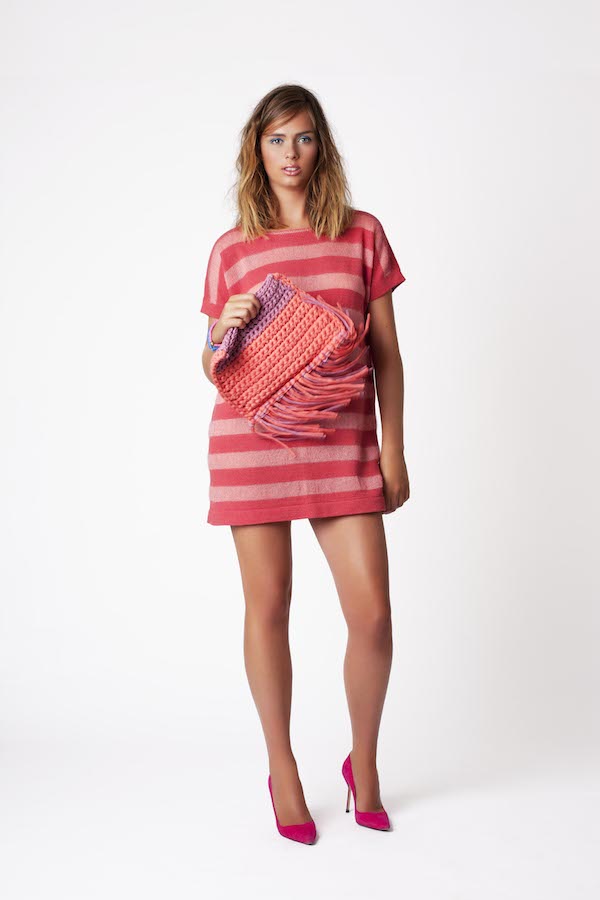 If you had a time machine and could go back to any dance floor anywhere/anywhen, where would you want to go to?
Bestival 2006, Carl Cox's old skool set on the Sunday night. It was the perfect way to end a brilliant weekend and the best last night of a festival my mates and I have ever had.
Another one: in Bali, when I was at a beach club and Voodoo Ray (that one again!) came on as the sun came up. Crowd went wild. Amazing night. It may have even been my husband DJing, but my memory is a bit hazy…
What are the plans for your next collection - will you be going further back in time in UK music history and basing it on Northern soul?
Probably not, although this isn't the first time I've been inspired by music when working on a collection. I have already started work on the Winter '15 collection, but it's going in a different direction this time. I've been looking at some of my archive pieces, but that's all I can reveal at the moment.
Visit Amy Hall's website: amy-hall.co.uk
post-template-default single single-post postid-7586 single-format-standard tribe-no-js loading
Amy Hall Balearic Knitwear