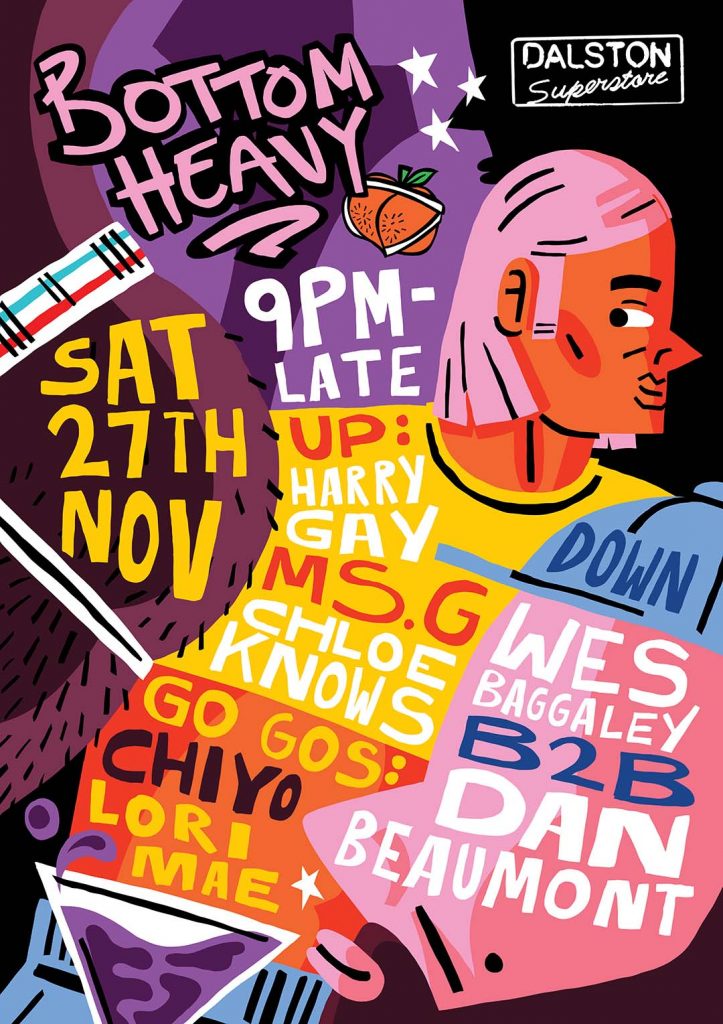 Bottom Heavy
Dan Beaumont
Wes Baggaley
Ms.G
Harry Gay
Chloe Knows
Chiyo
Lori Mae
Bottom Heavy is back baby! 
Superstore daddy Dan Beaumont goes bum-to-bum with resident peach Wes Baggaley in the basement all damn night long in the Superstore lazerpit!
In the bar expect a journey from disco, house and 80s classics from Ms.G, to euro slappers from Harry Gay and R'n'Booty jams from Chloe Knows.
We'll also have some of our sexiest babes Chiyo and Lori Mae shaking their bottoms on top of the bar!
£7 before 10 / £10 after 
COVID SAFETY
IN ORDER TO ENTER THE VENUE, YOU WILL REQUIRE: PROOF OF A NEGATIVE TEST FROM THE LAST 48 HOURS OR PROOF OF DOUBLE VACCINATION FROM AT LEAST 10 DAYS AGO 
Low/no income access
We reserve limited spaces for those who cannot afford the standard ticket price due to being on low or no income. Please email hello@dalstonsuperstore.com to enquire.
Bottom Heavy
tribe_events-template-default single single-tribe_events postid-27700 tribe-events-page-template tribe-no-js tec-no-tickets-on-recurring tribe-filter-live tribe-theme-dalston-superstore loading

Bottom Heavy

https://dalstonsuperstore.com

https://dalstonsuperstore.com/wp-content/themes/dalston-superstore