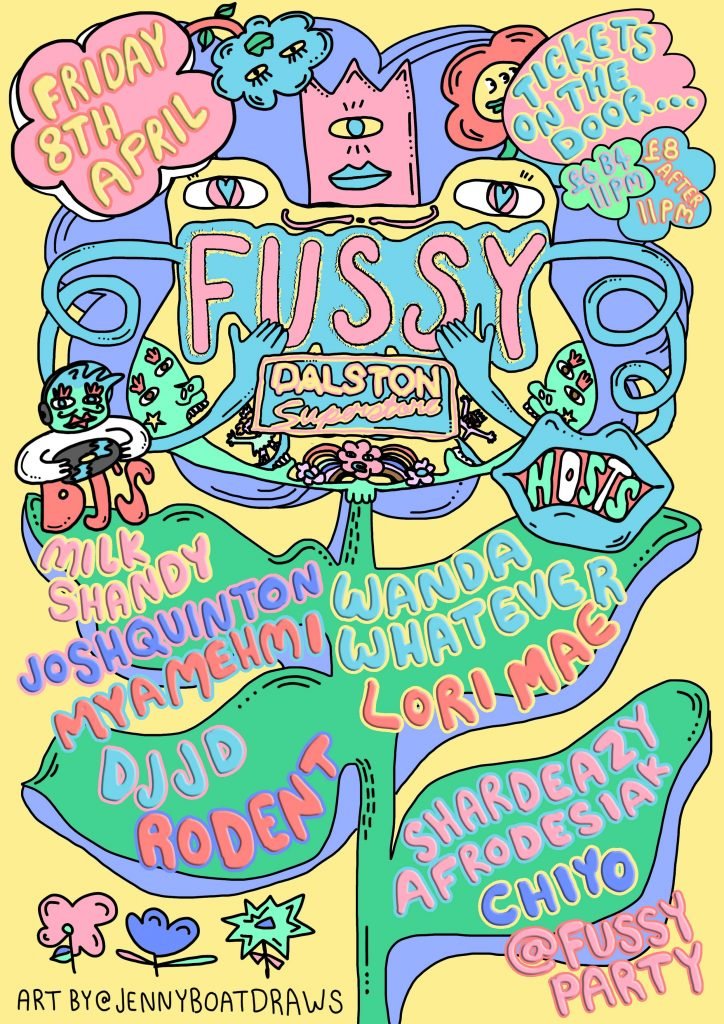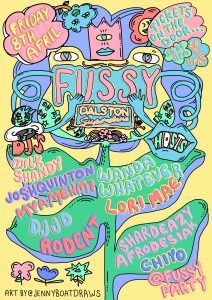 Fussy
Milk Shandy
Josh Quinton
Mya Mehmi
DJ JD
Rodent
Wanda Whatever
Lori Mare
Chiyo
Shardeazy Afrodesiak
 Spring has sprung, hunnies, and so have we! The sun is shining, the soil is fertile, the bees are buzzing, and our butts are OUT. Strip away those winter layers, because things are about to get HOT as queer party collective FUSSY returns to Dalston Superstore on 8 April with an extra toasty  line-up to spring fling the night away. Put on your sunny, shiny, and best Spring attire and prepare to bask in a beaming crowd of beautiful queers squirming like beautiful little saplings in photosynthesis. Frolicking appreciated and encouraged.
FUSSY is a series of queer gatherings with the mission to celebrate joy, community, togetherness, and singularity. We centre and prioritise trans and gender nonconforming creatives and audiences.
It is our goal to create queer spaces that feel less intimidating for those who might feel anxious in exploring what queer nightlife and community spaces have to offer. To that end, we invite anyone taking part in the night to seek out someone wearing a lavender wristband/high-vis gear if you are seeking advice, would like assistance, need additional accessibility support, or are feeling uncomfortable for any reason.
You can also email in advance with access request: fussyparty@gmail.com
FUSSY operates on a 'come as you are' policy; the only thing that we ask is that you feel as absolutely stunning and liberated as you look. Please don't take yourself or others too seriously and leave your judgement of others at the door. We invite all of our guests to keep things light-hearted, respect one another, ask for consent, and have fun.
Whilst we understand no space can be 100% safe at all times, and there is always the assumption of risk, we do our best at FUSSY to make things as comfortable as possible for our communities. All bodies and forms of self-expression will be protected and encouraged, unless it is deemed in any way harmful or detrimental to the safety of others. We will not tolerate racism, homophobia, or transphobia in any form. If you are exhibiting a behaviour that event organisers deem harmful to others, you will be asked to leave without refund. Please report any instances of misconduct to staff members or organisers present wearing a lavender wristband.

Fussy