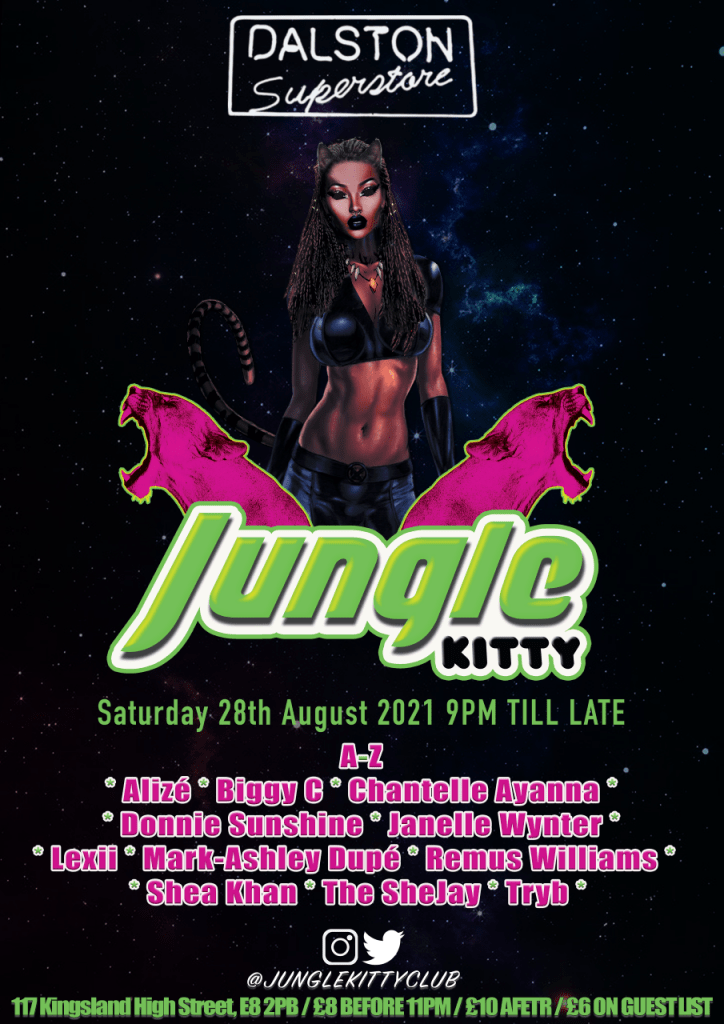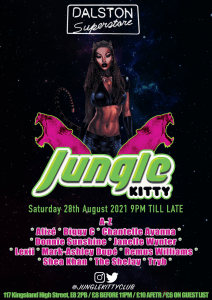 Jungle Kitty
Alizé
Biggy C
Chantelle Ayanna
Donnie Sunshine
Janelle Wynter
Lexii
Mark-Ashley Dupé
Remus Williams
Shea Khan
The SheJay
Tryb
Come and party the right way for the first official Bank Holiday clubbing of 2021 with Jungle Kitty at Dalston Superstore!
Two floors of the best Afro beats, Dancehall, Reggaeton, R&B and House available… One will not be disappointed, so put it in your diaries and get ready to drop your kitty down low.
Warning! Side effects include: Wild dancing & sweating! Good shoes, little clothing and a fan are advised.
£8 before 11 / £10 after
COVID SAFETY
IN ORDER TO ENTER THE VENUE, YOU WILL REQUIRE: PROOF OF A NEGATIVE TEST FROM THE LAST 48 HOURS OR PROOF OF DOUBLE VACCINATION
To get proof of a negative test… 
Lateral Flow Tests are available for free at pharmacies, test centres, and online

here

After following in the instructions to get your test result, you can register it online by going

here

Within two hours of registering your result you will get a text and email confirming your result, and either one of these is acceptable as proof on the door.
To get proof of two vaccinations…
Either…
Show your Covid Pass on the NHS app
Or…
Bring your vaccination card
Or…
Provide proof of full vaccination from another country, if you were vaccinated outside of the UK
Thank you for your continued support and understanding as we work together to keep each other as safe as possible.
Jungle Kitty
tribe_events-template-default single single-tribe_events postid-27597 tribe-events-page-template tribe-no-js tribe-filter-live loading

Jungle Kitty

https://dalstonsuperstore.com

https://dalstonsuperstore.com/wp-content/themes/dalston-superstore