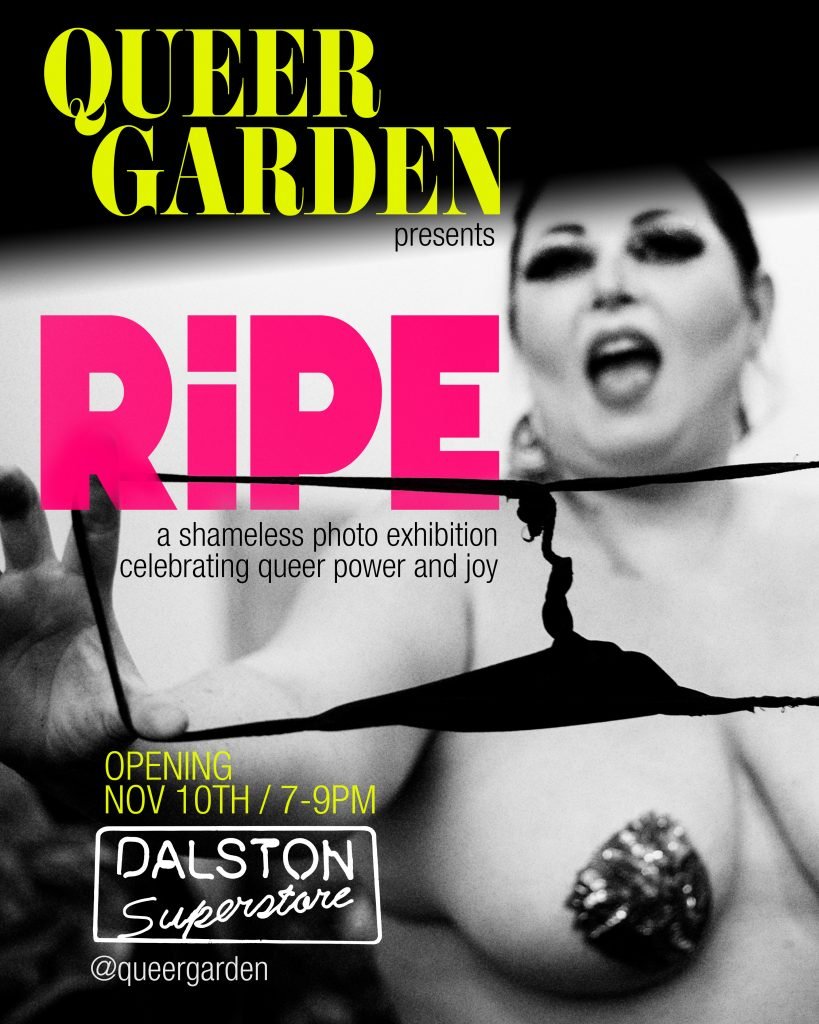 RIPE Exhibition Launch
RIPE by QueerGarden is a photographic exhibition of queer bodies in queer spaces. Selected from a vast body of work of queer nightlife in London, Paris and São Paulo, these images have been chosen for their dynamic and unposed quality. More than just safe-places, queer spaces bring about authenticity, joy, passion, expression, and euphoria. Within them and among others like us, we are ripe and ready to burst.
Transporting you to a dimension that only a queer-for-queer gaze can access, across dingy basements, sweaty dancefloors and dimly lit backstage dressing rooms, RIPE celebrates the spaces we have created, and who we can be within them. The larger than life prints blow the roof off of our tiny queer venues, taking up a space unquestionably worthy of our strength and power.
Queer Garden / Beliza Buzollo is a trans photographer from Brazil based in London. Queer House Party, Voguerites (Somerset House), Lese Majeste, The Enby Show and T-Boys Club are a few of the iconic scenes captured by them. This year their work was shown at the TATE LATE Pride, Rankin Creative UNSEEN and Labour of Love. They also have a background in high-end post-production, having worked on images of notable public figures such as Elton John, Kate Moss and Gisele Bundchen; as well as post-produced work for fine art exhibitions like Paris Photo. Mixing high-level skill with lived experience they offer a unique approach to the queer community that is often not accessible.
RIPE Exhibition Launch