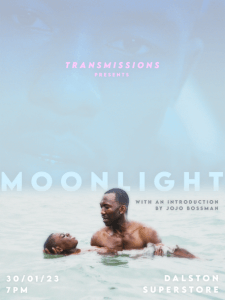 Transmissions presents Tongues Untied + Moonlight Double Bill

Tongues Untied (1989):
Before our season finale presentation of Moonlight (2016), we are proud to present Marlon Riggs' vital experimental documentary, Tongues Untied (1989) which blends poetry, portraiture, and political declaration into a vivid preservation of black queer lives.
As immersive as Paris Is Burning – and featuring some of the same faces – but told from the inside rather than by a white observer, Riggs' unapologetic piece is a real must-see for anyone interested in our shared history and the best queer cinema has to offer.
"The film seeks to shatter the nation's brutalizing silence on matters of sexual and racial difference"
Moonlight (2016) with special introduction by Jojo Bossman:
Closing night of our classics season was a tough one to programme. It had to be a big one, but not too obvious, a crowdpleaser, but not safe. So when trans filmmaker JoJo Bossman pitched Moonlight, it felt just right.
Come find us downstairs at Dalston Superstore in our weekly trans community space and get swept away by Barry Jenkin's ground-breaking saga of healing and queer love featuring an Oscar-winning turn from Mahershala Ali, and critically-acclaimed performances by Naomie Harris, Trevante Rhodes, and Andre Holland.
Make sure you get down early to welcome Bossman as our first guest programmer of the year, and hear their introduction to the film.
"Who you gonna be?"
Subtitles will be displayed throughout.
Seating is a mixture of benches, backed chairs, bar stools, and floor space, and is first come first served.
Transmissions presents Tongues Untied + Moonlight Double Bill