How Do I Look
How Do I Look
05-11-14
How Do I Look: Talking Ballroom with Wolfgang Busch
By Whitney Weiss
Documentary filmmaker/activist Wolfgang Busch started life managing bands in Germany, relocated to New York in the 1980s, and leapt right into nightlife and activism, the latter of which still keeps him busy on a daily basis. How Do I Look, his look into the voguing community of New York, is a deliberately constructed counterpoint to Paris is Burning and a selection at this year's Fringe Film Festival. Ahead of the screening, he spoke candidly about New York in the '80s and his experience with the politics of queer subcultures. 
How were you first introduced to the ballroom scene in New York?
In 1987, I saw my first ball by accident at the New York club Traxx. It was an Xtravaganza ball, and I experienced the magic of Dorian Corey, Pepper Labeija, Avis Pendavis and voguing legends Jose and David Ian Xtravaganza. I was so mesmerized and I remember saying to myself that I would love to work with this community one day.
In 1989, I created the New York Promoters League of NYC club promoters to raise funds for local charities and was introduced to Mike Stone, the youngest gay black promoter in NYC club history. We became friends and I learned about the discrimination in NYC clubs. At that time I was a club promoter and booking agent for the Limelight and I had access to all the clubs in Manhattan. I helped Mike to find clubs for his parties and we did parties together. Mike introduced me to the Ballroom icon/historian/activist/living legend Kevin Omni. Kevin educated me about ballroom history and introduced me to many icons and legends. I learned that the documentary Paris is Burning was rejected by the ballroom historians and many icons because of its imbalance and because it portrayed the community as thieves, prostitutes and drug users. Unfortunately, the public is not aware of this, because many people in the ballroom community have been selling out the community for personal gain and they continue to promote this film, which left behind many scars. Ballroom historians understand the positive in this film, but the exploitative elements in this film still affect this community.
And how did you decide to make a documentary about the ballroom scene?
Kevin asked me if I would be interested in doing another documentary about the ballroom community that would be cultural and educational. We had many meetings at the LGBT community center in NYC, which was attended by ballroom hall-of-famers Octavia St. Laurent, David Ultima, Junior LaBeija, Marcel Christian and Kevin Omni. We talked about what they wanted How Do I Look to be and we had many screenings to let the community know of the direction of the film and they gave me input at every step of the way. Nobody signed the agreement until the film was completed.. This is a rather unusual way of making a film, but due to the situation with Paris is Burning and the fact that Jeannie Livingston was sued by Octavia St. Laurent.
After its release, How Do I Look won best documentary and a Humanitarian Award from the Diaspora Film Festival in Berlin, Germany. It was screened worldwide.
Your approach to documentary filmmaking is about providing a spotlight for particular cultural communities. What inspired you to want to tell these stories?
My background was in entertainment. While I was growing up in Germany I worked as a DJ and a sound engineer touring mostly in Germany and Austria. The band Crypton I was working for had a black singer, Michelle from Boston, and I became the negotiator for her, because of my English-speaking background. I always had an attraction to the outrageous entertainers going back when I was as a booking agent at the Limelight in the 1980s. I moved to New York in my twenties and was very much attracted to the diversity of music that the city had to offer and the existence of its subcultures and underground movements. I was many times the only white boy in black and hispanic clubs. I wanted to know what makes a trend-setting community like the ballroom community or the leather community. 
During my time as a club promoter, booking agent and TV producer, I learned about the entertainment industry in New York City and learned about the disrespect and exploitation towards the artists, which was the opposite of what my experience was in Germany. I couldn't get over the fact that the entertainment industry is so horrible towards artists, so I decided to kiss the corporate entertainment industry goodbye. I got involved in the Gay Lesbian American Music Awards (GLAMA), OutMusic, the Arts Project and Community Center on Fire Island Pines and Cherry Grove and The Imperial Court of NY. I wanted to build an infrastructure and fight for justice and empowerment while promoting natural artistic progression.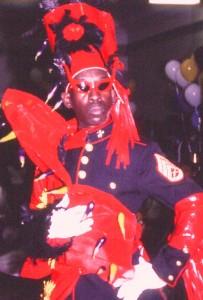 I know that you have definitely strong feelings about Paris is Burning. Plenty of people in the new ballroom scene have referenced the movie as something that they like, as something that introduced them to that world.
Right, there's a motivation to do that because if they associate themselves with this film, which is internationally known, that's how they then get gigs. I had conversations with these DJs and they will not quote the negativity from that, they will only talk about the positive side, they completely ignore what really leaves the scars behind. It's unfortunate when you deal with a disenfranchised community, if you really understand what disenfranchised means, is that for a dollar they sell out their mother. And when you really understand the black community, with the history, with the slavery, so once you understand that whole part, then you then also understand that more educated people who support Paris Is Burning and support The Latex Ball and support the AIDS agencies, these are all people that are really only doing it to benefit financially and personally. It's really unfortunate, and it's so widespread now but only amongst the people who either benefit or the people that are like really on drugs and they really don't care. 
Then of course what also happened with the AIDS agencies, and if you look at How Do I Look, people speak very critically of the AIDS agencies. And because I included that in the film, it was rejected by GMHC and the local AIDS agencies because, you know, they looked at that as some kind of attack towards their agency because people were telling the truth. So part of the reason why How Do I Look was never successful commercially is because it was blacklisted by these AIDS agencies. It makes sense. So, you know, you can see how they use their social status, these agencies, to boycott or blacklist or interfere with the arts or the truth and manipulation and all that comes into play. And that's really really unfortunate.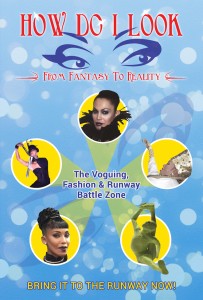 So in New York right now, who is throwing balls and who in the scene do you feel is really embodying the more sincere spirit for voguing?
There's this disconnect between the old school and new school kids. The old school doesn't respect the young kids, the young kids don't respect the old school. So there has been this divide for the longest time, and when I produced the Ballroom Convention focusing on the history, which means more of the old school, it somewhat woke up lots of the old school people wanting to come out again. And then the convention was followed by the Omni Ball, focusing a lot on old school categories, bringing out some of the old school children again and some of the new school kids. That seemed to, somewhat revolutionary and a huge change, bringing back more of the old school categories and traditions. Because the new school kids don't really have much respect for the old school. 
Who in New York do you think is doing good work to help with education without trying to turn taking care of things into a money-making business? Who is the non-profit that you support? Which organizations doing outreach in NY do you think are doing good work and doing work that's based on helping the community? Who is making a real difference?
They all do good work, it's not that they aren't doing good work. They all do good work to an extent, but the question has become 'at what cost?' GMHC has food programs and provides condoms, that's a great service. But on the other hand, they are cutting into the ballroom economics, they created their own subculture so they can continue to get the grants, so that is really the question. They are providing services, but the problem is at what cost. And that, at the end of the day, is the real question here. They are taking advantage of this community. The executive director makes $250,000, the COO makes $200,000, and then she goes to the media and complains because 'we have to cut food programs for our clients because there were budget cuts.' But they have $100,000 to produce the Latex Ball and give $5,000 on prize money. They have money for that. I've contacted so many people, like C Virginia Fields, she was the Manhattan borough president. The big leaders that we respect, the doctors, all these leaders, they all sell us out because they want to keep their 100,000 or 200,000 jobs and they give each other awards and rewards and parties so they can write about what a fabulous job they're doing. And it's nothing but a bunch of crap because they just keep hanging on to these jobs and exploiting communities and completely take advantage of it. And this is what it really comes down to. These respected people are the biggest sell-outs of the community.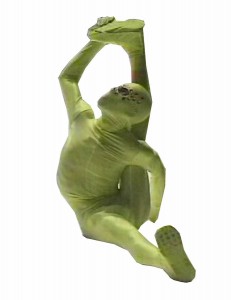 Do you think that underground communities like the ballroom scene will still be flourishing there in 15 years, or have things actually started to gentrify and change so much that working class artists/dancers/musicians/etc will be squeezed out?
The ballroom community with all the challenges it is facing right now with the AIDS agencies will continue to survive, because of its infrastructure it has created. Because of the discrimination and class divide in this country, they have to stick together and help each other, because they have all odds against them. 
In regards of making a dollar on their art? Now more people have the opportunity to travel and teach voguing. Is this enough, of course not, but when I look into the future and after the AIDS agencies will be no longer be able to divide the community and will no longer cut into the ballroom economy, the ballroom community will have a new beginning and hopefully with the right leadership, it will find its representation and support on the highest cultural and educational levels. I am so grateful that I am playing a part in this change now.
How Do I Look screens this Sunday 9th November at the Rose Lipman Building as part of Fringe Film Festival. 
All images courtesy of Wolfgang Busch
post-template-default single single-post postid-7796 single-format-standard tribe-no-js tec-no-tickets-on-recurring tribe-theme-dalston-superstore loading
How Do I Look