Kid Batchelor
Kid Batchelor
27-02-14
By Hannah Holland
A pioneer of the musical explosion on '80s London who DJ'ed at many of the revolutionary clubs of the time, as well as making legendary records… We are honoured to have Kid Batchelor spin in the laser pit at Paris' Acid Ball this week, and learn a little history along the way.... 
Hi Lawrence aka Kid Batchelor. You were born and bred in Hackney. Must have changed a bit?? What was the music scene like when you first wet your toes?
When I started playing records in the '80s the music scene was simply electric. London was a maelstrom of creative activity. I could dazzle you with sparkling anecdotes aplenty from acid house-era London and beyond – if I could remember. A gentleman has no memory. 
I was born in Hackney, my family and I lived in Clissold Park, and I remember growing up near Hoxton. Just some of the changes I have witnessed over the last 20 years... It went from NDC to ultra-trendy enclave, with real estate developers tripping over each other to get a slice of the action.
What happened in 'Shoho' circa 1986, it was akin to East Berlin post '89, meaning a foray into uncharted territory. Artists attracted by large open plan spaces and low rents moved in. It used to be cheap. Now though, property prices are much higher. The greasy spoons have given way to bijou restaurants. We have witnessed this happen to Soho and Shoho, Dalston has been trendier than Chelsea's heyday for the last few years, but now Hackney has posted the 'full-up' sign there too. London venues and its electronic arts are in danger of being priced out of the city. It's the Manhattanisation of London. 
Today according to a recent report London is officially the most expensive city in the world. From the price of a beer to bus fare to the shoe boxes that people call home. And, of course, rents continue to rise but salaries are staying the same; so what's a gal/guy, to do?
Overheard as I passed a young couple standing outside an estate agents window in Shadwell this week: Him: "No that's a garage." Her: "Oh!"
What turned you onto DJing and where did you start?
My Adventures On The Wheels of Steel, so to speak, corresponds with the dawn of hip hop, which has just turned 40. I heard a set by DJ Cash Money, just from seeing him on the decks scratching to the funk; he's had me as his love slave since. Forty years on from the first inklings of hip-hop filtered out of DJ Kool Herc's decks: allowing one song to segue into another, at a Bronx house party in 1973.
Together with Jazzie B, Tony Humphries' KISS FM MASTERMIX SHOW, and Tom Moulton's High Fidelity, concepts that single-handedly created a new industry of remixing-producing records with greater dance impact. His super-sonic frequency design went much further than Motown ever did. Tom brought out the "blood and guts", the things that really count in a song. These relationships played a huge role in my own development as DJ of 30 years standing.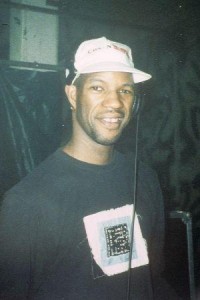 I was also hugely interested in disco, which became so ubiquitous it choked on its own backlash, and clouded the minds of suburban fans who forgot that the music had already been a big part of black, Latino, and gay culture for a half-decade. Disco died in 1979, or so they say. In truth, its influence metastasised throughout dance music. House music was disco in the raw. Frankie Knuckles and the other gay African Americans who invented house music began the process of rescuing disco from its own excesses by stripping away the clichés and reconnecting it with its subversive counter-cultural roots. When house music became the dominant popular style in the early 1980's, first in Chicago then in NYC, San Francisco, LA, and all the other major US cities, before spreading across the country and the world.
Your work has been heavily influenced by New York '80s underground music scene, what was your first experiences of the music and the city? Must have been so fresh…
As in London, so New York was a hotbed of energy and ideas i.e. Keith Haring's immersion in New York's downtown cultural life; he quickly became a fixture on the New York artistic scene, befriending other artists like Jean-Michel Basquiat and Kenny Scharf, as well as many of the most innovative cultural figures of that period e.g. Fab Five Freddy. The role these relationships played in Haring's development as a public artist and facilitator of group exhibitions and performances was very important, and I just thank god for my late friend Keith Haring who introduced me to Larry Levan at his 'Party Of Life' at the Paradise Garage.
He knew what the latest records and the dances were; and artists like him went out at night and listened to music and danced a lot, they painted in the daytime that was the whole idea - it was all seen as one. Jean Michel Basquiat too, was an artist whose work symbolised a Cultural Movement, which had at its centre break-dancing, graffiti art and rap music. Through his work, he came to prominence in New York.
The late Dennis Hopper was also a connoisseur, he spoke about Afro-American Pop-Artist Jean-Michel Basquiat in the following terms: "He has it all. Basquiat used to walk these streets with hundreds of thousands of dollars in shopping bags from his art sales. He enjoyed contradictions, art critics found him confusing. I don't have any cynicism about him, however, he never said very much in interviews, yet there was a big idea to his art. He stands for a inquest post-modern type of beauty. He does something a lot of painters today want to do, but with theirs it comes out too controlled or twee, with Basquiat it's alive. He had an incredible natural faculty..."
New York's late '80s and '90s Sound Factory, Paradise Garage, Ballroom Culture and acid of Music Box is some of our biggest inspiration for Paris' Acid Ball. You went to some of these clubs, what was the impact it had on you?
Believe me when I say this, I think it changed my perceptions of what was possible. 
I have always loved radio, especially from the US. Ever since I was a teenager collecting music – I fell in love, from then on the obsession grew and now I've been catapulted back, reflecting this knowledge and appreciation of the popular music of my youth. 
How did London and New York compliment each other back then? 
An important factor in making London a global Mecca for electronic arts is its cultural and social diversity (at least as great as New York).
In such a hotbed of energy and ideas, the process of reinvention never sits idle. For gangs of individuals driving such change, this city of 7.8 million people can support niche clubs and intensely-focussed musical style and act as a perfect playground in which to sculpt and grown our reputation as, yes, the artistic capital of the world. It's like a nappy, the contents has to be changed regularly.
But if you looked at London in the mid '80s, with its 3am license in the West End only, and compared it to New York (the city that gave us disco and hip hop with clubs like Area, Danceteria, Paradise Garage, The Palladium, CBGB) you might have laughed at the notion that London could supercede New York by the mid '90s. 
It is easy to locate the parallels and synergies between British and American Pop Art of the 1960's and '70s. Clive Baker's work can feel, despite it's 'Britishness', like a celebration of the popular that we have come to associate with the USA. Such is the power and profile of Warhol, Lichtenstein, Wesselmann et al, that it is easy to forget that the genesis of Pop Art lies not in New York but in London. 
You were DJing at the legendary Soul II Soul party at the Africa Centre. It seemed like a perfect slice of London's music scene, creating something totally unique. What was your experience of it? What were the big tunes you would play there?
Thirty years ago, Thatcherism was a boom/bust economy; racism was a street reality as well as a nightclub door policy. A tough pressured time, it led to the emergence of one of the most radical club scenes in the world. Thank heavens for the Funki Dreds aka Soul II Soul (SIIS )– a legendary sound system that became a Grammy award winning soul act. Headman Jazzie B took me in as just a Kid (hence my handle) who could rock turntables' and together we tore club culture apart.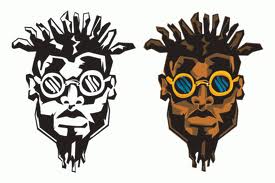 Our music policy was Afro/soul. We hooked up with crews like Wicked Pulse (Soul Kitchen), Family Funktion, Norman Jay and Nellie Hooper's Bristol Massive (The Wild Bunch/Massive Attack). Jazzie's music became steeped in seventies James Brown beats and classic revival tunes, whereas I moved forward towards electronica, new sounds, garage and house etc. Although I am still down with the Funki Dreds we never overcame that crucial fissure, me to the future, they to the past. 
The late '70s and the early '80s reggae imagery – of painted medallions, fists, sensi plant or leaf, images of the Ethiopian Emperor who died in 1960s and was considered divine by Rastafarians, Zion – a referencing to Jerusalem and the Emperor Haile Salassie is believed to have been Christ incarnate, and so on gave way to '80s African imagery, long canvases decorated these dance halls like Africa Centre in Covent Garden; so we got musical forms with its own imagery e.g. Soul II Soul, Funki Dred.
I've been commissioned to make a radio programme about Soul II Soul, a musical ideology which has remained at the avant-garde of what many describe as an oxymoron, British soul music. Yet in the eighties one man and a group of friends took on that transatlantic cynicism and nullified it in the most revolutionary style imaginable. That man was Jazzie B, and his friends, a bunch of talented singers and performers who had all until then been denied any major form of success. But with Soul II Soul these singers' names became familiar with millions of lips, as SIIS became the neologism of London and then the world. 
What do you think it was about the UK that embraced the explosion of acid house in1988?!
London has been a hugely successful Mecca for the electronic arts enthusiasts over the last couple of decades, for a variety of reasons… among them: its cultural and social diversity. The development of the one-nighter club format from the early '80s, Warehouse parties. Pirate radio. Home-grown UK producers (in the 80s) and pioneering musical genres (Jungle, UK garage, D&B, dubstep). Sound system culture. Gay and polysexual scenes. Its size. And its party people, who made the parties matter in spite of 2am licenses and other restrictions.
In the '80s, a new sound emerged across London's dancefloors – a plethora of musical communities and sub communities – house, new beat, garage, techno and balearic beats. This sound exploded right across London and beyond, under the Acid House banner (smiley faces), which conveys the heady days of the Balearic spirit for those who can only dream of having been there.
Give us an insight into your record box gems of the time.
Too many favourites, hundreds in fact, but Will Downing - In My Dreams is one that popped to the head of the queue when I read your question. In half an hour it could be a pet Bas Noir, or a Fast Eddie's Let's Go, or some new, young artist from Croydon or Italy. Tough and electronic sounds.
I played all the best tunes during the rise of each genre – electro, rap, funk, house. During the late 1980's acid house era, I shifted towards a more radical model of uniting art and music technology. 
Your Bang The Party records were some of the first proper UK house cuts to emerge on the scene, how did Bang The Party come about ? 
Dance act Bang The Party (founded 1986), originally a trio including Keith (KCC) Franklin, KCL Project. But then were downed to two, Lesley 'Bullet' Lawrence and I. 
Release Your Body, with Derrick May, an acid house fave, was followed by Bang Bang You're Mine, a garage classic. We also released an album, Back To Prison.
Since those golden times you've gone on to be a creative director for London's best super club Fabric, a regular record player in Europe (particularly Italian Rivera), worked on various TV projects + host a weekly radio show Mi-Soul. What advice would you give to a young Londoner stepping out to play music?!
The single ingredient you'll need in spades is PASSION. And a lot of LUCK.
Nobody does dedication like James Brown, the minister of super heavy weight funk and social commentator. Here's his charming point of view ...
"Put your hand on the box and feel this,
Lay your hand up there and feel it,
If you got any kind of soul you got to feel it."
 (James Brown, I Got To Move)
GET the message? This is not for the feckless or faint hearted. What you hold here is a funk bomb, primed to vaporise lethargy. A compound of full-length, full-strength masterfunk. An hour or so of GET UP and go. The jungle groove.
Sadly, in the industry as in life, being the best you can be isn't necessarily a winning formula. All ironically, in the words of The Last Poets "We started on the corner and ended up in the square".
Join Kid Batchelor this Saturday for Paris' Acid Ball at Dalston Superstore 9pm - 3am.
post-template-default single single-post postid-6575 single-format-standard tribe-no-js loading
Kid Batchelor