Ted Rogers Reviews: Open House
Ted Rogers Reviews: Open House
24-10-14
By Ted Rogers
"Open House" with Erik Korngold and Tom Chase is perhaps one of my favourite porn films to date.
We begin outside a Home For Sale, as the estate agent greets the "client" to show him around. We can see their two cars that instantly reflect their personalities, one dirty and rugged (with an Arnie/Tomb Raider vibe) and one typically clean cut, but both big and masculine. With a shake of the hands and a push through the gate we begin the tour of the house - a vast American villa with a huge pool and awfully thought-out decor.
Aside from this being a porno and caked in that comforting synth music, the first obvious sign we are given of any oncoming action is when Swamp Daddy, (Erik Korngold), removes All-American Norm-Core Daddy (Tom Chase's) blazer for him. Inevitably the next room to be viewed is the guest bedroom.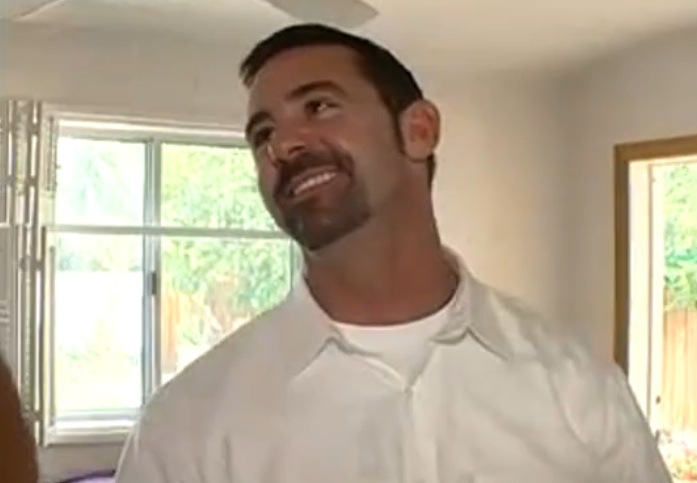 It has not even been three minutes when the tension has become too much and Swamp Daddy throws a strong suggestive look at Chase's package in his ill-fitting jeans. We swiftly move into the master bedroom and a mere 30 seconds later, Swamp Daddy removes his chunky leather jacket for the big reveal of his "Colt" T-shirt. (For those who don't know Colt is one of the biggest porn studios, particularly in the '80s when porn still valued a moustache). Chase turns around and across his face spreads the cutest, cheekiest smile one did ever set eyes upon. His slightly bulbous nose and big ears add to the sexy wrongness of this slightly over-groomed yet manly example of an All-American porn-star/estate agent; and are a suggestion that perhaps his other extremities are large too. Chase then reveals that he too is a big gay and has a colt T-shirt on as well. With this affirmation of each other's sexual preferences we can now move into the real stuff!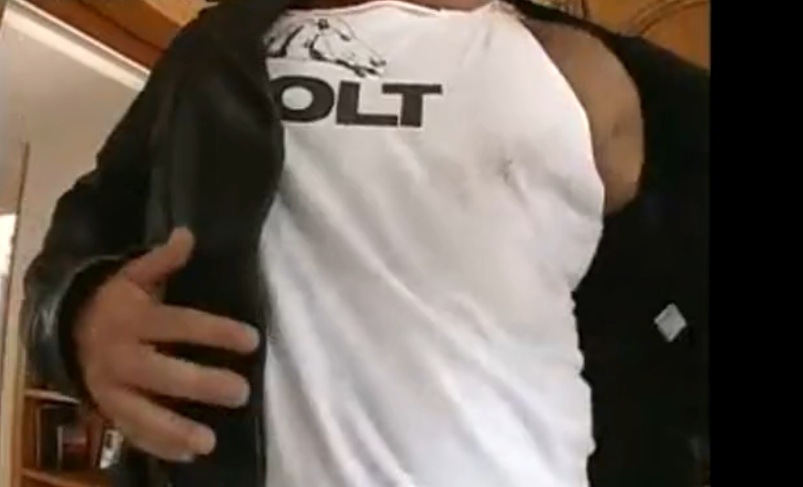 Next to make its appearance is Erik's thick dick wrapped appropriately in a leather studded cock ring. This daddy is so dirty and free it appears he doesn't even need underwear as he was going commando. Naturally Chase is so excited by this he is already lying on his back butt naked ready for the ensuing pleasures. After a myriad of kissing we reach one of the key moments… "The first skin", as I am calling it, is the moment where the "Top" slides himself belly to belly with the eagerly awaiting "Bottom". In my experience this is a moment of pure ecstasy; as once cold, matte, goose-pimpled skin slides willingly over your body giving a rush of excitement as warm man engulfs you with his arms and thighs only to proceed to devour your lips further!!! I'm far too excited and we haven't even reached the fucking!
If we use this video as an educatory tool, which in reality we will as the lack of sex education of any sort at schools is horrifically non-existent; then we can learn that sex does not need to involve meth-slamming and beatings to be classed as arousing and sexy. In fact being a dom-top requires much tenderness and loving before the firm fucking can follow.
Further to this, Erik now introduces the art of "thumbing". An act in which the "thumber", (Korngold), having fairly lubricated the "thumbee", (Chase) with saliva inserts his thick thumb into Chase's ass, searching for his prostate, he proceeds to milk Chase to submission. If you have not been thumbed then you have not lived!! Any man who thinks an orgasm only happens when you cum can use this major lesson in long lasting natural highs!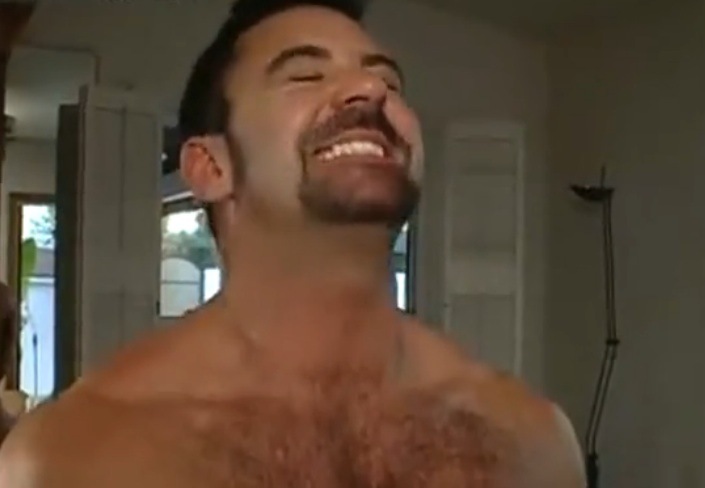 We skip forward to the moment in which the two men, having sucked everything in sight, spot the unsuspecting pool boy through the window. They beckon him in to his joyous surprise (see photo before for lolz), only to undress and give him breakfast lunch and dinner in one go.
The men finish by shooting their loads all over the pool boy, displaying marvellous "oh-faces" and glee-filled gurning. Finally, in the wonderful cheesy style of this whole film, they run and jump into the pool to refresh and rid themselves of jizz.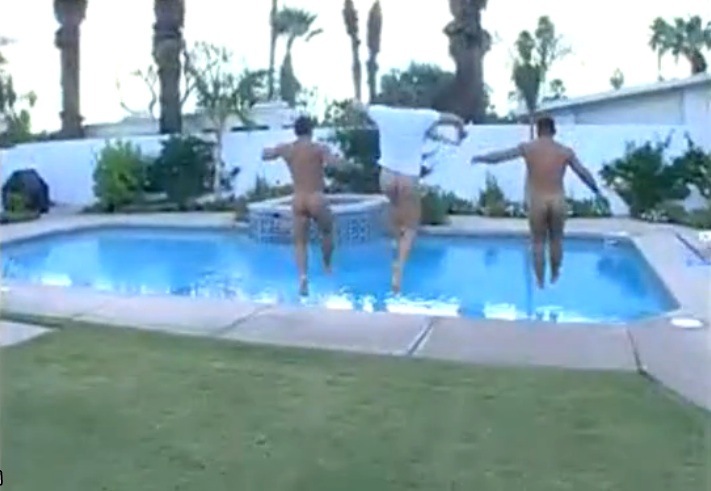 The models are both gorgeous and fairly natural looking without the need for countless tattoos and oddly-clippered thug hair in order to make this film desirably dirty. Personally, the contrast between clean cut masculinity and naughty pervy facial hair is far sexier.
To me this video is a reminder of the golden age of porn. The blurry VHS quality and slightly faded colours give a homemade satin look, and the horrendously unrealistic setting and bad music top it off with that particular plastic coated porny style. It sparks memories of covertly watching porn when I was still a closet teen and having to quickly turn the computer onto silent and slamming the screen the second mum came through the door.
It's 5/5 for Open House with Erik Korngold and Tom Chase by Colt Studio Group. I have been left in a hot sticky mess countless times over this film!
Join Ted at Bender with special guest Robert Owens on Saturday 25th October from 9pm - 3am
post-template-default single single-post postid-7732 single-format-standard tribe-no-js loading
Ted Rogers Reviews: Open House