Rhys' Pieces!
Rhys' Pieces!
20-02-19
After a cheeky winter break 
The Karaoke Hole
 is BACK on the search for the next big home grown karaoke superstar this Thursday with the
K FACTOR!
With £100 in cold hard cash on the line for the winner, we've enlisted a Queen who knows a thing or two about performance to take us through the night... and guess what? Its none other than 
Queefy
Mother,
LIPSYNC1000
reigning queen and Cabaret starlette Rhys' Pieces! We caught up with Rhys' Pieces to chat about plans for 2019, Karaoke bangers and to get some much needed tips for Thursday!
Oh Hiya babes! So we may be very really well acquainted with you, but can you let our readers know a little about yourself?
Oooh! Well what to say. I'm Rhys' Pieces; A one stop cabaret troupe, lip sinker, mover and a shaker, messy bish and a good time.
You are quite the hard working queen, and you always seem to be running from gig to gig! How have you been doing hun?
Yeah I get around I guess. This year has already been quite busy. I've been over in bath and Bristol for the first time this weekend which was grand, though both in the same night was quite a lot. I had my first Queefy of the year  at the end of Jan. I've also been busy with the
Lipsinkers
preparing for the
Adelaide Fringe Festival
through March which is tremendously exciting.
Your known for Queefy, your cabaret night in Walthamstow, has been going from strength to strength, how did it all start?
Awaaah! Yeah it is! Well I started it in Dalston at a place called Farrs (Queer at Farrs= Queefy) just under three years ago. I moved it to a bigger venue, a a beautiful converted theater in Walthamstow a just over a year ago and it will celebrate its third birthday this March 22nd (I guess the birthday as I don't know when I did the first one- I could look in my FB but that's far more organisation than my brand allows) I guess the mantra for Queefy is its truly queer as fu*k- Celebrating that. I manage to get together an assortment of performers from different bits of London Scene as I'm all over the shop.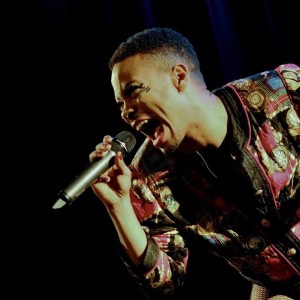 LIPSYNK1000, the drag competition run by our sister down the road The Glory, has become the event of the season for East London Queer performers ... and last year you won with a GAG-WORTHY performance. Did winning such a prestigious crown change you as a performer?
Erm… oooh! Funnily enough I didn't actually enter with the goal to win (I hope that doesn't make me sound like an ass) I just wanted to be part of that back stage crowed. I'd entered the year before really wanting to win (I didn't of course) but I met so many people that I came to love and gig with that I wanted that again. The amount of congratulation I received after from other performers was… well it was beautiful and it made me feel valid, retrospectively, like it opened my eyes to how hard I'd been working.  A lesson I guess would be to do what you're good at. There's always room to grow and expand of course but that act i won with is an act.  I loved performing and felt comfortable in which meant when I hit the stage I could serve the f*ck out of it.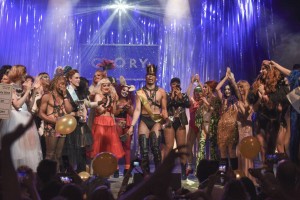 As one of the regular hosts at the Karaoke Hole since her glittery golden door swung open last year, what has it been like down Kingsland High Streets newest hole ? 
I love it ! I've actually worked there since it changed from Dance tunnel and Dalston Superstore (its' sister venue) was my fist job entering this queer scene of east London, so I feel very connected to it (plus I was born in Hackney so this feels very much like my turf). Its such a fun night to host. You never know what its going to be like ,which is great, and its really helped me to relax when hosting. It sounds mushy but I absolutely adore the people who work at
Voodoo Rays
and
Dalston Superstore
as many of them were there when I used to work at DSS!
It seems safe to say that you are a fan of Karaoke then... but big question, what is your go-to Karaoke banger?
I'm pretty flawless on Super Bass by Nicki Minaj but I saw I video of that b*itch Bimini Bon Boolash doing it whilst on her head which ruined it for me as she was sickening. I do love doing Fergalicious (by Fergie) though of course when I do it its "Rhysalicious" by RhyssPeices. I'm trying to learn Look at me now ( you know that super fast rap) but well.. give a few months.
This Thursday you're in the judging chair at The Karaoke Hole for the search for the next home grown Karaoke superstar at the K- Factor! What should we expect?
Same fun fab vibe as normal at the K hole! Only you could win £100. I like to keep it cheery. Love getting the whole room feeling involved. I'll get more ridiculous as a use up my drinks tokens. I'll do a couple of lipsyncs some raps on the karaoke and twerk and shout out "Dance breeeak" and it'll be a damn laugh.
As a little tip for all of the budding Karaoke star's what would catch your eye in a K-factor performance?
See here's the thing- I cant sing haha I can rap but I can't sing.. what I mean to say is play to your strengths and have fun. Come up there and bellow it out of you can that's just as impressive as someone who comes up there and sells the f*ck out of the song with their soul you know.
---
Catch Rhys' Pieces at
The K Factor!
from 8pm on Thursday 21st February at
The Karaoke Hole
!
post-template-default single single-post postid-19526 single-format-standard tribe-no-js loading
Rhys' Pieces!