With our regular Friday night top deck disco Nancy's bringing you our favourite DJs week in and week out for a while now, we thought it was high time to get to know the Nancy's residents a little better. And what better way to understand someone, to look into their soul, than to find out who their first embarrassing teenage crush was! Without further ado, may we present a slightly cringey trip down memory lane…
HIFI SEAN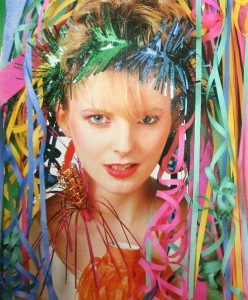 "My teenage crush was Clare Grogan from Altered Images. BUT at around the age of 16/17 I was at a house party in Glasgow with mates in bands , you know that kinda thing standing quite innocently in the hallway chatting and the toilet door burst open and Clare pops her head out and asks some girls quite loudly, "Anyone got a spare tampon ?" I Could Be Happy never ever sounded the same since that day."
JOHN SIZZLE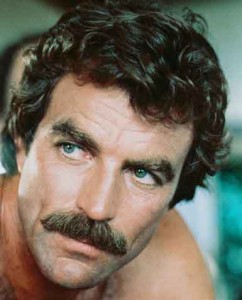 "I think I was in love with John Travolta for a bit… I had a life-sized poster of him on my bedroom door in that shorts and t-shirt  look from Grease… it was a very innocent affair. But once puberty hit I WANTED a Magnum'd Tom Selleck so bad. I wanted him inside me…. you know what I'm saying. I wanted to stuff all of him, deep inside me. Fuck love. This was serious man-lust. If I married him I'd deffo take his name. John Selleck is such a hot porno name, no?"
JEFFREY HINTON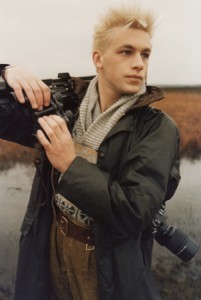 "One that has stuck is Chris Packham when he presented The Really Wild Show on TV with a bleached blond flick (my favourite rent boy look). I used to go all gooey. The thing is that crush is still going as I still fancy him, plus his knowledge of nature makes him even more sexy to me. Do you think anyone can introduce me??? Probably ruin it if I actually meet him…"
JOHNNY KALIFORNIA
"My earliest crushes definitely came from soapland – particularly the US soaps like Dallas and Dynasty. My most intense soap crush was Bobby Ewing (Patrick Duffy) in Dallas. He was a TOTAL HUNK in my eyes – that chest, those arms, those eyes… My mum would always record the soaps on VHS, but it was usually me that would re-watch again and again. I wore down the VHS tape on a few occasions, including his big comeback in THAT shower scene – I'd always imagine him inviting me in…"
"My next memorable teenage crush (post-George Michael) was Jason Donovan – for some reason, the sleeve of his single Every Day still sticks in my head. At that time, my bedroom walls were monopolised by Madonna posters and nothing else, but when I was alone in the house, I would sometimes cover them up with posters of Jason and others, and enjoy my room the way I wished it could be all the time."
THE LOVELY JONJO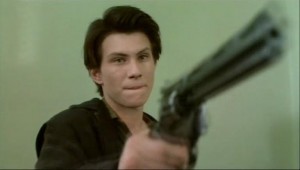 "Christian Slater in Heathers and yes I may have had posters from Big mag on my wall and yes I may have sent him a love letter……….
AND yes the sight of Christian Slater in Name Of The Rose VHS got a bit worn out in a certain scene……
So along with all my Big magazines and huge sticker collection was Rob Lowe's jock strapped ass in Ice Hockey movie, which made me feel very odd watching with my Granddad. My crush of crushes though was Corey Haim in License To Drive… SWOON."
LUKE HOWARD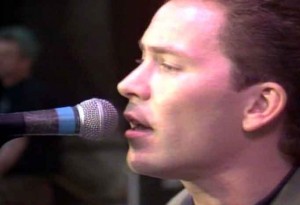 "Robin Campbell from UB40. I went to see them at Sheffield City Hall in 1981 and I think he was wearing Farah slacks and a Gabicci shirt. Someone from the support band snogged my sister so it was more than my early adolescent hormones could take!"
MARTYN FITZGERALD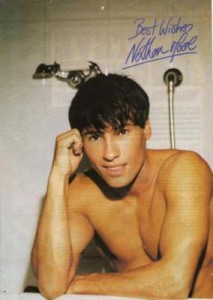 "Nathan Moore from Brother Beyond.  When The Harder I Try came out I realised I was a massive mo, no arguing.  I even styled myself on his look in the video for the summer of '88.  (Cringe.)  I almost booked him for Carpet Burn years ago. He was super sweet but I cancelled as thought the set would be on the thin side…  and I found out he was married."
Join us in the top bar every Friday for Nancy's, with Martyn Fitzgerald and Discosmack on duty tomorrow night Friay 27th June from 9pm – 3am with Abattoir in the laser basement.
Read full article
Tags:
Altered Images
,
Bobby Ewing
,
Brother Beyond
,
Chris Packham
,
Christian Slater
,
Clare Grogan
,
Corey Haim
,
Dalston Superstore
,
HiFi Sean
,
Jason Donovan
,
Jeffery Hinton
,
John Sizzle
,
Johnny Kalifornia
,
Luke Howard
,
Martyn Fitzgerald
,
Nancy's
,
Nathan Moore
,
Rob Lowe
,
Robin Campbell
,
The Lovely Jonjo
,
The Really Wild Show
,
Tom Selleck
,
UB40