A Little Summer Of Love
A Little Summer Of Love
26-06-12
These amazing pictures come courtesy of our friend Dave Swindells who'll be presenting a sample of his fascinating photography this weekend at visual art exhibition A Little Summer Of Love. Celebrating the early years of acid house, the exhibition will also feature the graphic art of Dave Little, a private screening of Gordon Mason's acclaimed documentary film 'They Call It Acid', a live performance of the first British acid house tune, 'Voodoo Ray' by A Guy Called Gerald feat. Diane Charlemagne and DJs including Paris' Acid Ball residents Hannah Holland and Dan Beaumont.
Being the kind sir he is, Mr Swindells has sent us a selection of his snaps from London and Ibiza in their acid house heydays with pictures of Danny Rampling at Shoom, Feral Is Kinky in Ibiza, crazy Boys Own parties and more plus explanations of each one in his own words...
TOP IMAGE:  Amnesia, 1989
To me this photo seems like it could almost have been taken last week at a party in Dalston. The fashions have changed somewhat, but not by much! This was 7am on the main dance floor at Amnesia on the opening night of the season in June 1989, when Boy George was invited to celebrate his birthday and host the club. Although it was taken in 1989 I'm putting it first it as was clubs like Amnesia which inspired Balearic beats and helped kick-start the Summer of Love in 1988.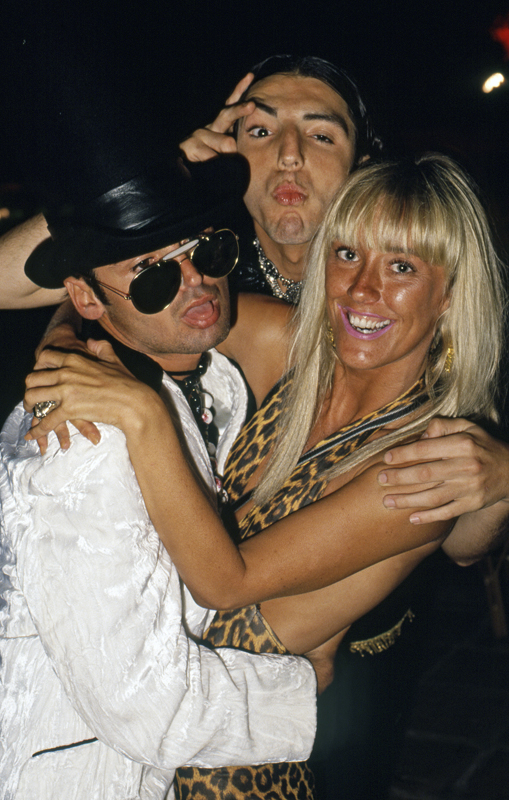 The Duchess of Norwood and friends in Ibiza, 1989
The Duchess of Norwood wasn't her real name (natch) but she did make good friends with the local boyz. Ibiza had a properly polysexual scene long before London, and it was already a major gay holiday destination in the '80s.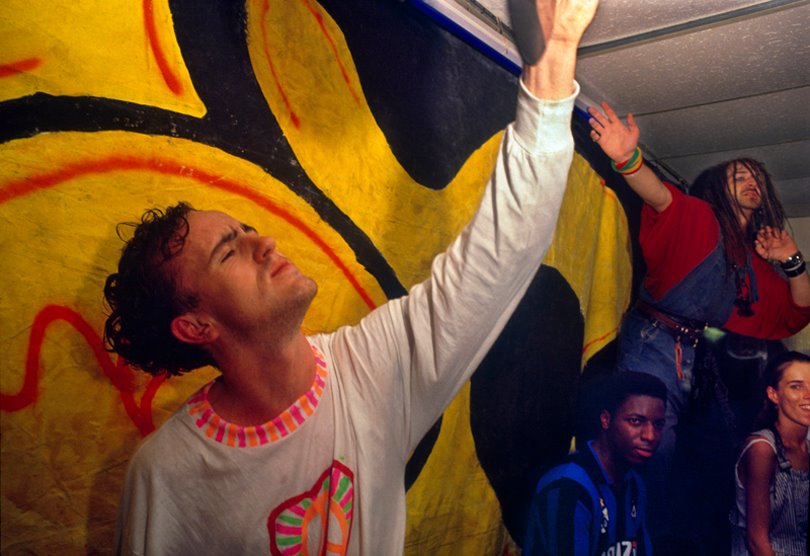 Danny Rampling at Shoom, 1988
At Shoom Danny and Jenni Rampling created a small, friendly, New Age-y and intense underground club where Danny mixed Balearic beats and acid house and everyone went a little bonkers. Anton Le Pirate (top right) and Frankie Foncett (blue top) are in this photo, which was taken in the tiny Fitness Centre in Southwark. There were grumbles about the tight door policy, but Shoom was very significant because it was the underground club that DJs, club promoters and the media knew about (even if most of the media couldn't get in). Just around the corner was RIP in Clink Street, but that's a whole other story* – and they didn't allow any photos to be taken. 
* The story is told in the liner notes to a new CD, 'Richard Sen presents This Ain't Chicago, the underground sound of UK house and acid 1987-1991', which is released by Strut Records on June 25.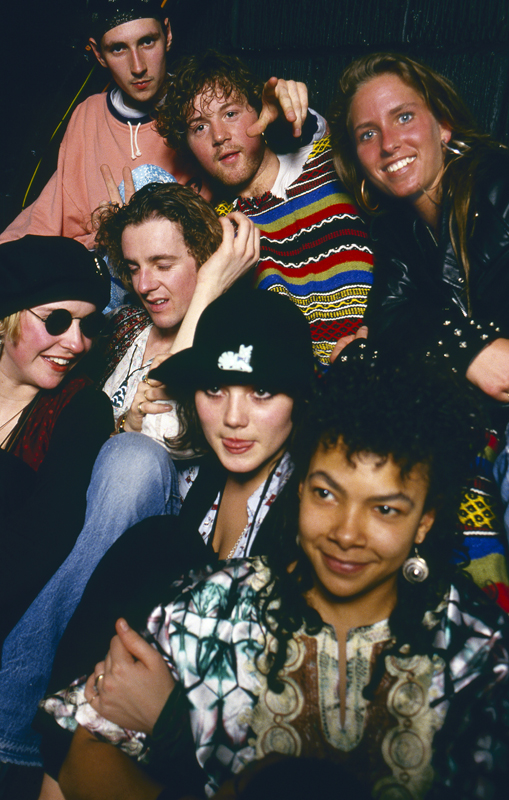 The Future, 1988
This was taken at Paul Oakenfold's night, The Future, for a feature on acid house and Balearic beats in i-D magazine. The clubbers there, including DJs Lisa Loud and Nancy Noise, had all been to Ibiza the previous summer, so we photographed the way they dressed and danced, because moves like the 'shelf stacker' were strange to people who'd grown up dancing with their feet rather than their arms.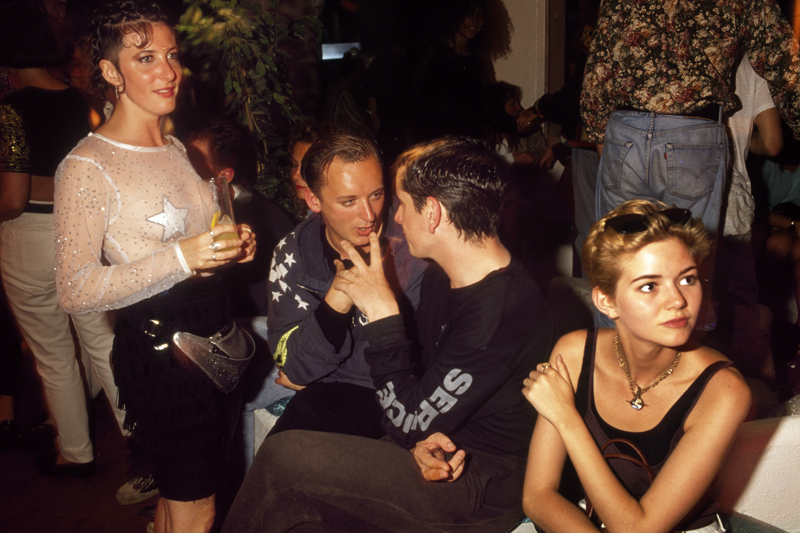 A typical group of London clubbers in Ibiza…
Yeah, right. MC Kinky (aka FeralisKinky), Boy George, Fat Tony and Louise Prey photographed in Ku (now Privilege). It's a night that we remember for the massive electrical storm (lots of the British chose to dance in the rain) and because the orgasmic 'French Kiss' by Lil Louis was played three times. When we left the open-topped jeeps in the car park looked like baths: full of water.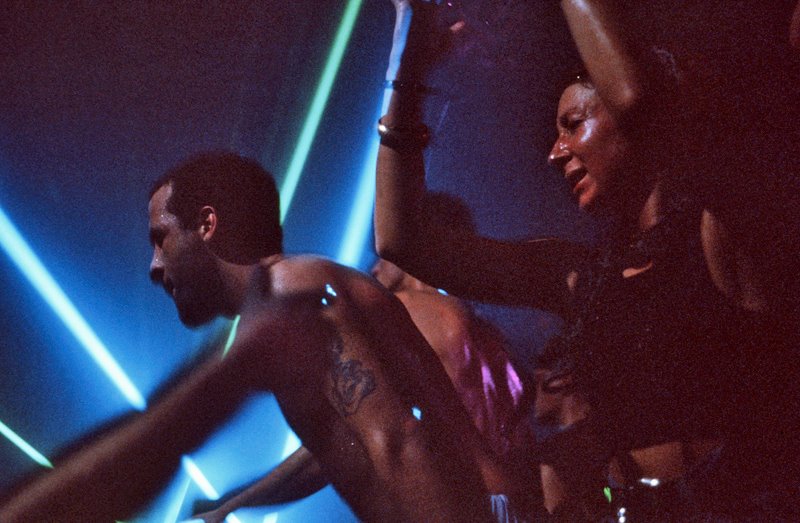 Spectrum at Heaven, 1988
Spectrum was a Monday night phenomenon at Heaven in 1988-89 where Paul Oakenfold was the main DJ. After a very quiet start it snowballed and used to draw clubbers from across the country – club folklore suggests that Spectrum inspired the name of the band Happy Mondays. This was taken one night in July 1988 when the air conditioning failed. No wonder the dancers were sweating.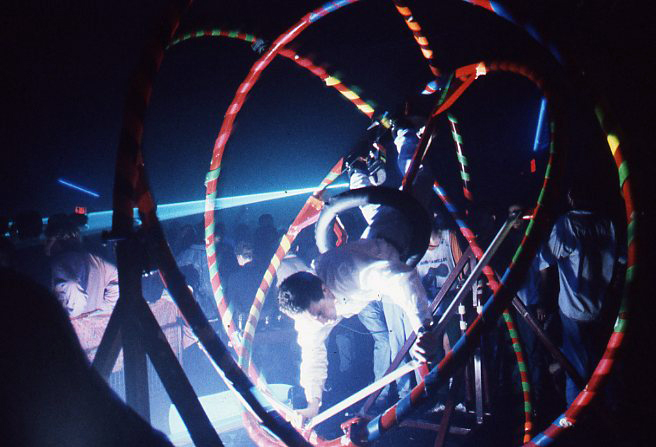 Gyroscope, acid house party in Deptford, 1988
In 1989 and 1990 every rave had to have lasers and a bouncy castle (and they'd definitely get a shout out on the flyers too), but in 1988 the novelty was a gyroscope. Logic didn't come into it: Hey, I'm feeling high/drunk/wasted, why don't I throw my body everywhichway possible on a gyroscope while the strobe light blinds and disorientates me! Yay!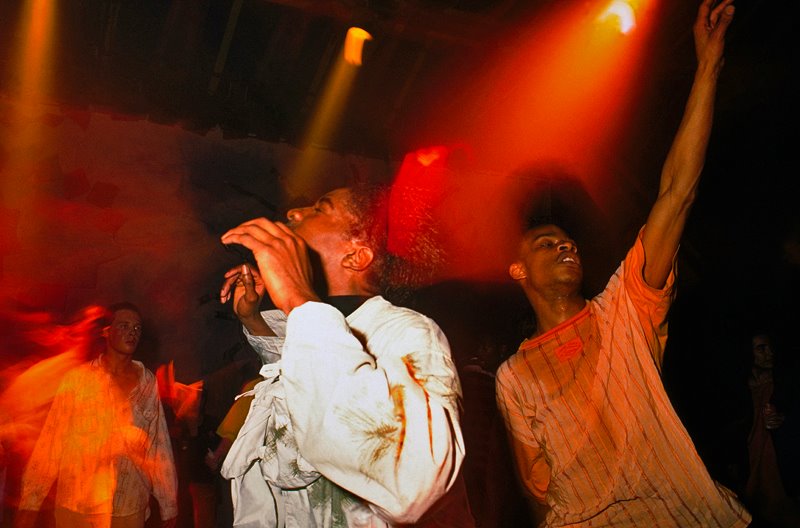 Time Out meets Spectrum in Jubilee Gardens
Time Out was offered the chance to help programme a festival in a big top in Jubilee Gardens. Spectrum was at Heaven on Monday nights, so we teamed up with them and on June 6th 1988 acid house (and Balearic beats) were blaring out across the Thames towards Big Ben. 
Trip at the Astoria, 1988
It's hilarious that the first club to bring acid house to the West End weekend was called Trip. Nicky Holloway's Trip, with Pete Tong as a resident DJ, opened in June 1988 and was mobbed. Darren Rock (of Rocky & Diesel) is wearing the blue top while most of the dancers are wearing Trip t-shorts because the promoter saw me taking the shot from the DJ box and made me wait five minutes while he handed them out.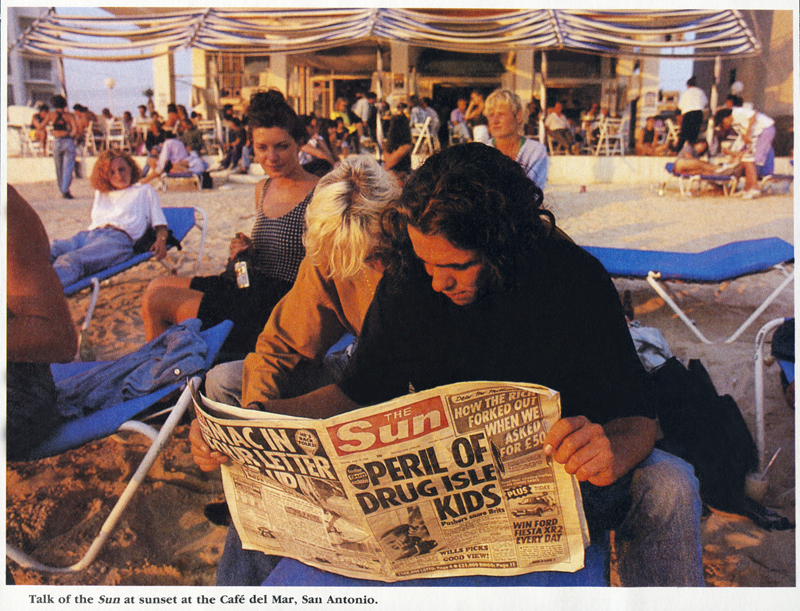 Café Del Mar, Ibiza 1989
'Peril of Drug Isle Kids!' warned The Sun. They weren't wrong. Those kids are still in peril but these days it's more likely to be the drinks and admission prices on The White Isle that will give them a heart attack.  I was out in Ibiza with journalist Alix Sharkey for 20/20 Magazine, so the fact that The Sun made Ibiza front-page news while we were there was lucky for us.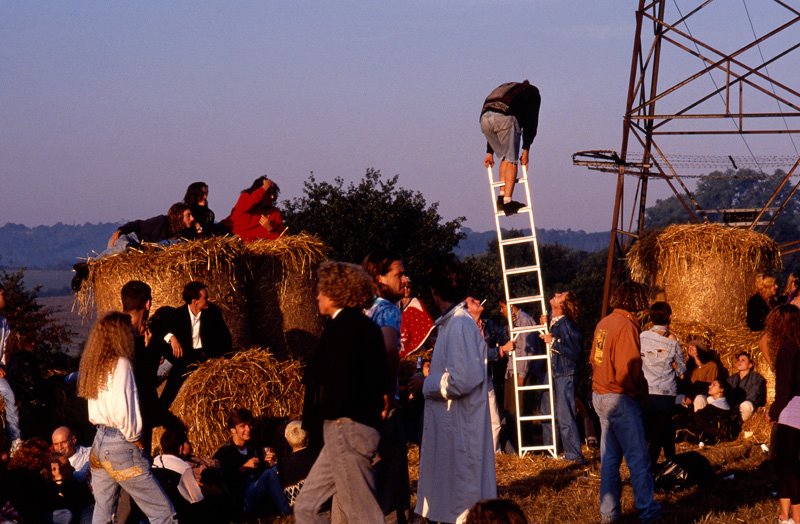 Boys Own Party, 1989 
1989 was the summer of orbital parties (parties at locations off the M25, hence orbital and hence Orbital, the band) but the Boy's Own event, in a beautiful valley overlooking a reservoir near East Grinstead, was not a mega-rave to scare the tabloid writers, but a brilliant night of top tunes and larks. Why were these two climbing a ladder to nowhere? I guess it seemed like a good idea at the time…
The launch party of A Little Summer Of Love will be held this Saturday 30th June from 7pm - 2:30am at Westbourne Studios, W10 5JJ, with A Guy Called Gerald, Noel Watson, Kid Batchelor, Richard Sen and our very own Paris' Acid Ball residents Dan Beaumont and Hannah Holland.
post-template-default single single-post postid-1904 single-format-standard tribe-no-js tec-no-tickets-on-recurring tribe-theme-dalston-superstore loading
A Little Summer Of Love