Bottom Heavy
Bottom Heavy
21-06-18
On Saturday, the Laurel and Hardy of Dalston and legendary DJ's, Dan Beaumont & Wes Baggaley,  are joining forces to get you all bumping and thumping to some deep homosexual house with their brand new night: Bottom Heavy! Having both been prominent figures in London's queer nightlife for over a decade and played some of the most infamous parties around the globe including The NYC Downlow, we are pretty sure that these two bottoms know how to throw a TOP party.
Despite their quite sickening resumés and having been pals for years, its actually the first time they've collaborated together! Don't worry huns, this isn't the only venture for the duo. Later in the year, Dan and Wes will be playing back-to-back at Farr festival alongside Prosumer, Tama Sumo and Lakuti! 
To get you lubed up and prepared for Bottom Heavy, Dan and Wes had a little chinwag amongst themselves! Read on to find out what these two legends think about the state of London's LGBTQ+ Nightlife, their most played records and whats on the horizon for them both!
 Dan: Can you remember the point in your life that house music grabbed you?
Wes: I do actually. I was still at school and too young to go clubbing but I remember when Steve Silk Hurley' 'Jack Your Body' and Raze 'Break For Love' were in the UK charts and on Top of the Pops. I remember the video for 'Jack Your Body' having a bucking bronco in it. Then there was the whole acid house /rave thing in the tabloids. I became mesmerised by it. I used to buy 7-inch singles every week with my pocket money from being really young and I remember buying 'Jack Your Body', 'Love Can't Turn Around' and Inner City 'Good Life' on 7inch. The first house music 12 inch I bought was Lil Louis 'French Kiss' in 1989/90 which I still have and still play.
Dan: I remember all those weird cartoon videos they threw together for those Chicago house records that became hits. Also remember thinking 'who is Steve Silk Hurley and why isn't he in his video?' Then I got totally obsessed with Betty Boo.  
Wes: What inspired you to open Dalston Superstore? 
Dan: I met Matt and other Dan (DSS co-owners) when they were running Trailer Trash, and I was doing a party called Disco Bloodbath. As promoters, we often had problems with venues, and talked a lot about starting our own. Eventually we began looking in earnest and around 2008 we found the site that became Superstore. It had been empty for a couple of years before we found it. We just wanted to create a space where the people who came to our parties would feel at home, where the music, drinks and food were all good and our friends could be themselves.
Dan: What sounds are you looking for when you go shopping for records to play out? What are you trying to communicate through DJing?
Wes: That's a tough one. I like a really wide range of different music and play various styles but when I'm looking for sort of functional dancefloor records I tend to be drawn to quite energetic stuff with lots of percussion. I'm a massive fan of the old Cajual, Relief and Dance Mania Records and always tend to gravitate towards that type of jacking type sound. I also like disco and I'm a sucker for a disco sample but I don't like playing the same sound all night. I just tend to play what feels right at the time, could be soulful, disco, acid, techno, hypnotic deep stuff, jazzy stuff, ravey breaks type stuff, broken beat, African percussion.
Wes: You're partly responsible for some of the best LGBTQ+ parties around at the moment including my favourite, Chapter 10. What are your thoughts on LGBTQ+ clubbing in London at the moment, especially with a lot of venue closures in the last 5 years? 
Dan: I personally think that LGBTQ+ clubbing is very inspiring right now. Adonis, Discosodoma, Homodrop, PDA, Femmetopia, Gay Garage and loads of others are all pushing underground queer music and culture to new places. Unfortunately the gay scene is still affected by misogyny, internalised homophobia, body shaming, transphobia and masculine bullshit, but it seems like more interesting voices are starting to come through, which means more creativity and more talent steering queer clubbing. Also it's exciting to see groups like Friends of the Joiners Arms, Resis'Dance, and London  LGBTQ+ Community Centre (all rooted in queer dancefloors) disrupting the status quo.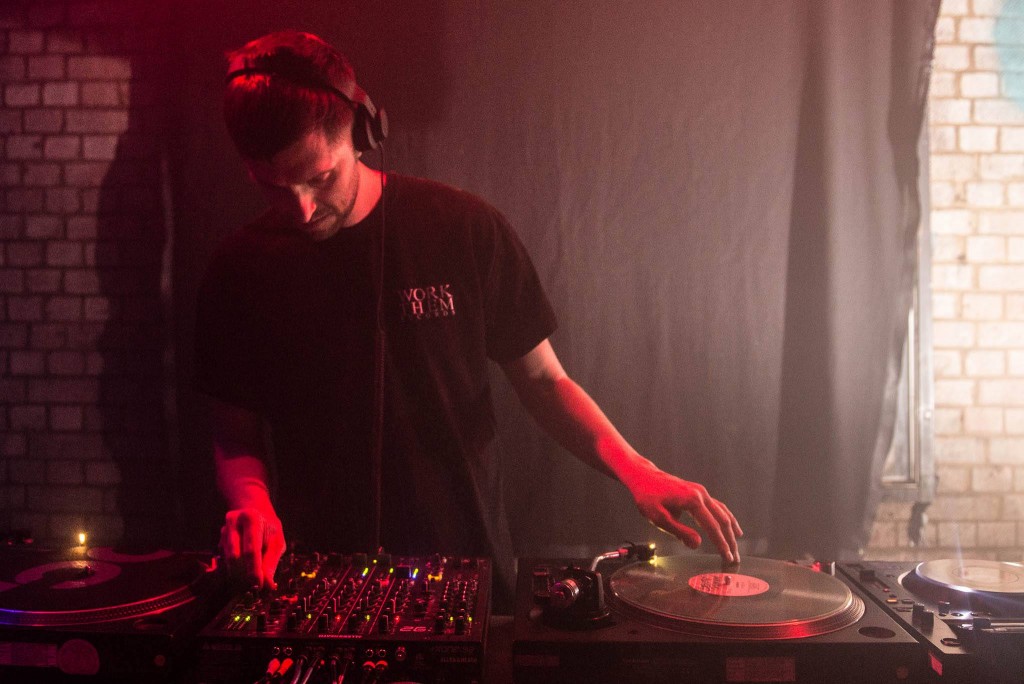 Dan: What do you think are the positives and negatives of LGBTQ+ clubs right now?
Wes: I also think it's a very good time for LGBTQ+ clubbing at the moment. In spite of a lot of the recent venue closures there are great nights popping up in non LGBTQ+ clubs. Seems to be a sort of creative DIY culture happening which is great. There same is happening in other cities like Manchester with great nights like Meat Free at the White Hotel and Kiss Me Again at the Soup Kitchen. There's some great music events and brilliant cabaret stuff going on at the likes of The Glory and The RVT. As you mentioned, the internalised homophobia, transphobia and misogyny needs to be addressed. A lot of the fetish venues have closed down and some of the bigger LGBTQ+ fetish nights in London are struggling to get venues. I do think this is a vital part of the culture that is dwindling. I reckon we need a LGBTQ+ fetish rave with good music. 
Dan: Good point about all the amazing queer parties outside of London!
Wes: Can you tell me some of your favourite producers and record labels at the moment?
Dan: Labels: Lionoil, Let's Go Swimming, Lobster Theramin, E-Beamz/Hothaus/UTTU, Not An Animal, Ransom Note, Sound Signature, Stillove4music, Dolly, The Corner, Work Them, Mistress. Producers: Telfort, Powder, Mr Tophat & Art Alfie, Jay Duncan, Midland, Jonny Rock, LB Dub Corp, Stephen Brown, Garrett David, Steffi, rRoxymore, Pariah, and everything Luke Solomon touches. Loads more that I've forgotten!
 Dan: I love it when you find a record that you know intimately from the first bar to the outro, and it does a really long stint in your bag. What are your most played records over the past couple of years?
Wes: I've got a few of them. I'd say my absolutely most played record is Braxton Holmes and Mark Grant -The Revival on Cajual, which has never left my bag in 20 years. I actually need to replace it because I've almost worn it out. Also the Maurice Fulton Syclops ones, Where's Jason's K, Jump Bugs and Sarah's E With Extra P are go to tracks but luckily he's just released another album of gems. The man's a genius. There's Kinshasa Anthem by Philou Lozolo on Lumberjacks in Hell that came out a couple of years ago that I've played a lot, and then there's that Danny Tenaglia remix of Janet Jackson - The Pleasure Principle that I've owned for many years but didn't know what it was until I heard you play it at Phonox haha
Dan: I've totally stolen The Revival off you. It's pure magic.
Wes: Tell us a bit about the idea behind Bottom Heavy. What can we expect?
Dan: The main idea is so we can play together all night and I can steel your tunes! Whenever I've heard you play, I can hear a sound in between all your records, a sort of energy that I'm always searching for myself. It's hard to describe, but it exists in the space between that jacking Chicago sound, leftfield Detroit stuff and tribal New York tracks. Plus also jazz, afro, techno, electro and disco elements. As we mentioned earlier, here are loads of great gay nights popping off, but I think what's missing is a really great HOUSE all-nighter that joins the dots between all those sounds. 
Wes: Haha! Well there'll be a lot of tune stealing going on because I've been known to have a sneaky peek through your bag as well. 
 Dan: Back to your earlier point about Fetish nights. Why are they important to the gay scene? Are there any you remember particularly fondly? If you were to throw a fetish party, what would the vibe be?
Wes: With the fetish thing I thing it's important to have those spaces where you can dress up and sort of act out your fantasies and do whatever you want within reason. I'm actually not massive into the sexual side of it myself believe it or not, but I do like the spectacle of the whole thing and the dressing up and the fact people are free to express themselves sexually at those nights without judgement. Sadly a lot of the fetish nights are also men only parties that go hand in hand with the whole gay misogyny thing. 
 A few years ago me and my friend Lucious Flajore put on a fetish night at The Hoist which is now closed. The night was open to everybody, gay, bi, trans, heterosexual men and women. The soundtrack was dark disco, slow brooding techno and weird electronics in one room where we also had alternative cabaret and showed art house horror movies and in the other lighter room we played disco and showed John Waters films. 
 The atmosphere was great but we had problems with the sound and there was no dancefloor to speak of then the venue closed. We also had a problem with heterosexual men complaining about gays (I know right? At the Hoist!). I am actually thinking about re-launching the party at a new venue and putting in a good sound system but making it more LGBTQ+ focused and making sure people know that women and trans people are more than welcome 
Dan: That sounds amazing. You need to make it happen!
Dan: OK last one from me. Who is your biggest DJ influence?
Wes: That's really tough but I have to say Derrick Carter. I first heard him play in about 1995 and became obsessed. I loved the way he seemed to mix different styles with ease and mix the records for ages.
Dan: I used to go to his Classic residency at The End religiously, and would always try and describe tunes that Derrick played to people in record shops the following week. I never had any luck. I was probably trying to describe about three records being played at the same time.
Wes: And for my last one I'm going to fire that question back at you and also ask if you have any music coming out soon?
Dan: I've got a bunch of music nearly finished that I need to sort out. I'm going to lock myself away and do that. Arranging tracks does my nut in. 
---
 Catch Dan & Wes at Bottom Heavy Saturday 23rd June 9pm-3am at Dalston Superstore!
post-template-default single single-post postid-15365 single-format-standard tribe-no-js tec-no-tickets-on-recurring tribe-theme-dalston-superstore loading
Bottom Heavy