Clash Bash Bidet Party!!
Clash Bash Bidet Party!!
06-11-18
This month sees the first bidet of pattern-heavy, fringe sleeved, velvet trimmed, beautiful monstrosity of a party, CLASH BASH! Clash Bash is run by the glorious Shayshay, mother of The Shayshay Show, drag extrordinaire, killer karaoke host and matchmaker to boot. We had a little chat with them ahead of the celebrations.
For those of us who don't know you as a promoter, can you tell us a little bit more about yourself?
Can I get a "Hey Hey ShayShay"? I'm ShayShay, the original California avocado queen! With my unique brand of high energy, gluten-free, kooky camp, I host drag events all across (mostly East) London. This loudmouth queen with elastic lips can be found shouting in your ear at Dalston Superstore during Disco Brunch, and croaking into a microphone at the Karaoke Hole! Catch me talking in circles (and spinning in them too) Friday 23 Nov at Dalston Superstore for Clash Bash.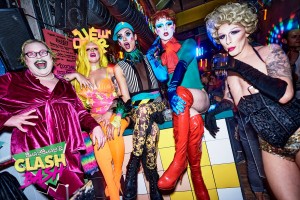 Nov 23rd will be Clash Bash's first birthday- can you tell us about your most memorable birthday experience?
At 12, my birthday was a sci-fi murder mystery where everyone was trying to figure out who the alien was. Clash Bash will be very much like this, except *SPOLIER ALERT*: we're all aliens!
Clash Bash is a lewk heavy party- what have been some of your favourite lewks from clash bash revellers?
Joey Fourr's long-nosed, pastel princess, fringed glamour gown from our Fringe Fest was iconic!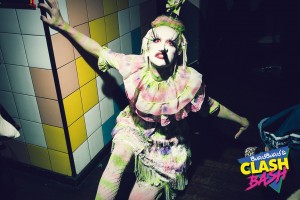 Is there such a thing as too many patterns?
Never! Prints on prince on prints on princesses on prints!
If you could sum up Clash Bash in one track, what would it be?
That unearthly feeling when you can here three disparate songs in the distance that clearly have no correlation. That stressful but exciting feeling of hearing how they clash but also occasionally line-up perfectly. That's a Clash Bash!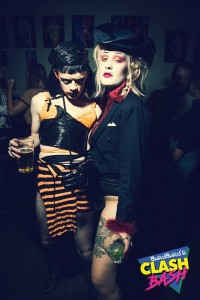 Can you tell us a little more of what to expect from your fabulous DJs?
We've got a femme-forward line-up of fabulous DJs, including GIN from Goldsnap, MRSBAXTER2U,  and Jacqui Potato upstairs. Then downstairs we have GIF queen Kate Bones, and Bryony Master back-to-back with Chester Hayes for a little Little Gay Brother takeover.
Your hosts, Finn Love and Juniper Lai have been described as 'the asses that just won't give up'- what does that even mean??
They just won't quit! I've fired them a dozen times but they just keep showing up to shake it all night long.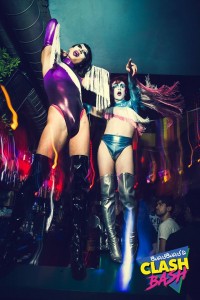 What's your favourite kind of bread?
Gluten-free
What music video would best describe that bread?
I actually think we have a massive representation problem for gluten-intolerance.  Where are the music videos for no-wheaters like me?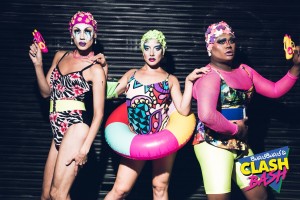 Have you got any big plans for the future of Clash bash that we should be getting excited about?
Clash Bash original go-go nutbag Foxy Moron will be returning to Clash Bash for one night only in 2019!
Clash Bash Bidet is on the 23rd of November till 4am! EVENT HERE.
post-template-default single single-post postid-17987 single-format-standard tribe-no-js tec-no-tickets-on-recurring tribe-theme-dalston-superstore loading
Clash Bash Bidet Party!!