Hifi Sean In NYC
Hifi Sean In NYC
29-05-14
By Hifi Sean
Many Glaswegians like myself have a big thing for NYC. I grew up, along with many of my friends, influenced by the sound of the bands that came from there like The Velvet Underground, The Ramones, Blondie, Suicide, and Talking Heads. So during the early '90s I basically spent most of my time in USA after the success we had with The Soup Dragons over there.
DIVINE
That success includes the top 20 hit single Divine Thing, which yes, for the record was influenced by John Waters and his movies, in fact we even spoke to John back then about shooting a video for the follow up Pleasure, which we were all excited about, but Serial Mom had just been released and really took off, so sadly he had to put it on the back burner and time was against us. That is still my biggest regret that it slipped away. So instead off we went to a '50s trashy hotel called Madonna Inn just north of San Francisco, in good ole Russ Meyer fashion.
Most of this period was spent with me living on and off in New York, East Village to be exact. It was crazy and hedonistic times, I saw and experienced things that have influenced me and still cherish many of the memories and the people I met there and then.
Limelight, Disco 2000, Sound Factory, Club USA, The Roxy, Save The Robots, Jacqui 60's, they were all clubs I frequented. I wasn't even gay then, but let's just say the groundwork had been laid out in front of me for my coming out in 2001!
SOUND FACTORY PUNCH
I loved the freedom and the outrageous fun attitude, in fact first time I ever went to Sound Factory I was ushered into a room and offered some punch from the infamous punch bowl laced with E! The next 6-8 hours was a musical journey via Junior Vasquez, which introduced me to something that opened up my mind to new exciting avenues of sound and beats… which still to this day is imbedded in my psyche.
I was in The Roxy when the DJ (I can't remember who) played the first ever play of Vogue by Madonna, and people stood in awe as he announced it over the system and they cheered as it played. That's something I have never heard or seen in a club ever again.
CLUB KIDS
Also happening at the same time was the whole 'Club Kids' phenomena. It was interesting to watch it grow as we had just left a rave-tastic UK 89/90 and here we were in NYC 90/91 and watching the same chaos and freedom happening there but primarily focused on the gay scene, which took that vibe deep to heart. I actually met Michael Alig and supposedly I met Angel too (as he was host for many of his parties). I hung around a lot of drag queens too as my closest friend at the time Lavinia Co-Op used to take me to clubs; many a time I found myself pushing a huge balloon dress into and out of NYC cabs as we headed out into nightlife. Lavinia is on the cover of the last Soups album dressed as a poodle walked by a Wall St gentleman banker.... as you do.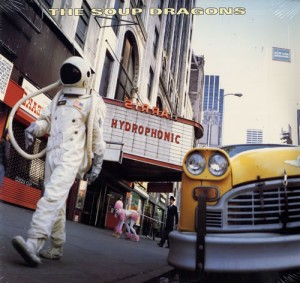 BUFFALO GALS GO ROUND THE OUTSIDE
Everywhere in NYC you saw the influence of club land coming out onto the streets through fashion and attitude which to be honest NYC has always been about. When we made the video for Divine Thing with director Nick Egan, who I got on-board as I loved his video for Buffalo Gals by Malcolm McLaren (another homage to NYC) and we went round the city's clubland and got some of the club kids and party people to appear in a kind of homage to downtown NYC. We shot it in a disused warehouse in the Meat Packing district overnight, watching trans* hookers on corners pick up truckers delivering the meat to the stores that morning.
It's funny, as I write this out now, I think to myself, wow how gay was I for a straight boy?! I just loved it all, the chaos, the hedonism; put it this way I wasn't singing "I'm free to do what I want" on every bloody radio in the USA for nothing… 
Don't be afraid of your freedom... indeed.
Little did we know how that video was about to explode, MTV went crazy for it and it was the most played video of that year on that channel and ended up being nominated for a MTV Video Award. 
Crazy thing is, I was told afterwards how ground-breaking it was, as people like Connie Girl were the first drag artists to be given daytime rotation on T.V in the USA which, back in early 90's, was nowhere near as open minded as it is now. Funny that it was shot like Nick shot Buffalo Gals, totally about the streets, the nightlife, guerilla style and all just edited together afterwards, nothing pre-fashioned or contrived, just honest to good love of life at that period, and to me it captures a perfect moment of what NYC was all about then. 
UP YOURS
So what has this got to do with Up Yours you're asking?
Well myself and Severino have a big mutual love for NYC, we've both DJ'ed there a lot over the years and our last two singles London and Devil were released on the great underground house label Get Up Recordings that's ran by DJs Christy Love and W. Jeremy Pelser from House of Stank, who've ran many a great party in the big apple. 
Not to mention, our video for London is a homage to everything cool about London/NYC. Yes the city has changed and cleaned up a lot over the years. Yes a lot of the big parties closed down due to the crystal meth epidemic within the gay scene and people just staying home at sex parties rather than heading out to cruise and have a dance.
But in the last four to five years lots of great thing are happening again and a whole new underground of great artists, DJs and parties are bubbling away and NYC has got that great buzz again that everyone thought it had lost… but we knew it would get back again.
Join Hifi Sean and Severino for Up Yours this Saturday 31st May at Dalston Superstore from 9pm - 3am.
post-template-default single single-post postid-7050 single-format-standard tribe-no-js tec-no-tickets-on-recurring tribe-theme-dalston-superstore loading
Hifi Sean In NYC