House Of Wallenberg
House Of Wallenberg
30-04-13
This week we've had the distinct pleasure of speaking to Swedish producer Petter Wallenberg aka House Of Wallenberg ahead of the launch of his brand new album Legends at Saturday's bank holiday SOS extravaganza! Joining him in the top bar is Scottee,  Anton Douglas, Portia Ferrari and Iicarus whilst deep down in the laser basement Sydney's Light Year returns alongside SOS residents Jim Warboy and Joe Robots.
With vocal luminaries such as Neneh Cherry, Jwl B, Victoria Wilson James from Soul II Soul, Ari Up and the late Paris Is Burning star Octavia St Laurent all featuring on his debut album, it's sure to be a launch to remember. We asked Petter all about the record and what the house music scene is like in his native Stockholm...
The list of female vocalists that you've collaborated with for your debut album is incredible! Was it just a case of writing out a wishlist and then getting ALL of them?!
Yes it was actually. The singers on my album are my all time favourite artists, some have long been my idols, ever since I was a teenager. I just decided to do the impossible and make an album with my dream artists. And now it's finished!
Any fun tales from the studio during the recording that you care to share?
Oh loads. Me and Neneh Cherry got so drunk we don't remember half the recording session. When I listened back it was all distorted and full of laughter, and recorded straight into the built in mic on my Macbook! Most people would have scrapped it. But I loved it. I cleaned the vocals up in four different studios, and that is actually the recording of Neneh that ended up on the album!
What was it like to work with Paris Is Burning legend Octavia St Laurent for the track Be Somebody?
Amazing. Octavia was such a strong personality, which admittedly goes for all the ladies on this album. She told me about the ballroom scene of the '80s, about her identity as transsexual. She was very brave. Even when she was ill she was sassy. She said "I'm not looking so hot all swollen up on the chemo, but by the summer I'll be gorgeous again." She died before the summer arrived. Be Somebody is the only single release she's ever featured on.
How did you come up with the idea/themes in the video?
The video for Be Somebody came very naturally. I wanted to take it back to the original vogue scene of New York, celebrate Octavia's memory and the legacy of all the legendary children of Paris Is Burning. The big vogue houses all came out in full force, voguing on the streets, in Times Square, and all round the city. I walked around NYC with a sign saying "Be Somebody" and the middle of filming a homeless man came up and held an impromptu speech about being somebody. It was beautiful and summed everything up. So I kept it in the video.
Tell us one track that we can expect to hear during your set at SOS?
Many of the tracks from the album. Be My Lover is always a crowd favourite. It features Jwl B from the amazing Yo Majesty. We filmed the video in Tokyo with school girls, sumo wrestlers and drag queens. It's very kawaii!
What are the highlights of the house music scene in Stockholm?
My club Mums Mums of course! Mums Mums means "yum yum" in Swedish. I play classic vocal house, piano house, Chicago house and the kind of stuff that makes all of us real lovers of real house cream our pants! Fuck Swedish House Mafia - they wouldn't know house if it slapped them on the face!
Did the Mums magazine come first or did it spin off from the club?
The magazine came after the club, but it has its own life. It's a celebration of camp culture. Our inspirations are old ladies mags like Take A Break, punk fanzines, old porn mags and Smash Hits. We do whatever we like, which is usually pretty wacky stuff, like a fashion shoot based on the assassination of the Swedish prime minister alongside interviews with people like Samantha Fox. Our contributors range from the biggest writers, artists and photographers in Sweden to children and hardcore criminals. For the launch party of one issue I got one half of Milli Vanilli to perform live for the first time ever in Sweden!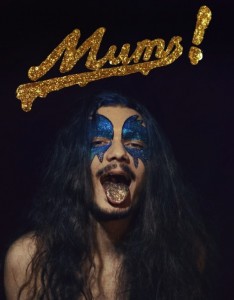 Who is your ultimate style icon?
The late Isabella Blow. I actually had dinner at hers once, in her flat in Eaton Square. A friend invited me along and when I turned up she scolded me for being late and all that was left was Indian take away boxes and empty champagne bottles, as she sat there wearing a Philip Treacy hat that looked like a big pheasant on her head and telling everybody about her suicide plans.
Your album is named Legends... who are your personal musical legends?
My musical legends are all with me on my album. Ain't I lucky? 
Join House Of Wallenberg for his album launch at SOS on Saturday 4th May at Dalston Superstore from 9pm - 4:30am.
post-template-default single single-post postid-4578 single-format-standard tribe-no-js loading
House Of Wallenberg