International Day Against Homophobia And Transphobia
International Day Against Homophobia And Transphobia
17-05-13
As today is International Day Against Homophobia And Transphobia we thought we'd share our favourite recent LBGT videos, images and links from around the internet...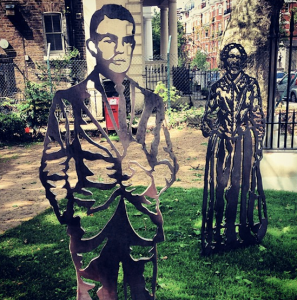 WWII codebreaker and tragic gay computing pioneer Alan Turing has been chosen as a "local hero" of Paddington and commemorated in this 2D sculpture.
Via Pink News
This is the moving story of 11 year old Caine from Texas who was bullied badly at school because of his lesbian mums. He fought back by giving this speech to his school board.
Via Upworthy
This eloquent monologue comes from a young boy in Singapore who addresses his homophobic bullies directly in an incredibly mature manner. 
Via All Out
Meanwhile, over in France, this heartening clip shows a waitress stand on a table to announce she's a lesbian who can finally marry. The diners applause is what makes this video so amazing.
Via Buzzfeed 
Finally, over on Autostraddle, one trans woman writes about how there is no right or wrong way to be trans in I'm A Trans Woman And I'm Not Interested In Being One Of The "Good Ones".
Via Reddit
Main image: The I-35 Bridge in Minneapolis lit up in rainbow colours to support same-sex marriage via Buzzfeed.
post-template-default single single-post postid-4731 single-format-standard tribe-no-js loading
International Day Against Homophobia And Transphobia