Jay Duncan debuts new Thursday party Throb
Jay Duncan debuts new Thursday party Throb
01-06-23
"I've always been curious about the (70s/80s) gay music scenes often being so male heavy and really wanted to start something of a similar ilk in our modern times for a more dyke/queer leaning angle"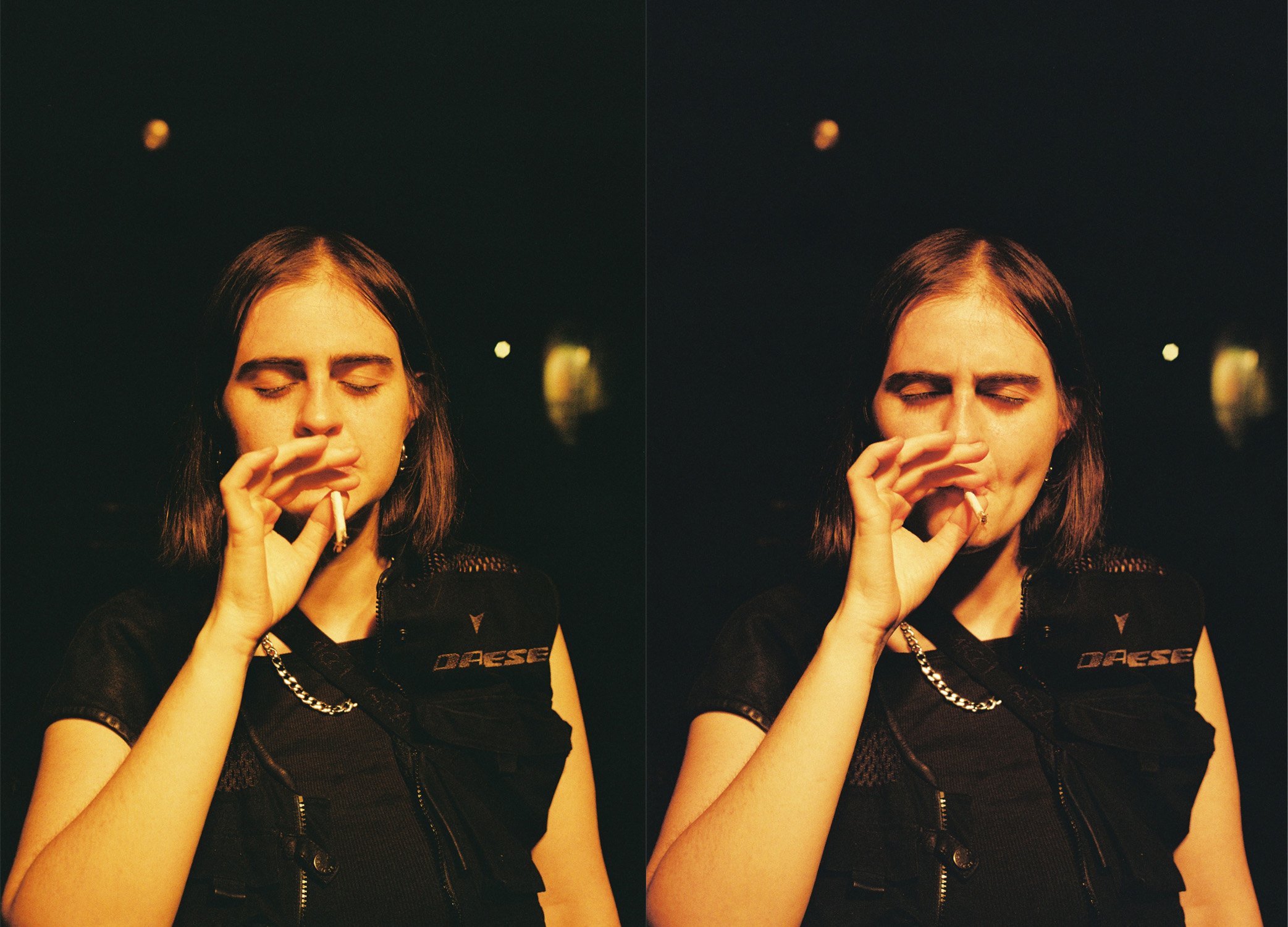 Dalston Superstore is thrilled to announce brand new party Throb from London DJ wunderkind and queer history obsessive Jay Duncan! The Netil Radio resident will be exploring the sleazy, undergound history of the queer electronic music scene in 70s and 80s New York and San Francisco. The leather-forward night explores the sounds of punk, synthwave, chug, Hi NRG, post-punk and more. This time around history is getting a revision for 2023, with queers of all persuasions invited to revel in the sleazier sounds of our history. We caught up with Jay to chat pre-Internet club culture, inspo tracks and plans for the debut!
Hi Jay! We are so excited for the launch of your new night Throb! Can you tell us a little bit about yourself?
I don't think there is much to be told about myself. Throb is more about  the music, the night and the people who come together – I'll be a mystery for this. It's something I've wanted to do for a very long time.
What inspired you to start Throb? Who is the night for?
There are two parts of inspiration here. The first is inspired by my interest in queer history and the music that have soundtracked these moments – I want to explore these themes in a space like Superstore which is very important for the modern queer scene in london.
The other is my own music collection and my obsession with all things darker and synth driven. It's about soundtracking the entire night from start to finish which will be a space for me to grow with the party, but also creating many sonic moods with a range of styles of music I haven't heard that often in queer spaces.
The night is for queers, dykes, lesbians, t4t, femme, aliens, theys, gays, daddys, hunks, twinks, freaks, allys and all and any in between. Its a leather suggestive party so come in your finest leather!!!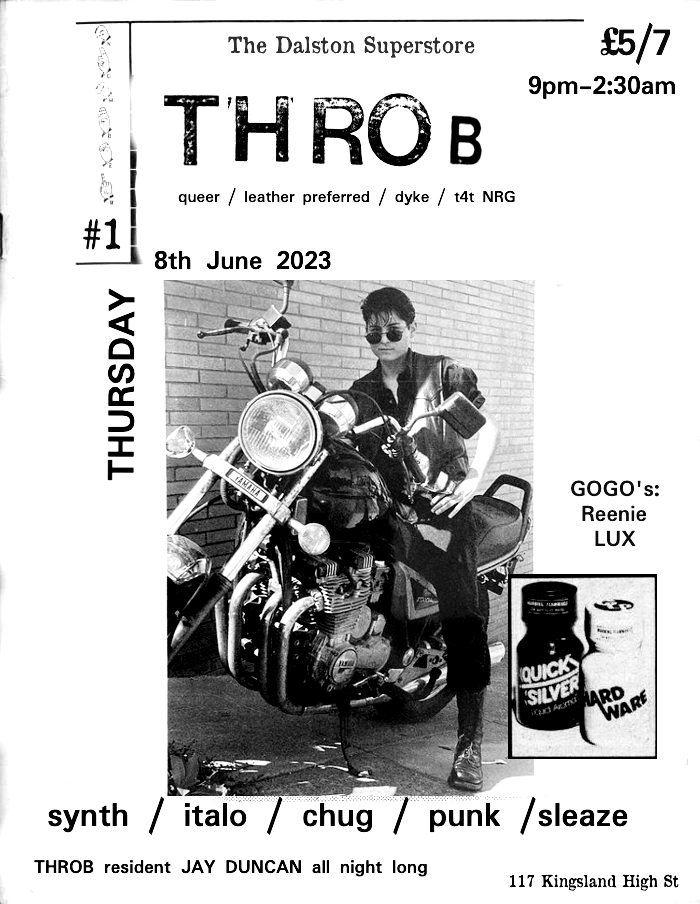 Which parties have inspired you throughout your career?
When I've thought about this night, I've looked back a lot to the gay scene in NYC in the 70's/80's and also more of the lesbian scene in San Francisco at the same time. These spaces hold only a legacy in our history now; for example in SF there is only maybe one lesbian bar that remains in the whole city. Historically these spaces have never had the longevity to survive when the community needs it. I've always been curious about the gay music scenes often being so male heavy and really wanted to start something of a similar ilk in our modern times for a more dyke/queer leaning angle but, not exclusively. Throb is for everyone at the same time. I also wanted to merge the musical identity with the night with a leather theme.
If you could change one thing about the electronic music scene in London, what would it be?
I would probably delete the Internet for starters and get back to flyering! I'm an old soul so it's easier said but I think social media has been a real challenge for electronic music and party culture.
What is your favourite track of this year so far?
Yves Tumor – Lovely Sewer has to be my favourite track of the year. The track has this mixture of a very Alen Vega Suicide riff, crunchy and distorted with their playful vocals and then it gets a  hit with this incredible pop hook with guest vocalist 'kidä' which really takes me there.

Who are some of the artists that inspire you?
Cosey Fanni Tutti is someone who is very inspiring. I've been reading her book 'Art Sex Music'. Chris and Cosey are such a big part of the sonic NRG i want to put into Throb. Patrick Cowley's expansive and never ending work is also a big influence to me, his music response to the scene at the time and especially his work for porn soundtracks really blew me away and continues to do so. I think from that scene of EBM/HI-NRG there are so many artists who only released a couple of songs that are really special so finding it exciting to give them the moment they deserve.
If you had to sum up Throb in one record, what would it be?
It's hard to define it with one record – I have two that sum it up in different ways.

This track by Contact One on Italian Style Production is really leaning toward the right side of midnight on a Thursday night in the city. Ravey, throbby, sassy vocal and jacking.

I found this Ronny record recently and I can't stop listening to it. Ronny was a French/German model pushing a really distinct sound with her androgynous style and Gary Numan-esque synths. It's a really beautiful and bittersweet song telling the tale of Marlene Deitrich. The lyrics really touch me, almost reminding me of Superstore. Ronny only had a few releases and then disappeared completely off the face of the Earth. Some say she went back to France to model, but I think she is happy somewhere now.
The lyrics read:
Walking in the gutter, in the dead of the street
Oh I can hear the sound of my feet
Feeling ejected, feeling abused
Looking for somewhere to be amused
I saw the door of the blue cabaret
Pushed through the crowd, lay on the bar
Strangers in style looking bizarre
Eyes in the mirror undressing me
A cool invitation exciting me
Behind the door of the blue cabaret
Behind the door of the blue cabaret
I closed the door
He whispered, I felt his embrace,
I was so intrigued his animal grace
And when I discover the woman I kissed
I had no desire or will to resist
We said goodbye to that blue cabaret
Kiss me, and we walked away
Oh the blue cabaret is haunting me now
Every night every day why can't I stop
We'll meet again at the blue cabaret
I know we will
We'll meet again at the blue cabaret
How could I forget?
We'll meet again at the blue cabaret
There is no going back
If you could go B2B with any DJ, alive or dead, who would it be and why?
Andrew Weatherall master of all things chug and sexy. He is a big influence for a lot of the sounds which inspire and inform Throb.

There are a few special b2b which will go down at future throbs so keep your eyes peeled!
Any exciting plans in the pipeline for this summer?
No, goths don't like the summer sorry.
++
Catch the debut of Throb on Thursday 8 June from 9pm-2:30am at Dalston Superstore!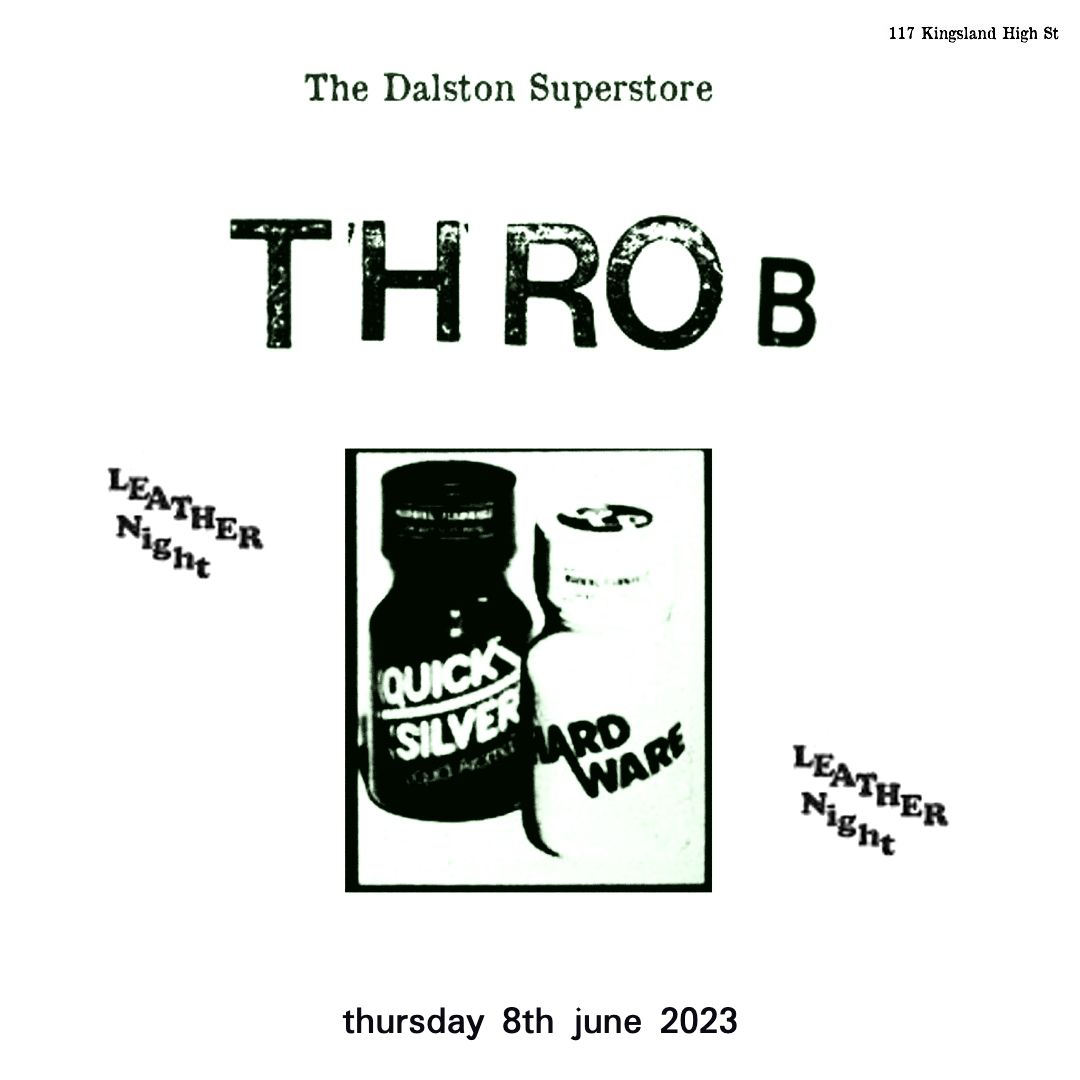 post-template-default single single-post postid-31061 single-format-standard tribe-no-js loading
Jay Duncan debuts new Thursday party Throb