Jeffrey Hinton
Jeffrey Hinton
24-11-16
In a time when club spaces (and with them, overlooked communities) are disappearing before our eyes, Club Vada promoters Hannah Holland and Cathal O'brien are seeking to preserve queer culture and history, and share them with a new generation. As well as booking DJs who made their names in iconic queer parties of the past, at every party they present a special guest artist, performer or cultural figure to present their piece of LGBT history before the party kicks off. For their upcoming party, they welcome prolific videographer, film maker and archivist, Jeffrey Hinton whose work is focused on underground subcultures, spanning decades between London and New York city. We caught up with Jeffrey to chat a bit about his past work, current collaborations and plans for the future.

Hi Jeffrey! We are absolutely thrilled to have you join us for a pre-party show at Club Vada! Can you tell us a bit about your relationship to promoters Hannah Holland and Cathal? 
Well that's all a kind of club blur! But Hannah and Cathal are great energies and I love what they do, we share lots of the same interests for sure.
How did you first get started as a videographer and filmmaker?
I started recording things on a reel to reel tape recorder age eight, and wanted to mess it up, so hot wired the sound through the speaker outputs on the hifi and fed it back over records and the radio (early mixing). All ways of capturing the world fascinate me, visual and sound. Then experimenting with any tech I can get my hands on and usually doing it all wrong as I have no training but I like the fucked up bits.
How have you watched the gay scene in London change over the years? 
Yes, I've seen lots of changes around the world but I like change!  Patterns do emerge if you've been around a while like me.
If you could change one thing about the LGBT+ club scene, what would it be?
Stop complaining too much or being inward thinking and get on with action (despite the obvious issues). Mind you that applies to everything. I like people to get more active and visually out there rather than behind a computer (like I'm feeling right now!!)
You collaborated a few years ago with the V&A for their Club to Catwalk exhibition; can you tell us a bit about that project?
That came a bit out of the blue as I went in for a meeting and thought I was just advising them but then they said, "We're building you a room and want you to fill it with your films and music!" So I did!
As an observer of subcultures and the queer underground, where do you see things developing in the next few years?
We live in such media saturation all regurgitating questions till we're numb!
The world has shifted a lot but still fails to resolve most old issues. The big rise in controlling right wing powers directly affect us all and especially any queer underground.  But I see lots of cracks are appearing and that's always been a good time for underground activity!
2016 has been one hell of a year in terms of losing some amazing counter-cultural icons. Among all this loss, what has been a highlight for you?
I'm pretty amazed I'm still on the planet!
Who have been some of the most inspiring people you have collaborated with?
That is a never-ending list all for different reasons. I'm so lucky to know and work with amazing people - it's why I love being alive.
 I will mention Andy Butler (Hercules and Love Affair) - I love working on ideas with him, he's a big joy for me.  
Do you have any exciting projects in the works that you can let us in on?
From 28 November I have a big video installation running for two months covering the ceiling at BISTHROTHEQUE called Big Sky. It features clips and moments from my films covering three decades all wafting around a sky ambiance.
Then next year I'm working on a completely immersed sound and visual installation that I'm also designing the interior for and want to tour. Also I'm developing a play (never done that before!)
I'm very excited so look out for details.
Can you give us a sneak peek of what you have planned for Club Vada?
I'm screening my film Scratch Bowery that hasn't been shown in this country.
It's my homage cut up video to Leigh Bowery and the life that we shared including some of my visuals from the club Taboo. Then I'm talking to Max Allan about the visual side of queer language... well along those lines but were known to digress!!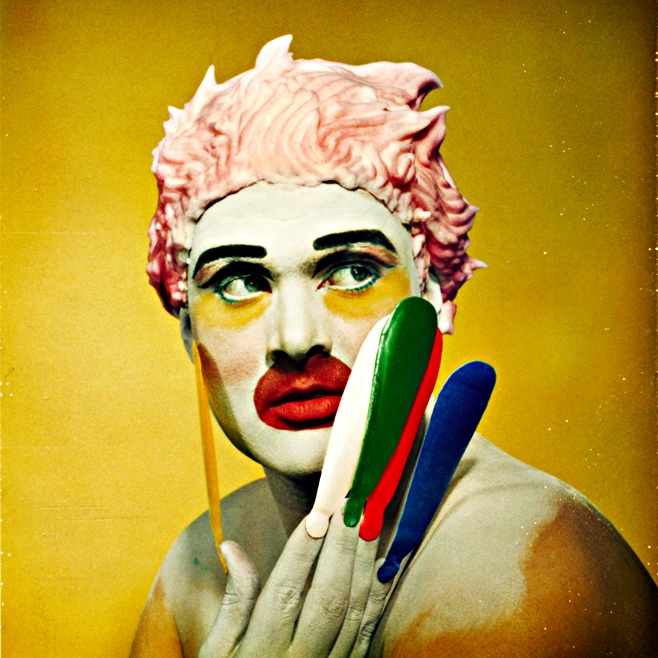 ---
Catch Jeffrey Hinton's pre-club film screening & discussion with Max Allen at Club Vada from 9pm on Saturday 26 November at Dalston Superstore.
post-template-default single single-post postid-10532 single-format-standard tribe-no-js loading
Jeffrey Hinton