Les Poppeurs
Les Poppeurs
28-01-16
Holy hell, we wish our first year of life was neeearly as exciting as it has been for our fave lil Italo Hi NRG disco party Les Poppeurs! Between serving up a smorgasbord of supercute guests from Protopapa to Rory Phillips, Pjotr to Kiddy Smile, it's been an absolutely crazy, sequin-clad, chiffon twirling, liquid gold rollercoaster! Ahead of their first birthday bash featuring none-other-than Comeme superstar Christian S, we sat down with promoters Whitney Weiss and Rachael to reflect on the past year, and work ourselves up into a bit of a tizz over what the next party has in store!


Congratulations on an incredible first year of Les Poppeurs! Can you tell us the story behind that incredible name?
WHITNEY: Aw thank you! Two summers ago I was on a beach in southern Italy with Protopapa (who DJed our first party) and a bunch of his adorable friends, who were all in summer debauchery mode. I was earnestly studying French verbs to better communicate with the person I was seeing at the time when someone handed me a bottle of what I think was Blue Boy. Naturally, I took a big whiff. Just then, Rachael texted to ask what I was up to, so I told her. She immediately responded "les poppeurs" and we both agreed that it was THE perfect name for a party. Or at least I think that's how it happened...I was a bit light-headed. 


How have the Les Poppeurs parties brought to life your vision as promoters? 
RACHAEL: Working at Superstore really showed me what works there and what doesn't. I waited a long time before actually throwing a party there, as I knew I wanted all the elements to be just right. From a partner in crime, to music policy, to the friends and friends of friends we invite to play, even down to our amazing posters (done by Martin Wollerstam, who does all the artwork for WetYourself over at Fabric too). 
WHITNEY: I just wanted to do something that was sincere but perhaps not super-polished or high-profile, where DJs could come and make use of their secret encyclopaedic knowledge of disco or Italo or whatever. My main party-throwing experience was in warehouses or parks in South America, and when I DJed at Superstore the first time, I immediately felt at home because there was a similar vibe. It's such a great place.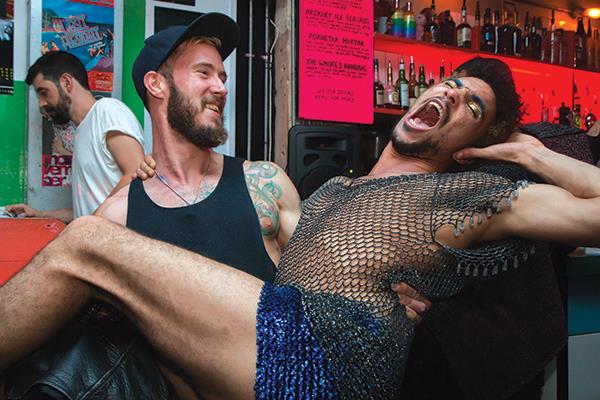 If you had to sum up Les Poppeurs in three words, what would they be? 
WHITNEY: Spangly. Frisky. Chiffon. 


What has been your proudest moment? 
RACHAEL: At the party in December, Loki Star was going for this laid back Christmas party hangover vibe upstairs, but when I went downstairs Betty was at the decks and Kiddy Smile was surrounded by everyone and they were all voguing and it was SO MUCH FUN. I had a huge grin spread across my face and I felt so proud and happy. 
WHITNEY: Personally, it was throwing on Somebody Else's Guy in the middle of a very upbeat stretch and watching everyone squeal with delight. That and accurately sussing out who in our audience is French with Etienne Daho songs.  


If you could trace your love for italo, hi NRG and disco back to one record, what would it be? 
WHITNEY: Man 2 Man's Male Stripper, which I have played to death but am somehow not sick of yet.
RACHAEL: That's a tough one! I think Q - Voice Of Q is the first Italo record I bought, which is wonderfully cosmic. 

What has been the craziest moment on the Les Poppeurs dancefloor? Is there a track that takes you back? 
WHITNEY:  I was very impressed when Rory Philips played Carole King to great success and fanfare. Debbie Upper pulled out some Taylor Dayne at just the right moment once. And I've seen some wonderful things happen during "Erotic City." 
RACHAEL: Rory playing Carole King was SUPERB. I was in the toilets when I heard that. I ran straight to the DJ booth and then Rory and me were playing air piano. 
Another one that came out of the blue was Protopapa playing Wamdue Project's King Of My Castle. I was blown away that anyone was managing to play that in the Superstore basement, and really just blown away that anyone remembered it. I had it on CD single when I was 14...! 

Record that has lit up the lazer basement? 
RACHAEL:  For me personally, I have lovely memories of playing Dharma - Plastic Doll and the whole basement jumping along. 

Best Les Poppeurs last song? 
WHITNEY: Sade - The Sweetest Taboo is the one I'm giving away. There's another one that is pure euphoric sleaze but I won't tell you the name; you'll just have to come hear us play it sometime. 
RACHAEL: For a different type of last song, I closed our last NTS radio show with Teena Marie - Behind This Groove and Trevor Jackson told me it was the first record he ever bought and that I sounded v. professional.  


You have the incredible Christian S of Comeme as a guest for your first birthday party – what do you love about him as a DJ and producer? 
WHITNEY WEISS: I am beside myself with joy to have Christian S at our one year birthday because he is just so great. He understands the art of a warm-up set but also I've seen him turn people out at the height of the evening. And every time I hear him play, I fall hard for at least three tracks I've never heard before. Production-wise, what he does with percussion is just lovely. 
RACHAEL: I am excited to see him play for the FIRST time! I've watched his Boiler Room to death and I know he's gonna kill it in the Superstore basement. 

After such a bumper first year, what do you have in store for the next year of Poppeurs? 
WHITNEY: Bigger hair! Foggier fog machines! Bespoke poppers! Actually, we just want to bring a bunch of other DJs we really like and admire to DJ at Superstore while introducing London to friends from Berlin and Paris and Buenos Aires and beyond who haven't played a ton outside of their home cities yet. 
RACHAEL: We've already planned out most of the year! Expect some familiar faces, some surprising faces, some European faces (obvs), some Parisian lesbian faces and of course the usual smattering of Poppeurs friends and family <3

Catch Rachael & Whitney Weiss with Christian S and special guests at Les Poppeurs on Saturday 6 February from 9pm-4am at Dalston Superstore!
post-template-default single single-post postid-9552 single-format-standard tribe-no-js loading
Les Poppeurs