Meet Wayne Shires
Meet Wayne Shires
22-07-14
By Dan Beaumont
Wayne Shires has been at the forefront of London's underground queer culture for several decades. From the best acid house warehouse parties in '89 through to legendary dance floors like Substation, Bar Industria, Crash, Area, The Cock and his current baby East Bloc. He's also been busy preparing for this weekend's massive Summer Rites festival. Superstore's Dan Beaumont caught up with him for a cuppa.
Can you please explain the compulsion to throw parties and open venues?
I think it must be some form of masochism. It can be really tortuous but at the same time it can be very euphoric and satisfying and rewarding when you get to that point where you see people enjoying themselves, and you're the one who's created it. It's not a vanity project. I just really enjoy people having a good time. I've always liked putting on a party.
You started putting on parties during the acid house era?
The very first party I put on was a Sunday night at what used to be called The Apollo, which was a rent boy bar in Soho, which turned into The Brain run by Sean McLusky [legendary London music promoter- Dan] and later become Trash Palace on Wardour street. I've been going to clubs since I was about sixteen – I  met Princess Julia around then. I used to go to Heaven, Subway. Lasers on Green Lanes, Bolts.
I started going out in clubbing London and then I moved to America and had a had a stint there hitting the clubs. When I got back, there were warehouse parties and people were taking ecstasy, but there wasn't really the music.
We used to go to Ibiza every summer. One year we went to Amnesia, I remember turning round and thinking "who are these people in shorts and smiley T-shirts, and what's this music they're dancing to? And they're all off their heads!"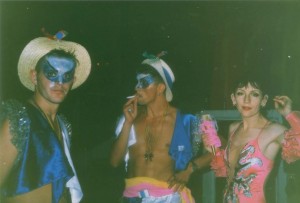 That's when I met Terry Farley and Danny & Jenni Rampling. Jenni said, "We love you guys, you have to come to our club Shoom when you get back to London."      
I remember the first time I went to Shoom I wore jeans and a shirt. 
Next week in dungarees and smiley T-shirt?
Dungarees, smiley T-shirst and little round glasses. I dived straight into it – this was '88.
And the Boys Own parties, East Grinsted – the famous one – the one down on the lake. That party was like the Sex Pistols gig at the 100 club. Everyone says they were there but they weren't! I was there. I can tell you who was there. We were going to all that and I was then going back into 'gay world' and thinking "gays would love this."
We used to go to a club called Queens on a Sunday afternoon run by Phil Perry and we were like the little gang of gays, about five of us - the token gays - but they adored us. Suddenly I was hanging out with football terrace boys, Chelsea fans, and they were all pilled up and loved up and very accepting. I just thought it would be really good to put on a party where that lot met my lot and we just kind of merged it.
The first party (getting back to your original question!) was a Sunday night at the Apollo. We wanted somewhere on a Sunday and the Apollo really unusually had a 5 o'clock license on a Sunday. This was '89. So we did a party there called 'Eclipse' that both Phil Perry and Danny Rampling played at plus a budding DJ who used to badger me all the time called Ashley Beedle. I gave him his first gig! 
And then you went on to do warehouse parties?
There was an arts space called The Diorama which is at the back of Regents Park Crescent and it's a really beautiful hexagonal art space. There would be art happenings there and exhibitions. We hired it. It had ridiculous restrictions like you weren't allowed to sell alcohol so you had to include it in the ticket price. It only went on til 2AM. When we did the first one there was this old guy who used to be the caretaker and actually lived upstairs in this room with an Alsatian dog.  We were getting the stock in on the first one and he said "oh Red Stripe – my favourite drink" and we went "do you want a case" So we gave him a case.
Later on it got to 2AM and he was by the bar loving it and he said "Just go on."
So we carried on til six in the morning. We got away with doing those monthly for about two years.
Were they gay parties?
They were mixed. We had Kinky Gerlinky drag queens with Terry Farley, and we merged the whole thing. That's when we started integrating people like Princess Julia and all those DJs in with the West London house DJs. You'd have drag queens dancing next to Chelsea boys.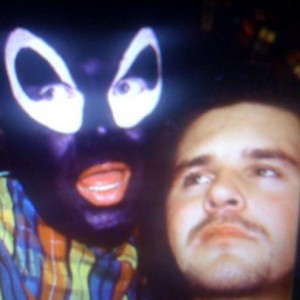 Was your first foray into venue owning Substation?
I had one before that called Bar Industria which was off Regent Street. Fat Tony did a night called 'Abba' on a Tuesday. Linda Evangalista DJing, stuff like that. I went up to her and said "Can I get you a drink?"
She said "Yeah bottle of tequila."
Are we in the '90s now?
Yeah '91.
So this is supermodels and glam house?
Basically. George Michael used to come. It was fun. That only lasted a year and then we did Substation. Everything I've ever done has been inspired by a two year period when I lived in America. Every reference I have ever used is from that. So Bar Industria was Boy Bar, so it was very light, trophies on the wall, table football, checkerboard vinyl flooring, kind of a boys club. Very municipal, like a working men's club. So there was that and then we went on to do Substation, which was Stallions before, and then became Ghetto after. We were there for five years. That was kind of Anvil/Mineshaft New York. Oil drums, chain link fencing, gay porn vodeo shoot style.
I remember pop videos being shot there?
Yeah quite a few. 
I was hanging out in New York a lot at the time,  hanging out with Rob di Stefano from Tribal Records  and met Danny Tenaglia through him. I did a party for them down at what become the original XXL venue. Danny used to play Substation when he was in town. It was quite a special time, really.  
Then we did Substation South in Brixton, which was a sort of South London version of the Soho one and you'd get away with a lot more there! That was Queer Nation's home for many years. And it suited it and was perfect.
And then you invented Vauxhall?
I don't know if I want to be credited for that right now! Substation moved to a bigger space on Dean Street – high ceilings, 600 capacity, we had it for about two years. When we were in the original venue you could open Monday Tuesday, Wednesday with like a hundred people in and it would look great. But the Dean Street venue needed like four hundred people in it and we couldn't do that Monday to Thursday. We survived there for about two years. We had a lot of shit from the police. They would turn up and there would be a sea of boys with their shirts off and they would say "Your license says people need to be properly attired, tell them to put their shirts back on."
I would stand at the door arguing with the police saying "You go and tell 'em to put their shirts back on!"
I got taken to court! Basically one Friday night we got a visit from the club squad. About five of them turned up in trench coats– it was all very bizarre. And they came in and said, "Can we just walk around?"
So we walked through the back way and literally as we turned into the dance floor this guy dropped to his knees and started sucking this other guy off!
I just whacked him round the back of the head and said "Security! Throw them out! And if they have memberships, take it off them!"
We all carried on walking and when we reached reception the police turned around and said "Mr Shires you are not obliged to say anything…"
I was done for running a disorderly house and ended up at the magistrate's court. My business partner at the time had grief from the police for years. He wasn't having any of it so he got the best barristers and we got it thrown out.
Substation South was running and Lambeth police had a lot more to deal with and were quite happy that there was a safe place the gays were going and had a different attitude. So I loved Lambeth and I suddenly started working really proactively with Lambeth police and the council.
When a railway arch came up in Vauxhall I opened Crash. Which was my version of Tunnel. So that's the next New York reference.
And that was the first club in Vauxhall?
Yeah you had the Royal Vauxhall Tavern and the Market Tavern, which was a pub in the Nine Elms tower which was great. That was really cool, but it wasn't a club per se. It was a pub for the traders of Covent Garden Market so it had one of those weird licenses. At one point they used to have an after hours there but you had to buy a bunch of flowers to go in!
Hang on. You were worried about being able to fill Substation in Dean Street so why did you take a massive railway arch in Vauxhall?
Substation South was doing incredibly well and that only held 350/400, it was rammed. Also I knew South London would be a lot more accommodating and Vauxhall was literally on the border – the closest you could get to the West End and the West End was the place to be. Heaven was there, all the gay bars were there. There was nothing East really. I wanted that big superclub! I wanted it to be really underground, I wanted the music to be cutting edge. We were very much into Tribal and Twisted. I was living with Tom Stephan and he was the main DJ from Substsion so it was a platform for his sound. It was all Murk, Tenaglia, it was that whole sound.
Give me one legendary night at Crash. What sticks out in your memory?
Yoko Ono performing.
Wow.
Yeah. I mean getting a phonecall in the office going "Yoko wants to perform in your club but you can't announce it."
"Ok."
It was quite special.
How do you feel about Vauxhall now?
It's a shame. At one point when I had Crash and we had been open a few years, The Eagle (Horse Meat Disco's home) had been taken over by Mark Oakley and Paul Wilde. And there was the RVT. So there was a bit of a gay village thing going on. We had meetings with the council to go up to Manchester to see the model of Canal Street. Lambeth were very interested in developing Vauxhall gay village with road signs, we were going to change the name of roads to names with gay references and there was this blossoming idea that we were going to turn it into the gay village. Then other people came into the area with a different game plan. Money driven. The atmosphere changed and it all broke up. At one point it was very 'us and them' with a club that opened up. They weren't particularly nice; they were very spiteful, used dirty tactics and it fell apart. It lost its solidarity. Then I opened Area because I'm a sucker for punishment and I wanted a bigger club.   
So you opened a giant club next door to your other giant club?
When that arch came up next door to my giant arch I thought it's better for me to open up that giant arch than anyone else. I developed the model – everyone loved Crash and then all the arches were up for grabs. 
So I opened the big club next to the big club, which was a struggle, but programme-wise it kind of worked for a couple of years, but always battling with the people I won't mention. I made one or two bad business decisions and got involved with the enemy, and the enemy screwed me over. I thought, "I'm out of here."
It's a different place now
It is. 
What made you get back on the saddle and start East Bloc?
I'd been a bit battered. I had enjoyed my career and what I had done. A lot of my mates had come East so I moved East. Julia and people were already living here and I bumped into Sean McLusky and he said "There's a little club on City Road you should check out..."
I went and did a party there and it was just as I was selling Crash. The landlords said, "Do you want to buy it?"
I said, "No, I don't want to buy a club."
They said, "Why don't you take a lease?"
I said, "Alright, I'll have a go."
Because I'm a masochist like we said at the beginning
Compared to the stress levels I've had in the past East Bloc is a walk in the park. It's a lovely space to run, the crowd that come are lovely, the promoters are lovely, it's a pleasure. 
Why do you think clubs like East Bloc are important?
LGBT venues are important because there are so few and it's really important for people to be themselves. That's why Dalston Superstore is important. That's why the Joiners is important. That's why the George and Dragon is Important. That's why The Eagle is important. There are thousands of venues in London but what venues can a boy walk in with a beard, covered in glitter, wearing a jockstrap dance on the bar in heels? It's important we are a safe playground. What I remember growing up is that I loved going out and feeling part of a family. And I think it's really important to help the legacy of what has come before, to go forward. People in East Bloc, the kids, they will become venue owners when me and you are way long on the tooth to be doing it. I think it's important to show what is possible. It's achievable isn't it?  A lot of people go "Oh my god how do you do this?"
I always thought that owning a venue was something other people did. Then something clicked and I realised it's achievable. What do you think of the gay scene in London now?
It's very fractured. You have the Vauxhall 'good' people, the bears. Soho is Soho. If a tourist came to London and said "Show me gay London!" and they wanted an overview of the scene I would struggle to find that big club that there used to be – like Heaven used to be. Or Crash was. 
What for you is the ultimate London queer club?
(long pause)
Horse Meat Disco. Has to be. Totally.
Your relationship with Jim Stanton goes back to when you were running The Cock together?
Jim was my assistant! Eve we used to call her – Eve Harrington!
How did The Cock come about?
I was doing Crash, Jim was working in the office and I knew Simon Hobart from Popstarz who had just opened The Ghetto in my old space (The first Substation). Simon had a lesbian night on a Friday that wasn't working and it kind of reminded me of the East Village. It was a bit alternative. Me and Jim went in there and we were sort of saying "There should be gogo boys in pants like The Cock in New York,"
We were trying to come up with the name and I think it was Jim who said, "Just call it The Cock."
And I was like "OK."
We had never worked together creatively on a project before and it just clicked.
Where did the musical identity come from?
That was more Jim. He's got an incredible music taste. As have I! We've both got a very eclectic taste. Jim was very forward in that electro sound. I booked Tasty and Julia, Jim booked the Scissor Sisters. I remember fighting with the Ghetto about the name 'The Cock.' There were a lot of gay girls behind the bar and there was a protest before we started. Me and Jim were called in by Simon who told us we had to change the name. They thought we wanted to do a Men Only sex club. 
Was Summer Rites, in its original incarnation, a reaction against Pride?
We got involved with Pride in '92 when it was Europride. Pride was really exciting then and each year the attendance went up and the sponsorship got bigger and the events got bigger and the budget got bigger. It was free to get in and political and it was great. Very quickly over a five-year period it grew and it became a national thing – you'd have coaches coming from here, there and everywhere. One year we had to turn half of Clapham Common into a coach park. Londoners being Londoners had that kind of slightly snobbish thing going on. So Summer Rites was meant to be a Pride for London. And it was always meant to be representing all the different elements of the London club scene. We were taking all the politics away and we were just having a party for Londoners. A more niche, condensed party without the coaches and all that.
What made you resurrect it three years ago?
Because I'm mental and because I'm a masochist like I said at the beginning! The last one in the '90s we were hit by really bad weather. It had been baking all week and it was boiling hot and literally the morning of the day there was a torrential downpour. It has been so dry and it was on a hill so there were rivers coming down. I think we did eight or nine years in the end.
About four years ago I moved to Redchurch Street, Sean McLusky had his offices there and he said "I'm doing this festival called 1234 and you've got to come!"
I went with Julia and we had a great time. He spotted me and said "You should do the Sunday! You should bring back Summer Rites!"
I said, "No. I'm alright thank you."
But because I live on that street and because he saw me going past his office he would come out and badger me.
You got doorstepped into starting a festival!
I got doorstepped by Sean McLusky into starting Summer Rites. It came back. Three years in Shoreditch Park which have been fun, but parks are too stressful because it can just piss down with rain and you're screwed. Literally it's the flip of a coin. You put all that effort and then and you're sat there looking at the weather report. It's life-changing if it rains.
If I want to buy you a drink this Saturday where can I find you?
You'll probably find me in the cabaret room. But the whole venue is amazing. I got introduced to the Tobacco Dock at Winter Pride this year. And it's undercover but feels outside so it's amazing. It's half indoors half outdoors. There's a lot of daylight, there's a lot of natural light and some big outdoor spaces. It's beautiful.  And it doesn't matter of it's pissing down with rain! 
Join Wayne at Summer Rites at the Tobacco Dock this Saturday from noon, followed by Bender here at Dalston Superstore as one of the afterparties with special guest Den Haan from 9pm- 4am.
post-template-default single single-post postid-7330 single-format-standard tribe-no-js tec-no-tickets-on-recurring tribe-theme-dalston-superstore loading
Meet Wayne Shires