Mighty Mouse
Mighty Mouse
21-03-13
Tomorrow night sees disco and re-edit aficionado Mighty Mouse take to the laser basement for a Friday night edition of Hot Boy Dancing Spot! He'll be joined by Hot Boy residents The Lovely Jonjo and Hello Mozart whilst those crazy Grizzle Gurls will be taking over the top bar with their very own version of Hot Slut Dancing Spot Extravaganza.
With a new side project with Van She singer Matt Van Schie in progress and a brand new volume of his acclaimed Disco Circus compilation fresh out, we decided it was high time to catch up with Mighty Mouse himself and find out about all that and more ahead of tomorrow night's party...
Why are you so excited to be playing at Superstore for Hot Boy Dancing Spot?
I first went to Dalston Superstore when the Magician played with Mylo. I thought the atmosphere was amazing, the crowd was amazing and I love intimate spaces. Then someone told me they had a great night at Hot Boy Dancing Spot, so I thought, I've got to play there. So I'm really excited it's happened.
Why did you chose to name yourself after the original Mighty Mouse over any other anthropomorphised mice? What makes him better?
I've no idea why I chose the name, I think at the time I wanted something silly and fun; I really didn't expect to be making Mighty Mouse tunes three years later. It's all a bit crazy. So I must have seen it somewhere and gone, "Yeah. Mighty Mouse, that's a fun name." It will have been a split second decision, not a lot of thought went into it.
Favourite cheese? Music and actual cheese...
Actual cheese - it changes a lot, I am a massive cheese fan though, like, I could live off cheese... Hmmm, maybe subconsciously my mind was telling me to include 'Mouse' in my name??? My favourite at the moment is manchego. Musically, I would say Toto - Africa...but I suppose that's not cheese, although some people would consider it cheesy. Maybe Queen 'Radio Ga Ga' is a better answer. 
How did you come to collaborate with Matt Van Schie from Van She?
We met in Paris about two and half years ago, we were both playing at the Social Club. I was sat outside a cafe somewhere and these two Australians came and sat down, for some reason I decided they must be the only Australians in Paris, so I said "Are you Matt Van Schie?", and he said "Yes". We sat in that cafe drinking for about eight hours then went straight to the gig, it was a messy night. But we became good friends since then and had been saying we should do something together.... it just took a while.
Where did you guys get the name Du Tonc from?
It came from that night in Paris when we met, probably best Matt tells that story because it's about him, or more what he becomes. 
We hear you just shot the latest Du Tonc video at our neighbours Vogue Fabrics. Can you tell us more about it?
Yes! Super excited about this. Simon Savory has done it, he had just finished a film and wanted to put the Du Tonc single (Darkness) in it. Then he asked if we had a video. We saw his script and were sold, he's a really talented and lovely guy, it should be ready in a few weeks... I think there are like 40 or 50 people in it. Should be quite mental.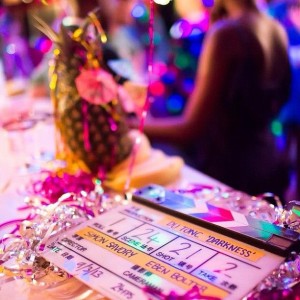 What's your favourite re-edit you've ever done and one you wish you'd done?
My favorite I've done is Prince - Controversy, it works every time on the dancefloor. One I'd wish I'd done? No idea to be honest, I make so many myself to play out, I probably make ones other people have done. Nothing springs to mind though. I don't actively seek out other peoples edits, but get some cool ones I play. 
Have there been any tracks you've found to be uneditable or just too sacred to touch?
Oh god yes, loads - normally because I can't make them sound as good as the original, the magic just isn't there - or they start sounding too much like a house track with a disco sample in it. I'd love to do Chris Rea - Josaphine and TOTO - Africa, but I just can't bring myself to touch them. 
This month sees the release of your latest compilation Disco Circus- what track are you most pleased about securing for it?
I'm really happy with this one, probably the most out of all of them. Track I'm most pleased to have on it is Lindstrøm - I Feel Space. One of my favourite dance tracks ever. 
And finally who is your ultimate disco hero and why?
That's a tough one because so many have had an influence on me, but I would say Prince. I could probably do an entire evening of just Prince edits. For me he's the perfect musician. He can play multiple instruments, write clever lyrics and hooky melodies and he's an incredible performer. I don't think we'll see many of his type in the future, I hope we do though!
Join Mighty Mouse this Friday 22nd March at Dalston Superstore from 9pm - 3am for Hot Boy Dancing Spot.
post-template-default single single-post postid-4271 single-format-standard tribe-no-js loading
Mighty Mouse