Rify Royalty
Rify Royalty
19-09-14
Next week we're honoured to welcome a man of many talents to Dalston Superstore... Rify Royalty! A New Yorker known for his inventive looks, go-go dancing prowess, drag-infused acts and so much more, Rify joins us for another edition of cult night Dirty Diana! Ahead of the party we caught up with him to find out more about what we can expect from his performance...
Actor, model, go-go boy, make-up artist, burlesque performer… what doesn't Rify do?
Ummm… Rify does not limit himself to anything. He doesn't sing live though. Haha. That's not his forte.
What other things are you doing with your time at the moment?
I'm just embracing all the work that I'm getting, broadening myself as an artist. That being said, I do a bit of drag, I do a bit of burlesque, I do performance art, and because I'm an actor and I have this acting background, I really like to play different characters. A lot of my peers are just burlesque artists or just drag queen artists, and that's great for them. But I would get bored of doing the same thing over and over, so I always switch it up and do something different and new and fun.
What's been your fiercest looks of late?
Oh that's a tough one. I've been working really hard to put on really fun looks. I did a blue look for Bushwig, this festival that happens in Brooklyn. I had these two friends of mine who sew, make me this very slutty blue fishscale outfit. And I had a blue wig and a blue mask and I had a Smurfette lunchbox… and stripper heels. Yeah, it was a really fun look.
How many people go into creating your looks?
I usually just use my girls, they're called The Big Hair Girls. They're recording artists and they are also seamstresses so they help me sew but usually my looks will come from me. Sometimes I work with different make-up artists. I had this famous make up artist called RainBlo paint me one time… twice actually, for a few events. But usually my looks come from me, and every now and then I'll work with an artist who wants to paint me, or put me up in a design that they've made… with a little bit of my feedback of course.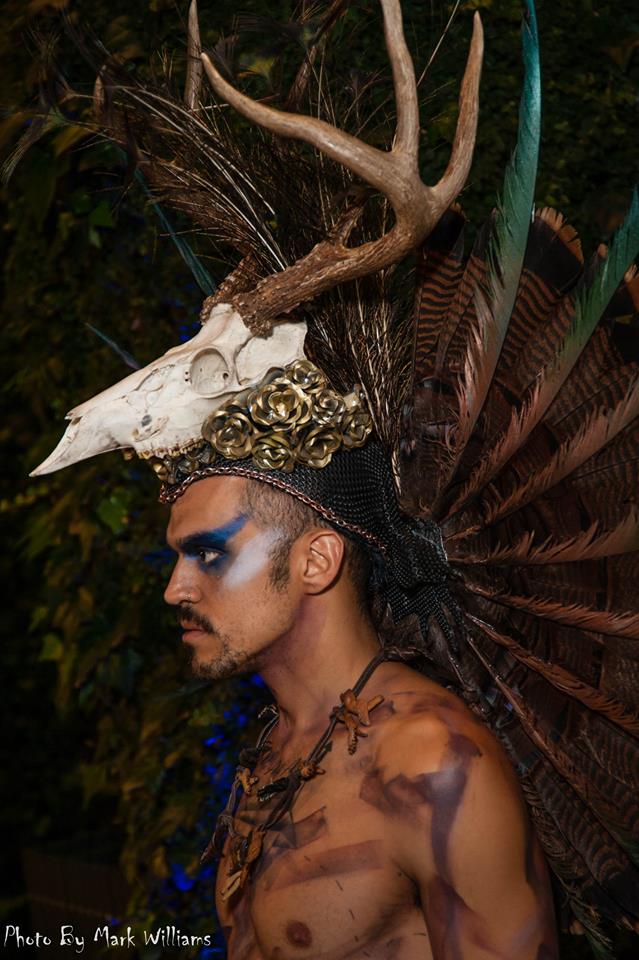 As a go-go boy who works on Fire Island, you may have noticed Queers For The Climate highlighting that rising sea levels could leave the whole area underwater… if you could galvanize the gay community around one social issue what would it be?
Oh god, there's so many social issues wrong with the gays. But one of the things I'm really working hard right now on is trying to- and I think it's getting better, or maybe it's just getting better around me, so I don't know how it is for other people- but for a long time I was encountering the type of gay man who is woman-hating and hetero-normative. And I feel like the more I grow as an artist, the more I incorporate drag into my looks… you'd be surprised by how many men are so very intrigued or interested in getting to know me better… for whatever intents and purposes haha.
And that's why I infuse some drags into my go-go looks as well. I want people to know that this is nightlife, and it should be fun, and we shouldn't be in this hetero-normative way – man/woman, femme/masculine, etc etc. In many years this will make a difference.
[caption id="attachment_7595" align="alignnone" width="444"]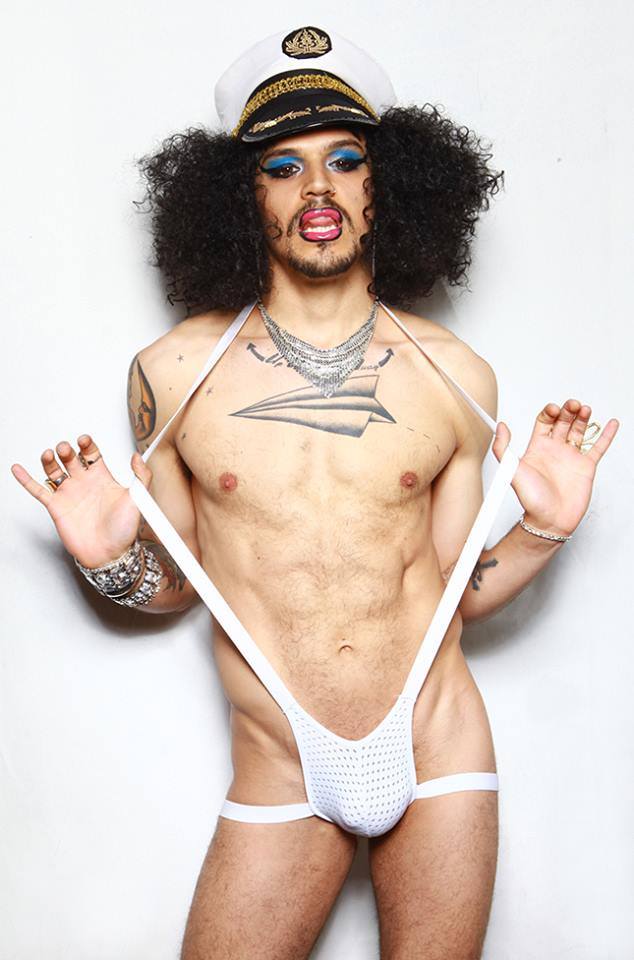 Photo credit: Maro Hagopian[/caption]
Actually, I don't know if you saw the past season of Drag Race. I had kinda an issue with it because they had Scruff, the social app, doing some promotional stuff. I had a really big problem with this as Scruff is notoriously known for that kind of behavior…
Straight-acting.
Yeah, sexy straight-acting men. And then you're gonna put them on a show that focuses on drag queens! It's kinda disrespectful. It's THEIR show. Drag queens have it hard enough meeting men in general. Men that take them seriously anyway, seriously beyond drag. And then you're shoving your agenda down their throat by not even acknowledging that it's a drag competition. My issue was "Great! You want to put your Scruff pit crew in it, fine. But put them in heels. Or wigs." And I think it would be really funny and really camp. These really sexy muscled guys with heels and make-up.
And actually integrated into the show as opposed to advertising on top of it.
Exactly. That would be waaay more integrated into the show. It would definitely break boundaries because these men are like idolized amongst other gay men. They have their own following on Instagram and Twitter. I just think the Scruff founders could have been more responsible in incorporating them more, rather than "these are our sexy masculine men" and advertise them on the show.
It sounds more like piggybacking.
Yeah. I mean it doesn't have to be full drag. But just in heels and a wig. Or diamond bracelets. Then it would have been really sexy and funny. And they could have still kept their integrity but worked with the show a bit more.
Tell us about your involvement in Mr(s) Williamsburg?
This was their second year having Mr(s) Williamsburg and last year I watched and thought how fun it was, but I didn't compete. This year I competed in round two and I won!
Yay!
Well I won round two, but I didn't win the whole competition. I was a semi-finalist. Round two was representing Metropolitan Bar. And one person from each bar won. So they had the top three winners and from those top three, one person won. And that person was the one that beat me from Metropolitan. She's great; we work together all the time. She's a drag queen. But it was amazing to win round two, as it was my first ever pageant. To place as a semi-finalist, in the top nine, out of 50 performers was pretty great.
You split your time between NYC and London- what are you doing here?
I was in London last year for three and a half months. I wasn't working. I was doing "fuck all" as you guys say. I was on a long holiday and going to places like Berlin and Munich, Amsterdam, Iceland, Barcelona… but mostly using London as my homebase.
I went back to New York, and within the year, nightlife has really kicked off for me, and I made a lot of connections in London so it all kind of just fell into place. I hope to be booking more work in London on a regular basis that allows me to come here and do what I love to do. And get paid for it. Because ultimately we all want to get paid, we all want to eat! And if I'm flying 3000 miles, that ain't cheap!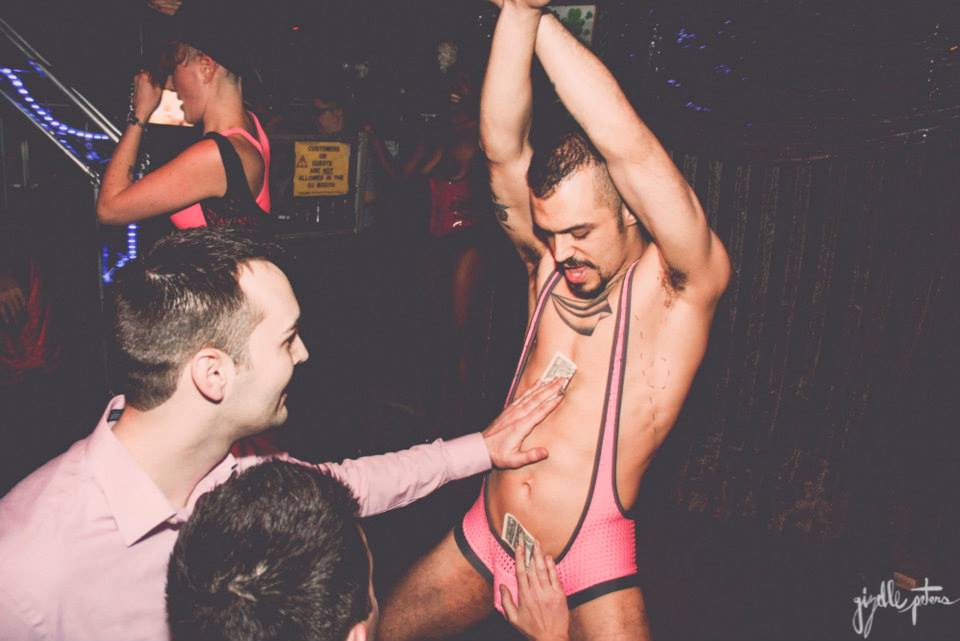 Who are your current New York nightlife homegirls?
Hmm. That's a good question. I'd say Merrie Cherry is the like Queen Of Brooklyn right now. She's been one of my biggest supporters. Since I started performing in nightlife, she's booked me for a lot of gigs. I do feel like a lot of people in Brooklyn haven't been entirely supportive of what I do, because I kinda came out of nowhere and I don't stick to the norm. I'm not just one thing. Merrie's been like " Whatever! Do whatever! You wanna show your penis on stage? Go for it! You wanna lip-sync? Go for it!" She doesn't really care haha!
So I would say Merrie Cherry, I would say Aja…. Ummmm. Thorgy Thor. Who else has been really good? So many people! It's a good question. I would say Culture Whore. Culture Whore is a group, two guys; they've booked me for some stuff as well. And Lady Simon. Yeah. They're some of my homegirls.
So these are the people who support you, no matter what you do?
Yeah, they support me, I party with these people, and I do gigs with these people. Oh I'd also say Boy Georgia, she's another go-go dancer who performs with me at a party once a month. So these are people that support me, come to my shows, put me in touch with other gigs and they're just people that I party with. I mean I have so many homegirls but these are the ones that come to mind.
What is the motto you live your life by?
I would say: Do What Works For You. In all aspects, all across the board… do what works for you. I think people jump the gun, thinking, "Oh I could never do that!" And that is great if you are aware of your surroundings but I think people should just do what works for them. And for me a lot of things work for me, so I do them. I get that some drag queens don't feel comfortable doing a burlesque act, they just love lip-syncing to their favourite songs, and that's great. There are a lot of rules, but I think you should just do what works for you. Do what makes you happy. And get paid! You can perform in all these places all you want but unless you're paying your rent, then you're not really working. And I think that's really important, because money circulates. A lot of my paid gigs have helped me get other costumes, and I've been able to pay people to design things for me. So it comes into full circle. Well, it is a job, nightlife has become a full-time job. So do what works for you, and do something you love. 
Join Rify next Friday 26th September at Dirty Diana from 9pm - 4am at Dalston Superstore.
Main photo credit: Ryan Pfluger
post-template-default single single-post postid-7592 single-format-standard tribe-no-js tec-no-tickets-on-recurring tribe-theme-dalston-superstore loading
Rify Royalty