Spotlight on: Funds 4 Turkey
Spotlight on: Funds 4 Turkey
23-05-23
"I made my first costume out of a water pipe. As they say, water finds its way. Just like water, I flow and find my own path each time. In fact, I started doing drag for activism, to create visibility, to celebrate transgender existence, and to live and share my fluidity."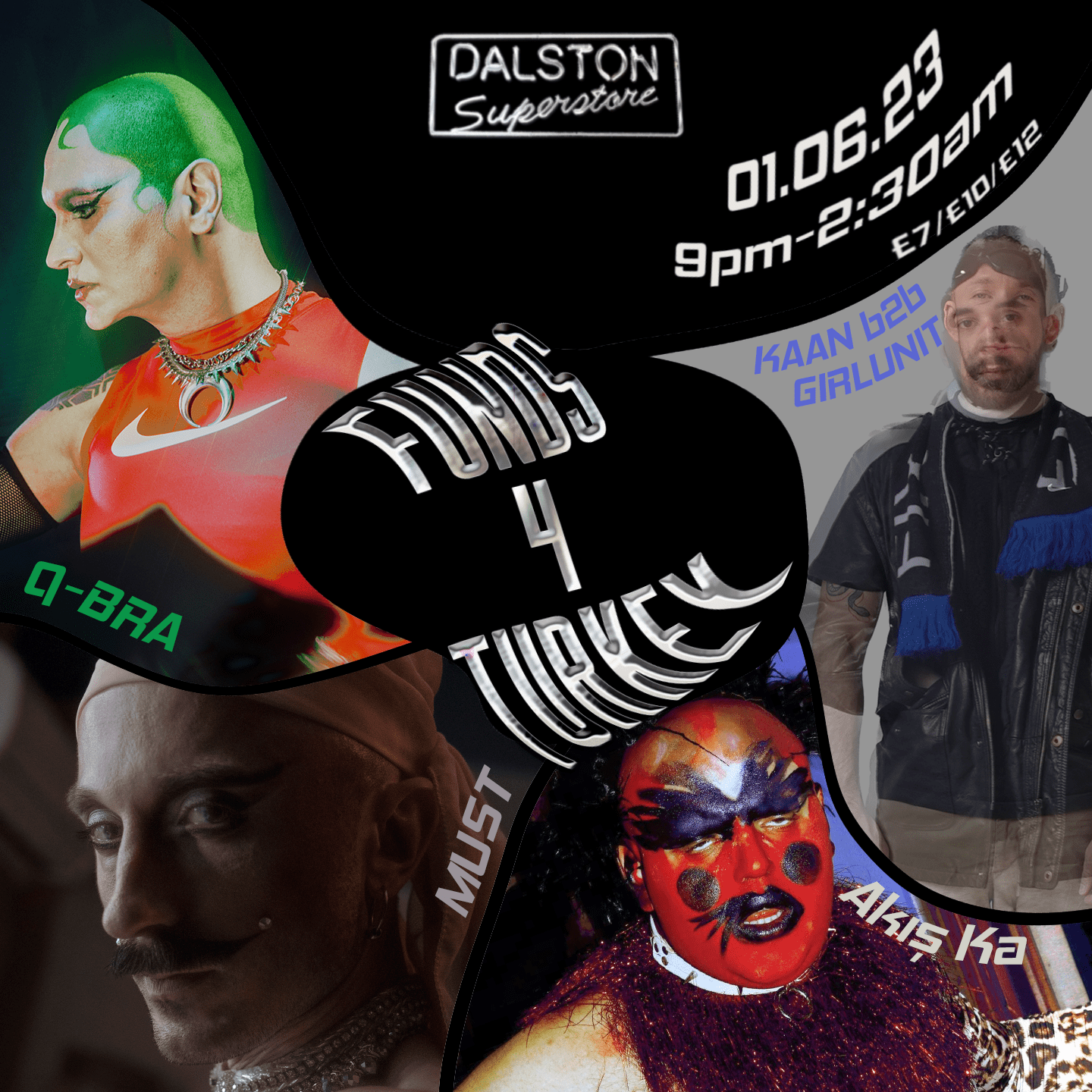 This June, Dalston Superstore is proud to present Funds 4 Turkey: a fundraiser event in collaboration with four defiant artists from Turkey, with all proceeds going to LGBTQ Earthquake Solidarity and Kaf Kolektif. Kübra, Akis and MustKika and Erkan Affan are all multidisciplinary artists, in London to collaborate on the annual Transpose BURN: Pit Party at The Barbican, founded by trans activist and researcher CN Lester and curated by our very own Dani Dinger. We are thrilled to have them joining us alongside longterm friend Girl Unit to raise much needed funds to support our queer siblings in Turkey. We caught up to chat sources of inspiration, creative collaborations and queer defiance.
Hi Kübra, Akis and Must and Erkan! We are so excited to be welcoming you soon for Funds 4 Turkey, raising essential funds for queer people affected by the earthquakes. You are all over here in London taking part in a very exciting performance fo Transpose at The Barbican – can you tell us a little bit about the project?
K: We are extremely excited to be in London and soon in Dalston Superstore, too! Well, thanks to Erkan, Dani Dinger (the director of this year's Transpose) and the rest of the team for their kind effort in getting us here. Transpose was founded by artistic director CN Lester in 2011 and has spent over a decade celebrating, promoting, and platforming the wide-ranging talents of the UK trans community.
In this very upcoming edition, Akis Ka, Kika (MUST) and I will be joining the Transpose team as talents/individuals from Turkey's trans community. Together with anarchist poet Kell w Farshèa, DJ Ifeoluwa and subversive drag artist i-Gemini, six of us will be one for an explosive patchwork of performance(s) to explore the building blocks of a shared culture, trans identities and to offer a direct challenge to the status quo. Taking place during Pride month, this year's show titled 'Transpose BURN: Pit Party' will be at the Pit Theatre/Barbican between June 15-17.
How did you all meet and come to collaborate artistically?
E: I was invited by this year's Transpose curator Dani Dinger to take part in the programme at the Barbican, and decided instead to extend the invitation to Kübra, Akis and Kika. A team of us came together and we applied for funding in order to bring the artists here for the show – it was successful, and a year later, they're here.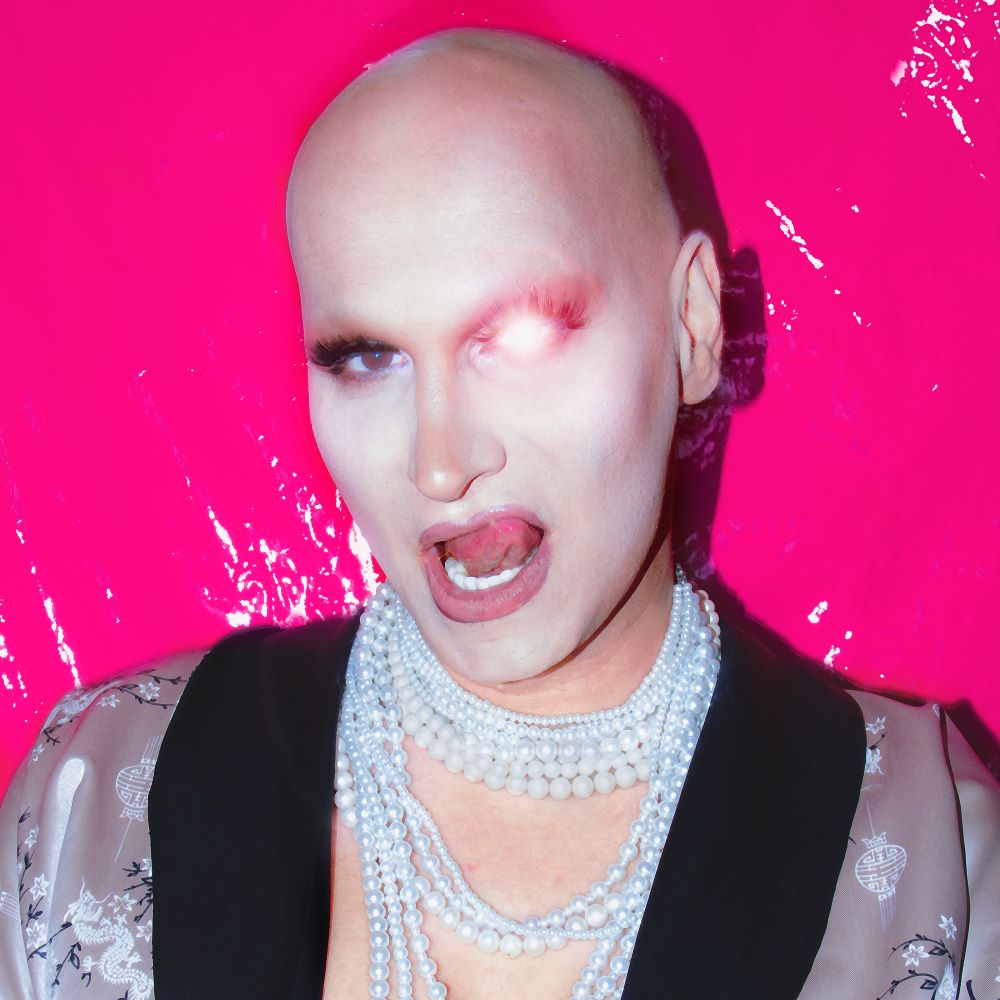 Kübra, you are one of the resident DJs of Sahika Upperground where you run your queer performance night and party Disko Tarantello. Tell us a bit about the party! What inspired you to start a night? How has the party grown since its inception?
K: Well, I love to play long sets and tell different stories in each of them. Surely, none of the time we spend is ever the same. The air we breathe, the people we interact with, the mood we have… All are in an infinite change and transformation. I used to play more in the past, but for two years I mostly play wherever I feel safe, happy and as myself.
Disko Tarantello (D.T.) nights was born from these points. Sahika Upperground is at the heart of Istanbul: Nevizade Taksim. D.T. is a monthly party series, and in each iteration we have a pop-up exhibition of a queer individual from the scene. In every D.T., the artist who runs the exhibition also designs the poster of the night and opens the night on the decks. Right after an hour of an opening set, I get into the deck and close the night. We are genre-free in D.T., but everything comes with a surprise. The word 'Tarantello' sounds witchy and unexpectable so the D.T. nights are! <3

You also run a queer label – XSM. Can you tell us a bit about how that began? Who are some of the artists you have collaborated with over the years?
K: XSM (Ex-Step Mother) was founded by Mx. Sür, Birgay and I in 2020 as a queer record label. All began with our first release, ALAN2020 and so far we've had 14 releases and collaborated with amazing talents as Ceytengri, Cicek Cocuk, Basicdisarm, Layer 8, Moustapha S., Eylul Deniz, Jtamul, Age Reform, Salih Topuz, Granul and Sissy Misfit from the local scene.
Besides being a record label, XSM also runs as a solidarity project and has bi-monthly parties. As in Disko Tarantello, each iteration of XSM parties has a pop-up exhibition of which the artist also designs the poster of the night. Besides an exhibition, we also have performances from local talents in each XSM party. We mostly have two stages on each iteration with a crowded line-up. The more we share, the more we grow!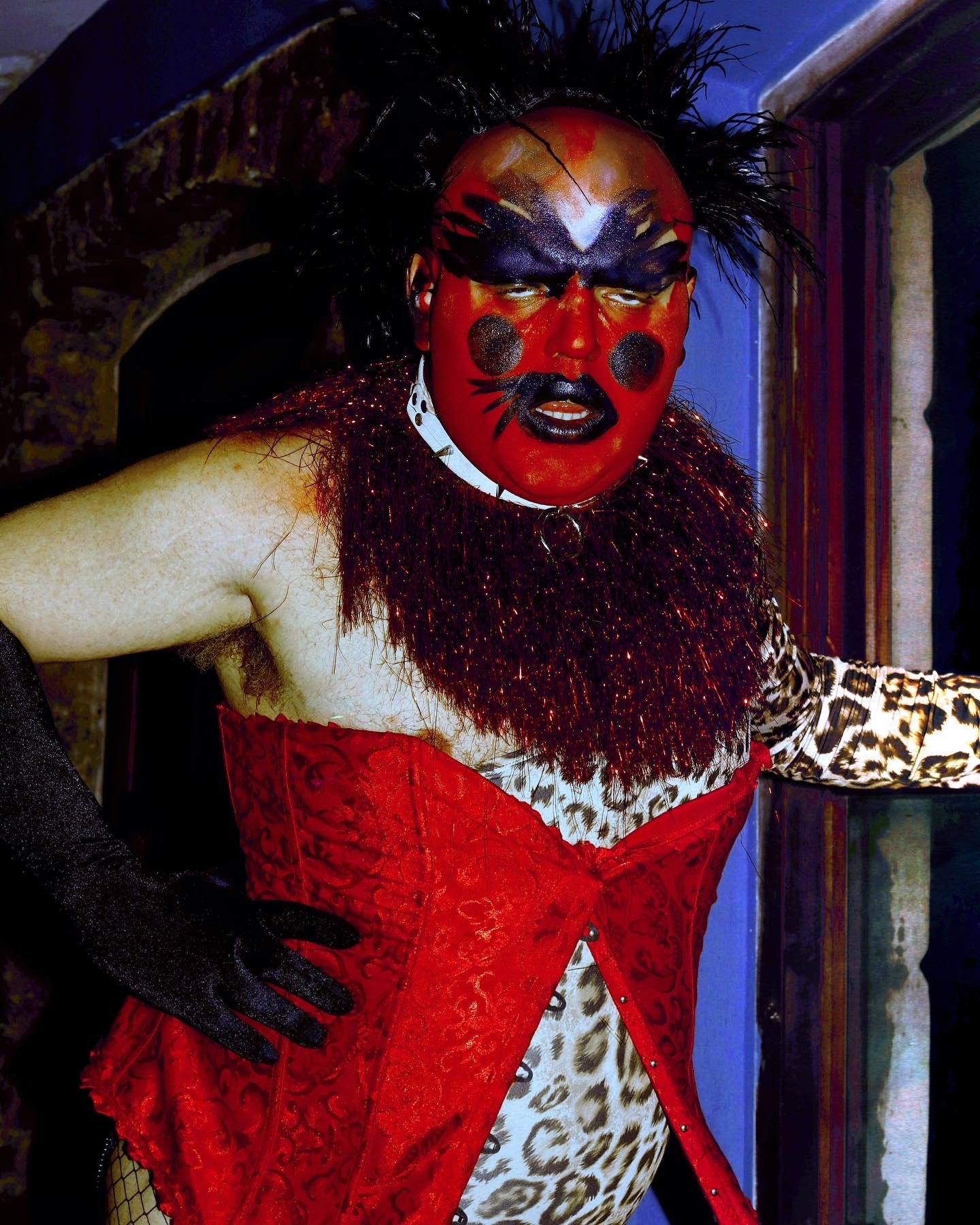 Akis, we are obsessed with your drag! Can you tell us about your journey as an artist? What inspired you to experiment with performance art?
A: I don't know exactly when and how my artistic journey began; it feels like I have always been a part of a performance. In every phase of my life, I have embraced different identities and discovered different versions of myself, living through them.
My passion for music, dance, and the stage started at a very young age. Ever since I can remember, I have been dancing and constantly transforming into different personas, creating my own entertainment. But it took a long time for me to encounter art, actually.
I was born and raised in a small town in Turkey, in a village. It was only when I got into university and came to Istanbul that I had the opportunity to engage with art. I initially pursued theatre education, but I couldn't find my place in the theater industry. It was not inclusive for someone like me within the cis-hetero norms.
During that period, I started getting involved in organizing events during Istanbul Pride Week. Activism was teaching me so much, and everything I knew about life was changing and evolving. Then one day, it struck me, and I said to myself, "I'm going to do drag." I made my first costume out of a water pipe. As they say, water finds its way. Just like water, I flow and find my own path each time. In fact, I started doing drag for activism, to create visibility, to celebrate transgender existence, and to live and share my fluidity. I am like an insect or maybe a monster navigating between the walls of binary gender, a wanderer without a place, and thanks to you, timeless…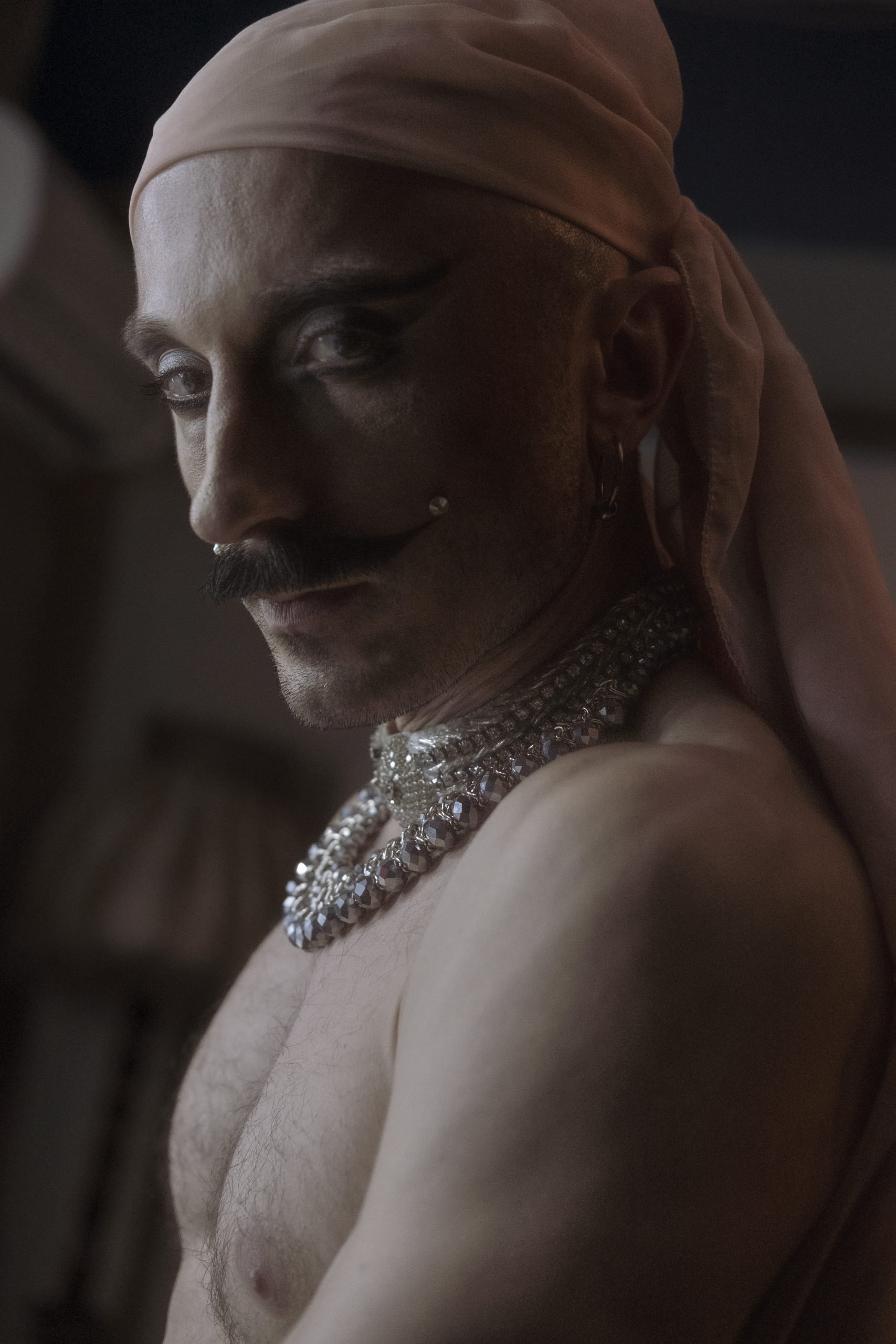 Must, you are also an incredible drag performer as well as being a makeup artist, designer and baby DJ. What are some of your greatest sources of inspiration?
M: Even though my inspiration is ever-evolving I must confess that my drag name is inspired from an Almodovar movies – KIKA; while my aesthetic was initially influenced by another Almodovar movie – High Heels.
However, recently I am obsessed with belly dance: its rhythm, fluidity, movement, costumes and history. The first time I tried a belly dancing was after I stumbled upon some old belly dancing costumes in a flea market in Istanbul. During my education in Textile and Fashion Design, my teacher would always remind us to touch each fabric and try to imagine how it was constructed and how it was used.
As soon as I put the costume on, I started asking myself questions: who wore that outfit before me, who owned it and who was this performer. I wondered which casino they would perform in, what was the tobacco smells  surrounding them and how much they would be tipped. My imagination and the materiality of the fabrics, their history are the things that define my performances these days.
Funnily enough, I would also get to know old belly dancers who would give me their costumes when they would decide to evolve away from the art form. I would spend time talking to them about their career and eventually would repair the costumes taking into account their previous owners.
I view my drag performance as a continuation of an old dancing tradition. Even though, I think what I attempt to do with my drag is more fluid and more gender-bending. While historically "male" belly dancers would attempt to conceal their masculinity, I am using a feminine dance form while trying to showcase my masculinity at the same time. But you cannot experience it while reading this interview, you should come and see it instead.


Erkan, you have been doing phenomenal and vital work to support the victims of the recent earthquakes in Turkey, a lot of it on the ground in the worst-affected areas.Your recent essay for Where The Leaves Fall is a heart wrenching read, driving home the scale of destruction of the Earthquakes in Turkey on an extremely personal level. It's a damning account of how corporate greed forces the most vulnerable into precarious and outright dangerous living conditions in Turkey, and the world over. What do you hope for people to understand about what is currently playing out in the aftermath of the earthquakes?
It is hard to put into words exactly what 'aftermath' feels like, although I'd say the the 'Where the Leaves Fall' piece comes pretty close to it. At first I hoped that people would provide financial support, and they did. I'm undecided right now on what I hope for people to understand. Maybe that 'strength' and 'resilience' aren't innate traits but things you are forced to learn on the spot in traumatic situations.
We would love to hear about your practise as a curator. How did you get into this line of work, what have been some highlights, and what are some of your approaches to programming?
I work(ed) predominantly in academic research but I found it's echo chambers to be unfulfilling, so I began experimenting with curatorial practices. First through a residency and then a curatorial position in Berlin before moving back and continuing in London. My highlights include co-founding Queer Arab Barty in Berlin, and I currently enjoy programming talks at FOLD alongside Tee and Lois, because its an opportunity to have lively discussions on topics affecting our communities in club culture. To be honest, having Kübra, Akis & Kika here is definitely  the most monumental highlight of my work so far. 

Kübra, you recently hosted the Boiler Room: Contemporary Scenes Istanbul broadcast. How did it feel to shine a light on some of the amazing things happening in your underground scene?
K: Well, Boiler Room: Contemporary Scenes Istanbul night was lit and I still do feel proud to have it with the unique talents from the local scene. All I can say is it was kinda an XSM takeover in terms of music, energy and the talents and people involved!
If you had to sum up your sound in one track, what would it be?
K: Well, my sound in one track would be ALAN2020. Not only because I wrote the lyrics and performed it but also because ALAN2020 is the very first release of XSM Recordings and also it became one of the anthems of Istanbul Pride

M: This song by Mohammed Abdul Wahab – Men Gheir Leh; especially the instrumental parts.
E: My sound is extensive and chaotic, but here is a soundscape I made in memory of my province Hatay for NTS in March.
A: If I had to summarize my sound with one track, it would definitely be my first single, "Sana bir s?r vereyim mi?" (Can I tell you a secret?). I love intertwining catchy rhythms with queer stories. I enjoy experiencing and sharing songs that scream out our anger and existence, where we find strength, have fun, and instill fear in others. Just like in my art, my sound is inspired by transgender existence, and I celebrate transgender existences…

All door profits at our Funds 4 Turkey event will be going to LGBTQ Earthquake Solidarity and Kaf Kolektif. Can you tell us about the work they do?
LGBTQ Earthquake Solidarity is a network formed by the rapid gathering of human and animal rights activists after the Mara?-centered earthquake on 6 February. It is an initiative without permanent resources and employees, LGBTQ Earthquake Solidarity based on volunteer work, solidarity and intersectionality disciplines. LGBTQ Earthquake Solidarity provides solidarity in categories such as food, shelter, medical supplies, transportation, access to psychosocial/legal support.
Catch Kübra, Akis, Must and Erkan at Funds 4 Turkey from 9pm-2:30am on Thursday 1 June at Dalston Superstore. 

post-template-default single single-post postid-30974 single-format-standard tribe-no-js loading
Spotlight on: Funds 4 Turkey