The Carry Nation at Paris' Acid Ball
The Carry Nation at Paris' Acid Ball
05-07-13
Tomorrow night we are pleased to welcome our good friends The Carry Nation to the Dalston Superstore laser basement for Paris' Acid Ball!!! Comprised of Nita Aviance and Will Automagic, these New York wunderchildren are in the process of finishing up their current European mini-tour that took in Batty Bass, Horse Meat Disco, Glastonbury and more! And there's just time for one last hurrah/Glastonbury Love-in Reunion with Hannah Holland, Dan Beaumont, DJ Squeaky and Cathal. We caught up with one half of The Carry Nation, Miss Nita Aviance herself to find out how their magical team-up came to be, their hot NYC tips and so much more...
What lead to you guys naming yourselves after Carrie Nation?
Nita: One day we were working in the studio and took a break, Russ Meyer's Beyond The Valley Of The Dolls happened to be on the TV, and y'know, for a couple of us who happen to "carry on" all the time, it seemed really appropriate haha.
How did you both meet?
We've known each other for years actually. We've been DJing a lot of similar parties, known a lot of the same people, worked at each other's parties a lot- have each other guest DJ. But the production team started when Will had all these great out-takes from his Escandalo project with Viva Ruiz and Desi Santiago and he said to me "I'm gonna give these to all of our friends!" and I said "Oh no you're not! Let's make a track! This is a record." And that's where This Bitch Is Alive came from. We really just clicked quite well in the studio, it was so easy, and it came out so well, so, it was on!
Describe The Carry Nation's perfect summer NYC night out?
Ohhh, the perfect night out? I don't know… it would probably have to be one of our parties! We've been doing a lot of loft and warehouse stuff right now, mostly at The Spectrum. But I think my favourite one we did recently was just us for nine hours, track for track. It was kind of a big night in Brooklyn, there was a lot of different parties… we go late! But yeah, it was really just nice and easy and effortless to play together for that long. And you really get to explore so many musical places that way. That's really what we like to do. I'm from the school of LONG long sets. That's how we were raised. Raised on the dance floor.
You've just played the Batty Bass warehouse, Horse Meat Disco at the Eagle, Block 9 at Glastonbury, then back to London to play here at Dalston Superstore. What kind of venue style suits The Carry Nation best?
I think the thing about The Carry Nation that works really anywhere is the fact that Will and I have had so many years playing records in a lot of different places in New York, as New York has changed over time- from big clubs to small bars to now, Brooklyn warehouse stuff. We've had the sound evolve and we've evolved with the sound. It's always basically house music with a strong influence from everything that's going on around the world. So I think it allows us to go anywhere and play in any kinda space…. Also, y'know, trying to bring all the music with you that you might possibly need can be a bit of an exciting chore haha… god love USB sticks now!
Which queer DJs across the world have influenced your style the most?
Coming and playing here in London has been really wonderful. Especially all the different people that we end up playing with. Because it really is a variety. From Junior Vasquez from when we were first coming up, to Severino right now- one of the most positive, joyous, energetic DJs that I know. But y'know, travelling all the way over to Australia even, you really get a sense now that it's a global underground culture. And we really are all pushing the same thing. I always say it's just about a beat, if it gets you on the dance floor, if it gets your asses shaking, then that's all that's necessary! It's the same everywhere.
You recently released on Batty Bass Records. Why did you decide to release on a UK label?
I don't even remember how we discovered Batty Bass but it came up somewhere and we really liked the stuff they were putting out. When I enquired from friends in London about Batty Bass and about Hannah Holland, they immediately said "Yep. That's where you need to go. This is the kinda girl doing the exact same thing as you're doing in New York right now." And we wanted something to help expand the sound out of New York. It can be really insular there and, like anywhere, you can just put out stuff for you and yours. But we wanted to make it more global. It was our first choice and when she signed the record I couldn't have been happier.
You mentioned working with Viva Ruiz for This Bitch Is Alive… what other vocalists, past or present, are on your wish list?
Oh my god, well, we're actually working on a new record right now with Tigga Calore that we're very excited about, and we just remixed N'Dea Davenport's incredible voice on the upcoming Automagic release. And we're producing Escandalo's next record too. It's so exciting to have people come to us and be interested in working with us. For us, it's never really so much about working with a full vocal as it is cut ups and stuff so it's exciting to be getting into that. There's so many really great rappers coming out of New York City right now and that's where the sound is…
Like who?
Le1f, House Of Ladosha, Zebra Katz, Cakes Da Killa… they're all our friends and they perform at our parties in New York, so it's really a great house-hip hop mix, which is really the roots of all this anyways.
Who are the best New York hidden gems we should be listening out for?
Other than us?! Goodness… well, House Of Ladosha really is incredible. Juliana Huxtable really is just a muse to the whole scene right now and has just started DJing. We found out she was gonna play one night so we went to see her and really had our minds blown. The track selection, from someone so young, it was amazing how far back she could reach, not to mention she's just like a beautiful alien and we love her.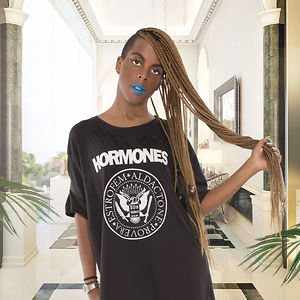 Fatherhood is really an amazing group, made up of Physical Therapy and Michael Magnan. They're our brothers in arms over there. They did a remix of the track, Warriors, that we did with The Cucarachas. Their stuff is brilliant and they play HARD. They get you to the dance floor.
How long did it take to wash all the glitter off from your amazing photoshoot you did with Leo Herrera?
Hahaha, oh god, probably not as long as it took to touch us up afterwards! The thing that's wonderful about working with somebody like Leo is that he's so fast and he has a vision. And we really only needed to give him a few words… it's wonderful working with your friends that way. The crew that we have in New York is so close, we all cross over with each other… it really benefits the process. You get to move quick and you get exactly what you're looking for, even if it's not what you know you're looking for yet! But yeah. Glitter. Glitter was everywhere. And we didn't even use all the glitter! We ended up saving it for our next party which I didn't have to clean up haha!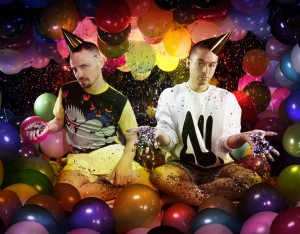 Tell us about your amazing artwork…
It's all done by Troy Clark, who's an amazing visual artist from New York. I've been working with him for a very long time on my personal stuff and it was the right move going with him for The Carry Nation. It was another one of those things where we just toss out a few key words and we just let him go with it. He knows us well and comes to all of our parties, knows exactly where we're going musically. So he's able to drive the artistic and visual vision. Which is fantastic because we can take what he does on the posters and incorporate it back into the parties… in terms of design in the space. 
One song that is currently soundtracking your summer…
That is a tough one… I'm gonna have to say it's the new track we made with The Cucarachas, we literally just can not stop playing it, even for ourselves at home. Not to brag and boast, but, it's just the song we've all been having in our heads for a long time. It came out so quickly and so easily; it's wonderful working with Tom Stephan and Borja Peña. It just clicks. And after playing it out so much here in the UK- apparently it works! We're very excited to get that out to everybody's ears.
Join The Carry Nation here at Dalston Superstore for Paris' Acid Ball on Saturday 6th July from 9pm - 3am.
post-template-default single single-post postid-5057 single-format-standard tribe-no-js loading
The Carry Nation at Paris' Acid Ball