The NYC Downlow At Lovebox
The NYC Downlow At Lovebox
06-06-12
With Lovebox galloping ever closer, we thought it high time to catch up with the people behind the area housing our friends Horse Meat Disco at the festival, the NYC Downlow. Gideon Berger and Steve Gallagher, with their joint background in art direction and set building, are also the brains behind Glastonbury's hedonistic after-hours playground, Block9. This year their efforts are solely focused on Victoria Park as Pilton lays low for 2012, meaning we can expect bigger and better and more flamboyant goings on with Glasgow's notorious Optimo, Tim Sweeney of celebrated New York radio show Beats In Space and the legendary Andrew Weatherall joining the HMD boys in everyone's favourite decaying New York tenement block transported to Hackney...
You both run Block9 at Glastonbury Festival, how did it come about and what was the motivation behind it?
Gideon: Block9 is the name of the set design partnership founded by Steve and me in 2007. We specialize in radical set and environment design. We're based in East London and we design and produce artworks, installations and live events as well as television, film and stage sets. Before inheriting our own field at Glastonbury we had been doing a lot of festival work around the globe both as Block9 and solo in Japan (Fuji Rock), US (Burning Man) and Europe.
Steve: We created The NYC Downlow for Glastonbury 2007 as an answer to a gaping hole in the British festival scene. It's a film-set replica of a ruined NYC tenement where the murky homo fantasies of The Downlow crew fuse to resurrect New York's golden age. The exposed first floor apartment is an outdoor music and performance stage, playing host to the UK's finest alternative cabaret stars. Having purchased a false moustache from the 'Porn Kiosk' (with proceeds going to charity) you make your way down a seedy back alley into a vintage New York gay club.
Did you both think it would become such a talking point and that you'd create this super-popular gay club in the middle of a field in the West Country?
Gideon and Steve: When the NYC Downlow first started it was kinda cobbled together… there were over 50 of us who were there in the mud. We had an inkling that it would really kick off, though we weren't expecting that on the opening night we would have an instant queue of 300 people waiting to get in! In retrospect looking at the star-studded list of Downlow crew, performers and DJ's present that first year, it is hardly surprising that it was so popular. Jonny Woo, Jon Sizzle, 9bob Rob, Jim Stanton, Le Gateaux Chocolat, Placid, Luke Howard, James Hillard, Suppository Spelling, Dr Noki, Severino, Foolish Felix… an amazing line up.
How did you guys become involved with Lovebox and what is it about the Sunday that makes it so special?
Gideon and Steve: Jim and James from Horse Meat had done a disco venue at Lovebox in 2006, which was the year before we built the NYC Downlow for Glastonbury. We all had a fucking ball that first year and the boys were keen to bring NYC Downlow to Lovebox as the spiritual home of Horse Meat Disco. They hooked us up with Tim, Jules and Rob from Lovebox and the rest is history. In answer to the "What makes Sunday so special?" question…. well it's the fact that Sunday is all about the HOMO. And the NYC Downlow is built entirely around the HOMO… from the music, to the set and lighting design…come check it out and you will see.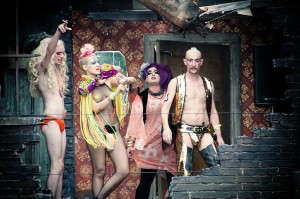 Tell us a bit about what people can expect from NYC Downlow this year and what kind of effort goes in to building the area...
Gideon: The NYC Downlow takes a huge amount of effort to put together really. Shipping containers, cranes, telehandlers, scaffolders, thousands of self-adhesive moustaches, a New York taxicabs, trannies, booze, flashy lights, vintage gay porn, you know…that kinda thing! Stir it all together in Victoria Park, add the finest vintage disco and house and a little sunshine and hey presto – you've got yourself The NYC Downlow.
Steve: The Downlow this year features HORSE MEAT DISCO, ANDREW WEATHERALL, OPTIMO, TIM SWEENEY and some killer drag. This year we also have some seriously hot go-go boys too…watch out!
Was the www.thedownlowradio.com born out of a love of DJIng or just a natural progression from the festival work?
Gideon: www.thedownlowradio.com came about really because of two things. The first was that the NYC Downlow became so successful that people really wanted access to our DJ's and music throughout the year. Through the NYC Dowlow festival venue we had built a network of underground homo DJ's from all around the globe who were super keen to get involved. Our regular contributors include some giants like Horse Meat Disco, Greg Wilson, Danielli Baldelli, Hannah Holland, Digs and Whoosh, Joshua Iz and a huge amount of other DJ's specializing in funk, soul, disco vintage house and reggae! I was regularly making mix tapes and CD's for friends and I kinda thought that maybe hosting them online somewhere might be a good idea too. The success of Block9's NYC Downlow plus my relatively large output of mixes kinda just added up to the radio. We had no idea it would become a HUGE thing. Thousands of people around the world listen to us every month. It's the sound of the homo-funk-soul underground!
Steve: We help fund the radio by selling NYC Downlow merchandise from our online shop.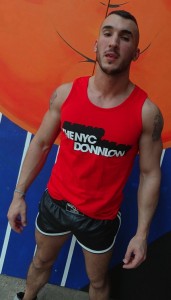 The NYC Downlow will be at Lovebox Festival in Victoria Park on Sunday 17th June with Horse Meat Disco, Andrew Weatherall, Tim Sweeney and Optimo. For tickets and further info visit: lovebox.net 
Photo credits: Darrell Berry // NYC Downlow
post-template-default single single-post postid-1707 single-format-standard tribe-no-js loading
The NYC Downlow At Lovebox