Top 5 Drag Looks
Top 5 Drag Looks
01-02-12
Sink the Pink are a unique force for good in East London... Their distinctive events combine a tongue-in-cheek sense of fun with a genuine sense of queer community. Recent parties at the Bethnal Green Working Men's Club have included a Su Pollard tribute night and a visit from the cast of My Transexual Summer.
Su Pollard -  Starting Together
Ahead of their Happy Shopper residency at Dalston Superstore we asked STP (Glyn & Amy to their mums) about their ultimate top 5 drag looks...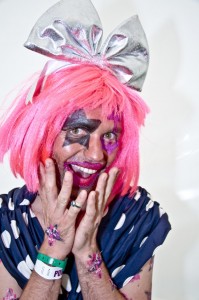 Nana May (aka RonJonSon)
He's not a drag queen, but one of our oldest friends who we bully into dresses.  After a few shandies he doesn't need much persuasion and this was the first festival we ever performed at. We bought him this dress in the Bestival Oxfam, we didn't have a lot of make up so we decided to brand the hell out of him.  This became an iconic image for our flyers for year after, DIY drag all the way!!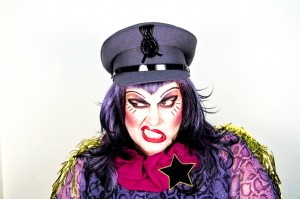 Holestar
This was from a shoot we did for our massive party in July 2010, Gay Bash.  We love Holey, she's a regular DJ of ours, she rocks a killer look time after time and no one messes with her!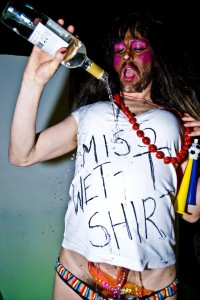 Jonny Woo (Miss Sink The Pink 2008)
It was first Miss Sink The Pink we ever did, Jonny wasn't even meant to be a contestant but turned up drunk and was Miss Lunn Poly, the reason we loved her look was it was last minute thrown together and trashy, everything we are!  Bad make up and revealed testicals, a Sink The Pink icon!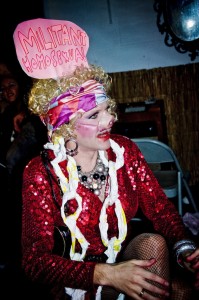 Ma Butcher
Shoreditch's answer to Elaine Page. Ma came to the first Sink The Pink and we haven't been able to get rid of her since. There's no one that can rock an evening gown with such minimal grace and as we know, no Ma Butcher look is complete without her trusty snout and some budget accessories.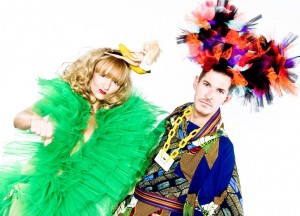 Amy and Glyn, STP President, CEO and brand ambassadors.  
Colourful porn show? Check.  Ridiculous head dress? Check.  Luminous green mesh dress? Check. Banana in hair? Check. Ready for work? Check!
 Sink The Pink presents Happy Shopper on Saturday 11th February with residents Prince Nelly and James Philips plus special guests The Men Who Fell To Earth.
Drag look images courtesty of Jacob Love:  www.jacoblove.net/
post-template-default single single-post postid-773 single-format-standard tribe-no-js tec-no-tickets-on-recurring tribe-theme-dalston-superstore loading
Top 5 Drag Looks