FIve minutes with Wes Baggaley
FIve minutes with Wes Baggaley
10-04-17
As part of our Easter Long Weekend four-day bender of parties, we are absolutely thrilled to welcome long-term friend of Superstore Wes Baggaley to the lazer basement at Easter Sunday's Jesus Wept! Wes is not only the man behind one of the most hilariously angry Facebook profiles on the Internet, but a damn fine house DJ and producer who has been making waves in London and beyond for many years. We caught up with him to chat Easter nonsense, dragging up, and plans for this Sunday!

Hi Wes! We can't wait to have you play at Jesus Wept this Easter Sunday! Can you tell us a bit about yourself for those who don't know you?
I'm just a DJ from Wigan in the North West of England. Occasional transvestite and general gobshite really.
What do you make of all this Easter malarkey then?
I love chocolate me.
What do you usually get up to on the Easter Long Weekend?
I try to spend as much time as possible on my knees during religious festivals. Praying for for forgiveness obviously. I'm a sinner
Can you tell us a bit about your drag alter ego, Tina Turnip?
Ah, Tina was born during the Queen's Jubilee in 2012. A friend played a trick on me and invited me to a lunch with a big bunch of drag queens. I got confused though and thought you had to go in drag. I found out that this wasn't the case when I arrived after walking through Chelsea on the busiest weekend ever in full drag and when I got there Jonny Woo, Ma Butcher and dozens of other queens were sat eating their Sunday roast in mens clothes. I'm now addicted to wearing heels and terrible make up. So basically it's all The Queen's fault. Liz has got a lot to answer for.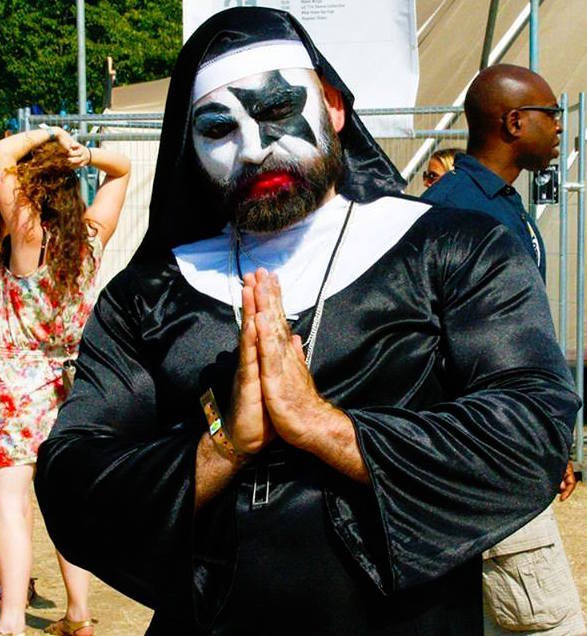 What's the most mischievous thing you've done on a religious holiday?
The Easter bunny would never forgive me if I was to kiss and tell.
Most sacrilegious record you own?
That would have to be a Deicide album. They were a satanic death metal band from Florida. The singer has an inverted cross branded on his forehead. It's an artefact from when I was a teenage crusty. 
Track to do your housework to?
Housework? Seriously? You should see the state of my house. If I was to pick the Hoover up though it would be some Motown or northern soul. A bit of mum music.
Track that'll get you surefire entry into hell?
I recently heard an EDM version of Tracy Chapman's Fast Car in an awful straight bar. I think everyone involved in the making or playing of that track should burn in hell.
Track you can't wait to unleash on the basement this Sunday? Joe Claussell presents The Black Soul Mass Choir feat. Anyda Hillward - And She Parted the Red Sea. It's a gospel house stomper. It's ace!

In five words or less, what do you have planned for us at Jesus Wept?
Naughty Nun House Bangers. That's only four words and I've done really well during this interview by not mentioning penises once. Can I throw the word WILLY in please? WILLY!
---
Catch Wes Ballagey at Jesus Wept on Easter Sunday, 16 April from 9pm-4am at Dalston Superstore!
post-template-default single single-post postid-11056 single-format-standard tribe-no-js loading
FIve minutes with Wes Baggaley